Wood-plastic composite material is made of waste plastics and wood powder (such as wood chips, bamboo powder, rice husks, straw stalks, etc.), mixed in a new composite material made by high temperature, extrusion, and molding. It has good performance, wide application is good for environmental protection. Broad development prospects, and is worthy of vigorous research and promotion.
Applications of wood-plastic materials
Wood-plastic materials used in the packaging industry are mainly pallets, packing boxes, containers, etc. Just take the tray as an example, for now. Pallet usage in North America reaches more than 200 million annually; Japan USES about 6 million pallets a year. It is predicted that the annual average usage of wooden pallets in our country in the next few years may break through 20 million.
Wood-plastic materials with moisture resistance, mothproofing, and other characteristics. Suitable for storage industry used shelf board, sleeper. The application of WPC in China's storage industry has just begun. But demand is growing fast.
The pavilion, seat, flowerpot, and trash can made of wood-plastic materials are waterproof, moistureproof, and anticorrosive. Have a long life, and are low-priced. Wood-plastic composite materials are used in producing houses, outdoor floors, sunshine rooms, docks, guardrails, and other products.
In addition, applying WPC materials to develop automotive interiors, composite pipes, railway sleepers, and cable protection pipes. And manholes are also stepping into the application testing stage from the demonstration stage. It is believed that in the near future. It is believed that in the near future, the application field of wood-plastic products will be further expanded.
Advantages of wood-plastic materials
In recent years, there has been a growing concern about environmental issues, especially in the wake of a warming climate. Because the construction industry has more pollution and impact on the environment. So it is receiving more attention. Traditional wood materials have also become an area of greater concern. However, the emergence of wood-plastic materials is the perfect solution to these problems.
Material and composition
WPC materials are made from a mixture of recycled plastic and wood fibers. Which has a lower environmental impact than the need for fresh plastic. This makes it a sustainable product. The use of WPC materials is a good way to reduce the dependence on plastic production. By using wood-plastic materials. The production of traditional wood products can be effectively avoided. Making a significant contribution to environmental protection.
Durable and long-lasting
In addition, WPC materials are durable and long-lasting due to their special composition. WPC materials also have a longer life span, over 30 years compared to traditional wood, which has a life span of about 15 years. This premium quality makes it a better choice for reducing environmental damage.
WPC material is also resistant to decay and insects, which makes it more resistant to extreme weather damage. So you don't need to do more post-maintenance on WPC material, which helps to reduce the environmental hazards of maintaining the product. It effectively reduces the waste of energy and resources.
WPC material can also effectively resist moisture, fire, and cracking. These characteristics also enhance the durability of the material. This allows it to be used in a variety of scenarios, from outdoor furniture, outdoor decking, and building materials to swimming pools. And WPC material does not require more post-maintenance and care than natural wood. You don't need to paint, sand, or stain the material on a regular basis.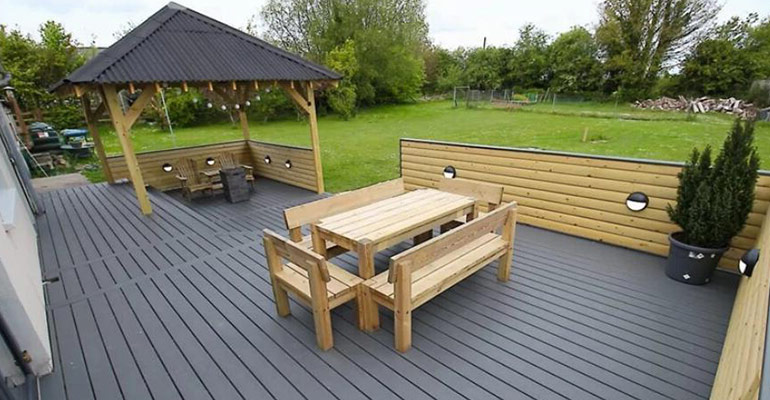 Versatile appearance
As an alternative to traditional wood, WPC material retains many of the characteristics of traditional wood. For example, WPC material can be cut and shaped and can be molded into different shapes and forms. It is also available in a wide range of sizes, finishes, and colors. This provides designers, architects, and homeowners with greater flexibility. You can match the material to your house building.
With WPC materials, you can create more patterns, designs, and material textures. Which is very attractive to some homeowners. With the development of technology, the texture of some WPC materials can even be comparable to natural wood.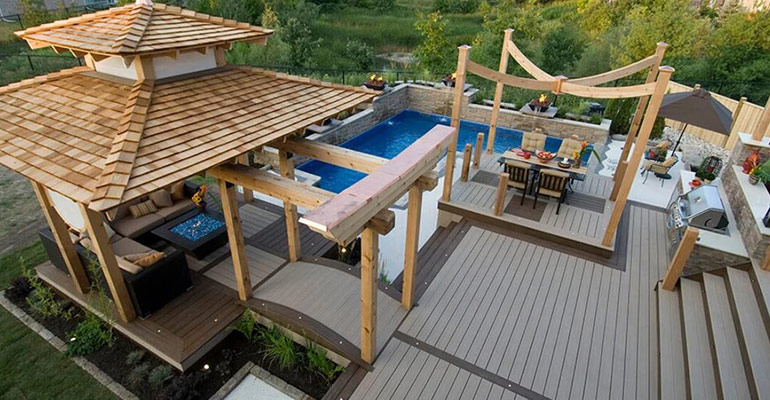 Environmentally friendly
WPC materials can be recycled at the end of their life. This can effectively reduce the waste of resources and contribute to the protection of the environment. Its nature causes it to be easily recycled, thus reducing waste and creating a sustainable product.
Conclusion
In conclusion, wood-plastic materials are sustainable and durable materials. That can be a perfect substitute for wood in construction and other applications. This material is a more environmentally friendly option. That can contribute to the protection of the environment. And the material's versatility makes it an excellent choice for construction professionals to use in their projects. Therefore, the use of WPC materials has positive environmental, social, and economic impacts. Making it an essential material for the future.