Outdoor decks can not only create an attractive and private space for you. It can also enhance the attractiveness of your house and make your house more beautiful. And composite decking will not warp like wood decking. That's why more and more homeowners prefer to install composite decking. But there are still some people who complain about their composite decking warping. Is this true? What are the causes of composite decking warp?
Causes of wood decking warping
When there is a change in temperature, heat can cause wood decking to warp. This means that warping occurs when the surface of your timber decking is exposed to sunlight. The wood deck will become hot and gradually warp. The heat from the sun causes the wood deck to become expanded. When it eventually cools, the shape of the trim board will warp. Therefore, the warping and warping of wood decking cannot be avoided.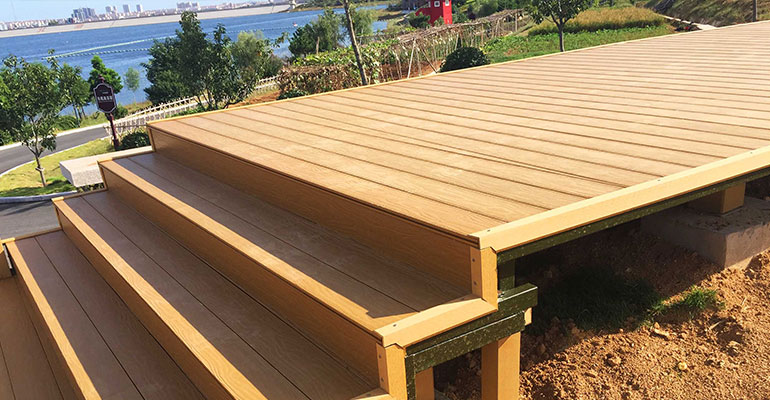 Does composite decking warp?
Composite decking is a synthetic material that is made up of a mixture of wood fibers and recyclable plastics. Composite decking differs from natural wood decking in that it is known for its high level of durability. Like other types of outdoor decking, composite decking absorbs heat when exposed to the sun. Composite decking also undergoes thermal expansion when the deck becomes warmer.
Although composite decking expands when it gets hot, it does not shrink as wood decking does. Therefore, when composite decking expands, it will not warp or deform like wood decking. If your composite decking warps, then it is most likely the result of incorrect installation. So, what conditions can cause composite decking to warp?
Why does composite decking warp?
Unlike wood decking, composite decking does not warp due to excess moisture. Most composite warping is due to thermal expansion. When composites are heated, they expand. Therefore, when installing composite decking, you will need to leave enough space on the floor.
When the wood plastic decking absorbs heat and expands it comes in contact with a fixed object. Then it may warp as it expands. For example, if the composite deck touches a wall, it becomes when it expands with heat and this happens. Therefore, composite decking touches the wall or is too close to each other. All are the causes of the warping of composite decking boards.
How to prevent the warping of composite boards?
The way you install your composite decking will determine whether it will warp or not. If you follow the exact installation instructions during the installation process. Then composite decking will not warp like wood planks. It is the change in temperature that causes composite decking to expand. Warping of composite decking only occurs when there is no spacing between decks.
When installing composite decking, make sure there is space between the decks to allow them to expand freely. The gaps between the decking will prevent it from warping when it expands in close proximity to each other, thus preventing the composite decking board from warping. To prevent warping, composite decking manufacturers usually recommend installing composite decking with 8 mm of space between the deck boards. In addition, they recommend leaving a 15 mm space between the composite plank and the wall.
How to fix warped composite decking?
If your composite decking has warped, what should we do to fix it? Do I need professional help to repair a warped composite deck? If only one or two pieces of the deck are warped, you can try to fix it yourself as long as you have the tools to do so. However, if most of the outdoor deck is warped, it is best to contact a professional installer for repairs. If the warping is particularly severe, then you may need to replace the entire deck completely.
Next, let's learn how to repair a small number of warped decking boards. In most cases, repairing warped composite decking requires replacing each individual warped board.
Repair steps
First, identify the portion of the outdoor deck that needs to be replaced. Then, measure the composite decking to be replaced as accurately as possible. When cutting the composite decking, the depth of the trim board needs to be noted.
Next, we will need a circular saw to cut the warped trim boards. When using the saw, be sure to wear protective measures such as gloves and goggles and follow any safety codes. Do not cut the deck deeper than the depth of the trim board to avoid damaging the joists.
When we are done cutting the trim boards, we need to carefully remove them from the frame. We can use a pry bar to insert the cuts in the trim boards and carefully pry them out of the frame. After prying off a part of the board, proceed to remove the rest of the board. Then use a screw gun to remove all the screws that hold the composite deck in place.
Finally, install the new trim panels and secure them in place. When replacing a new composite deck, it is best to use the exact same brand, color, and material. This will avoid color differences in your outdoor deck.
Summing up
Although it is not too difficult to fix a warped composite deck. But we'd better learn the installation instructions provided by the composite decking companies in detail before installing the composite deck board. Avoid the extra damage caused by non-standard installation.
Related Articles
How to restore faded composite decking?
5 Misunderstanding about composite decking boards