If you're new to the world of deck building, you might assume that what's material of the decking material is better?
No two decks are created equal, and many decks aren't even 100% wood. Both composite and PVC decking is made from synthetic materials. So if that's what they have in common, then how are they different? And which one is best for your future deck?
Well, wonder no more. This guide will explain the major differences between composite and PVC decking. So that you can make the best choice for your next outdoor construction project.
What is Composite (WPC)Decking?
Wood Plastic Composite (WPC) is a type of eco-friendly material made of wood fiber and polymers. COOWIN composite decking, manufactured with our patented formula and by an innovative dual-screw extrusion process, combine superior performance with the naturalistic looks and textures of real wood.
COOWIN is the first that has adopted Color Streaking and 3D Wood Grain Technology for uncapped WPC products in the industry. Compared with LDPE, HDPE-based composites are stronger and stiffer. The ratio of wood to plastic varies depending on the brand.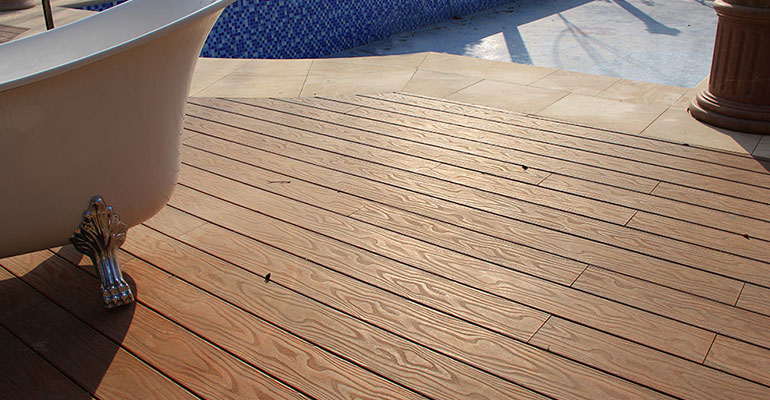 Different wood fiber ratios and mesh numbers will produce different product effects and performances. Resins with different performance indicators will lead to different properties of the finished product. Which are mainly reflected in physical properties. Such as bending, compressive strength, and elastic modulus.
Different formulation additives will not only affect the physical properties of the finished product. Such as bending, compressive strength, and elastic modulus. But also affect the chemical properties of the finished product. Such as anti-aging, UV resistance, oxidation resistance, fading resistance, waterproof performance, fire resistance, adhesive coupling performance, etc., have varying degrees of impact.
We use poplar wood fiber (50%), HDPE(38%), and the additives 12%. So our composite material has very good performance on anti-UV, the color is stable even in the hot climate.
Compared to natural wood, the plastic in composite decking makes it more resistant to moisture and insects. It also allows for greater style variation – you can choose a custom color and wood grain to match the aesthetic of your home.
What is PVC decking?
Like composite, PVC is made from artificial materials. But instead of being a mix of wood and plastic, PVC decking is 100% plastic. Like composite, it is designed to minimize the common problems associated with wood. Such as mold and insect infestations.
Easily customizable, PVC can be made to mimic the color of more expensive wood decking options. Such as mahogany, ipe, and redwood. And because it's completely plastic, keeping it clean is a breeze. And you can even safely pressure wash this material without fear of splintering.
Capped decking vs. uncapped decking
Both composite and PVC decking materials can be either capped or uncapped. Uncapped decking is the more cost-effective choice. But it is also more vulnerable to staining and mold growth if not carefully maintained.
Capped decking offers extra protection in the form of a hard outer shell. Capping is not an add-on. It's bonded to the core material during the manufacturing process. In addition to increasing the overall durability and performance of your deck. Many caps have UV inhibitors built-in as well. If your deck is exposed to direct sunlight, this will help to prevent fading.
It's important to keep this in mind when comparing decking options. It wouldn't be fair to compare uncapped PVC to capped composite decking, or vice versa!
Composite material vs. PVC material– Which is Better?
Before we get into the major differences, let's look at what composite and PVC decking have in common. Both materials have cost-effective, low-maintenance, durable, moisture-resistant, insect-resistant, scratch-resistant, and available in a range of attractive color options.
As you can tell by their similarities, both composite material and PVC material are popular, high-quality decking options. So the question shouldn't be which one is better. Instead, you should ask yourself which best meets your needs.
Advantages of composite decking material
Natural wood has always been popular because of how it looks. However, composite decking has consistently improved in appearance over the past decades. Now you can find long-wearing composite decking finished to look like real wood.
That brings us to composite's first major advantage over PVC. Because it does contain wood pulp, composite decking looks more natural. The wood grain also helps to make these decks more slip-resistant than plastic decks. So if you're building your deck around a pool, that's something you'll want to consider. Especially if you have young children running around, too.
When the temperature changes suddenly, PVC decking can expand and contract. This makes the structure less stable over time. But because the wood fibers in composite decking make it more rigid, it won't expand and contract as easily as plastic in direct sunlight.
In summary, the main advantages composite material has over PVC material are more authentic-looking, better slip resistance, and less prone to warping caused by temperature changes.
Advantages of PVC material
The first big advantage of PVC decking is that it's 100% recyclable. When a composite deck reaches the end of its lifespan (25 years or more), it's doomed to end up in a landfill. But plastic decks can be refinished or recycled, giving them new life once their equally long life ends.
Another perk of PVC is mold resistance. Now, we've already mentioned that both PVC and composite are resistant to mold. But because composite still contains wood, PVC is the undisputed winner in this category. No organic content means that mold and mildew have nowhere to go.
Finally, PVC is a more lightweight material. This makes it easier to transport and work with, so you can install it pretty much anywhere at any height.
With nearly 22 years in the industry, we know a thing or two about building a fantastic deck. If you have questions about composite decking materials, give us a call and we'll be happy to help! And we also provide free samples for you.