Before you start building your outdoor deck, it is important to choose the most suitable material. If you live in a sunny area with a hot climate. Then you need to choose a decking material that will hold up well during the summer months. Overall, composite decking is ideal for full sun decking compared to other outdoor decking materials.
Traditional Wood Decking
Traditional wood is a poor choice for full sun decking for a variety of reasons. The honeycomb structure of wood decking can be damaged by UV rays, and when the wood is exposed to the sun, it will naturally weather due to UV radiation. On top of that, not only is traditional wood decking more likely to absorb and retain heat. But also direct sunlight causes the moisture in the wood to evaporate more quickly. This can then cause structural problems, which can lead to cracking and splitting of the wood deck. In addition, UV radiation can damage the color of wood decking, meaning that full sunlight wood decks are more likely to fade.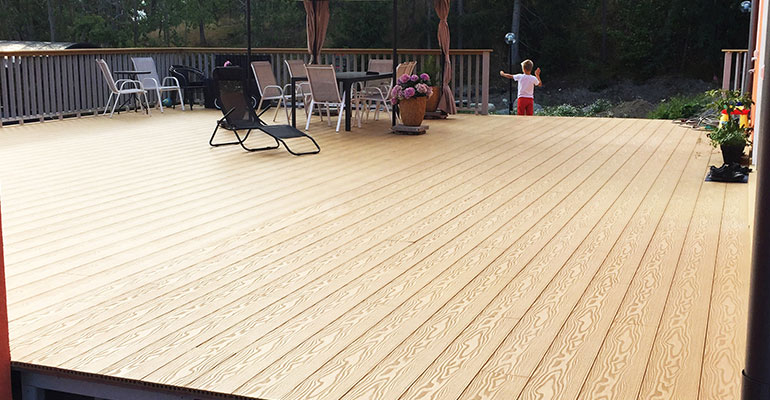 If you are using pressure-treated wood decking, then you will need more maintenance to keep it looking good. You will need to pressure wash and stain the deck regularly and replace cracked wood decking in a timely manner. This also means that you will still need to keep putting in the money and labor after the wood deck is installed.
Full sun decks facing south are the most weathered, followed by decks facing west. If you want to build a south-facing deck, you may want to consider composite deck boards. composite decking boards are one of the most popular decking materials available today. composite wood decking is strong and durable, has a stunning look, and is available in a variety of shades. The composite decking material is also virtually maintenance-free, saving you a lot of money on maintenance costs.
Composite Decking for Full Sun Decking
All outdoor decking materials become hot when exposed to the sun. However, different decking materials absorb heat to different degrees. While early composite decking was very temperature sensitive, the technology has been upgraded so that composite decking does not get very hot. Today's composite decking does not get any hotter than regular wood decking. In addition, composite decking cools more quickly in the shade than wood.
When considering composite decking for full sun areas, we analyze how to choose a quality composite decking material from the following three aspects.
cool composite decking
no discoloration due to strong UV rays
the amount of expansion and contraction due to temperature changes
With these three categories, we can better understand which composite decking is best suited for full sunlight. As with any home improvement, an outdoor deck also needs to have a beautiful appearance. An attractive deck design idea will allow you to enjoy life better. High-quality composite decking that doesn't fade is more likely to maintain its beautiful appearance for a long time.
Cool Composite Decking
All decks get hot in the sun, and the more sunlight there is, the hotter the deck will get. This is because decking is a flat surface that absorbs and reflects the sun's heat as it is exposed to it. This is why decks are warmer where the sun is strong.
No matter how hot the sun is, you need an outdoor deck that won't burn your feet. The amount of heat absorbed by a deck varies from material to material. Therefore, we need composite decking that is cool to the touch to bring more comfort to our outdoor life.
Here we recommend COOWIN's Hollow Composite Decking series, which is a cooler composite wood decking by changing the material and giving a cooler touch compared to other brands of composite decking.
And COOWIN's Hollow Composite Decking series comes with a hollow structure. The hollow structure is more conducive to air circulation, which can better carry away the heat in composite decking boards. The hollow structure also reduces the weight of composite wood decking, providing more convenience in transporting and installing outdoor decking.
To further reduce the temperature of outdoor composite decking, you can also choose a light color. For example, grey composite decking, white composite decking, etc.
It will not fade due to strong UV rays
Strong UV rays can cause severe fading of outdoor wood decking. This causes your outdoor design to become unattractive. Therefore, it is very important to choose high-quality composite deck boards that do not fade.
Most composite decking manufacturers on the market offer fade-resistant composite decking. The difference is that COOWIN has added UV inhibitors to the composite decking formula to provide better UV protection. In addition, you can choose capped composite decking, which offers better environmental resistance than uncapped composite decking.
The amount of expansion and contraction due to temperature changes
Almost all materials are subject to thermal expansion and contraction. In particular, outdoor decking is subject to greater thermal expansion and contraction when the sun is shining strongly on the floor. And what does the thermal expansion of an outdoor deck mean to a homeowner? It means that if you do not allow enough deck spacing when installing your outdoor deck. The outdoor deck may be squeezed and deformed due to thermal expansion.
This means that when we choose composite decking. We must choose high-quality guaranteed composite decking brands. High-quality composite decking will expand and contract relatively less with large temperature changes. However, you still need to allow for adequate expansion joints when installing composite decking according to the installation instructions provided by the manufacturer.
COOWIN, when providing outdoor composite decking to customers. The customer will be told in advance to let the composite decking sit for a few days to acclimate to the local climate before installing the outdoor decking. The composite decking is then installed with an 8mm expansion gap between the boards and the decking. This prevents the composite decking from expanding due to extremely high temperatures and then causing warping of the decking.
Composite Decking Free Samples
If you want a complete sun deck, composite decking is the best choice. While composite decking costs more to purchase than wood decking, over time, composite deck flooring can save thousands of dollars in maintenance, repair, and replacement costs. While they don't require much maintenance, you still need to clean composite decks regularly to keep them in top condition.
COOWIN has an attentive customer service team that can answer any questions you may have. In addition, we can provide you with free samples. So you can have a better understanding of COOWIN's products. What are you waiting for? Come and contact us!