The outdoor deck is an area for you and your family and friends to relax and unwind outdoors. During the day, we can choose to chill out on the composite deck or soak up the sun. But at night, if there is no deck lighting, you have to choose to go back inside the house.
There is a certain danger of slipping in the dark, and walking in the middle of the dark can be easily damaged. You can choose bright floodlights or porch lights to illuminate your outdoor area. With soft decking light ideas, the problem will be solved. You can provide enough light to ensure the personal safety of your family. While still maintaining the calming atmosphere of a beautiful night sky.
So turn your outdoor deck into a magical outdoor living area with top-notch outdoor deck lighting ideas and designs. At night, we can keep the outdoors relaxing with low-voltage deck lights. We offer a number of outdoor deck lighting ideas that can add beauty, safety, and security to your home. It can also extend the enjoyment of your outdoor life.
Lighting on Composite Decking
There are a variety of low-voltage options when it comes to lighting your composite decking. Place lights in the corners of your deck or near steps and seating for the perfect deck light combination. Adding brightness and illumination under your stairs or railings can help guide you after dark and also highlight features on your deck that may go unnoticed.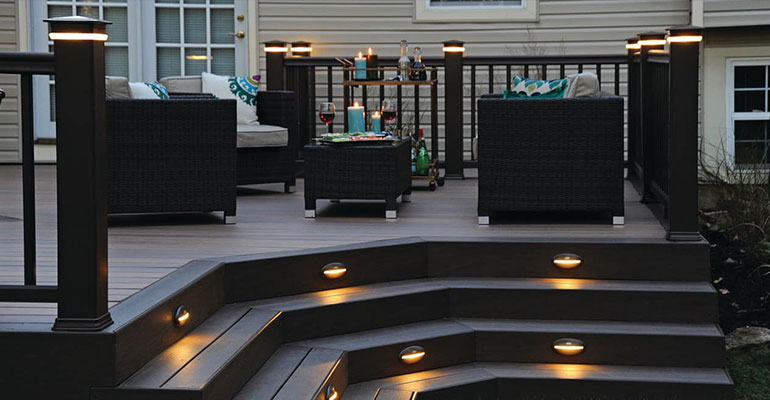 Outdoor space deck Lights Ideas
You can use low-voltage deck lighting Ideas, also known as deck posts light, deck railing lighting, and recessed lighting options, to create the backyard space you want for your home at night. Or keep your outdoor deck bright with eco-friendly solar deck lights fixtures that also keep costs low and carbon emissions low.
Stair lighting on composite decks
Adding lights to the risers and treads of composite deck stairs can provide subtle illumination and make your deck safer after dark. Illuminate walking areas, such as stairs and pathways, with stair lighting and step lighting fixtures. Low voltage LED stair and step lighting for indoor and outdoor lighting ideas can provide extra safety for you and your family. Choose from a complete stair lighting kit or a unique step deck lighting design to make the perfect addition to your outdoor lighting space.
String Light Decorations
LED string lights only for the holidays? Of course not! Hanging deck lighting or string lights in a variety of colors can provide a fun and festive atmosphere in your composite deck space.
String lights are fairly easy to install and provide stylish outdoor deck lighting. That's because LED deck lights can be installed almost anywhere, as long as there is an electrical outlet. Perfect for any DIY deck lighting project.
The downside to string lights is that they may be more prone to breakage and don't last as long as other light fixtures. They need to be replaced more often than other options.
Starlights
Star-shaped lights are typically string or hanging candles, and they bring ambiance to an intimate dinner party or special event. String lights on a dining room wall to create something truly spectacular. Starlights extend this theme even further, creating an artistic yet unique outdoor experience.
Recessed deck lighting
If you have a composite deck with some overhead protection, choose recessed deck lighting. Because they are protected from the elements, they don't need to be cleaned as often. Recessed lights are mounted on columns that blend seamlessly into your composite deck and provide light. These subtle lights are mounted flush on your deck to accentuate the aesthetics of your outdoor living space.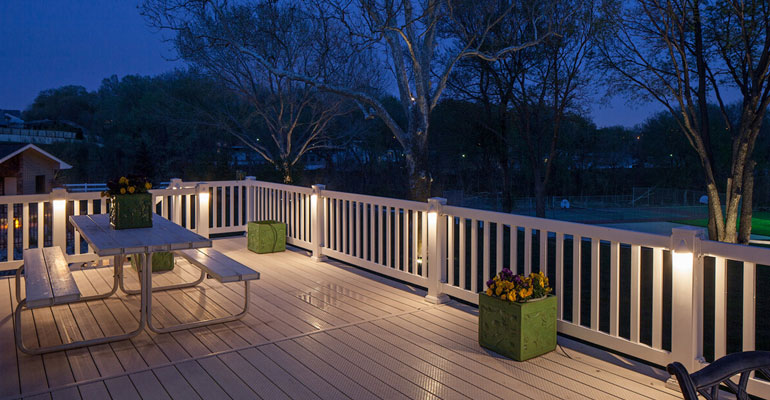 Post cap lights
Deck cap lights work well as an accidental use in your deck space. Available in both LED and solar varieties, deck lights are available at most home improvement stores or online. Low voltage post cap lights add guidance and illumination to your entire outdoor space at the flip of a switch or through programmed brightness and timer settings; white solar post cap lights can add safety and loveliness to your nighttime space without any electricity Keep energy costs and installation time low while having a steady brightness of post caps that will help your deck shine.
Deck lighting under the railing
Try using solar or LED lights for under-rail deck lighting to create a soft glow. Show off your deck with deck railing lighting even when the sun goes down. Install on or under the railing to provide excellent light and illuminate the path.
Landscape Lighting
Don't overlook other areas in your walkway, garden, or yard where adding landscape lighting can also have a positive impact. Landscape lighting comes in a variety of energy-efficient designs and styles, such as spotlights, wall lights, and path lights, that can brighten up your evenings and open up your favorite outdoor spaces.
Under deck lighting
Ceiling fans with lights are ideal if your composite deck is installed above a balcony. They look great and combined with air circulation and light, make this area even more functional. If there is also a space to hang out under this composite deck, this is perfect for under-deck lighting.
Pergola Lighting
If you have a composite pergola or gazebo, you can install solar-powered LED lights in the rafters. These hanging deck lights accentuate the architectural elements of the structure. Side-mounted lighting makes your deck the star of the night. These lights are affixed to the side of your posts and emit a glow to light the way for your family.