The hot summer months are just around the corner, and while you're enjoying the outdoors, you may be considering whether to install an above-ground pool in your backyard. Building a pool means more space for entertaining. When summer comes, you can lounge and relax on your pool deck or get in the water and swim. Ah, what a wonderful treat! But there is one question to consider, and that is what is the best material for above-ground pool decks?
In the past, pressure-treated wood decking was one of the most widely used building materials. Not only was it widely used for outdoor decks and exterior cladding, but it was also often used as a pool deck. Of course, when used as a pool deck, it needs to be waterproof and corrosion-resistant. And after the installation is completed, wood decking still needs regular maintenance, painting, and other maintenance work. Therefore, more and more people choose the strong and durable, and maintenance-free composite deck. So what is the difference between these two decking materials?
Traditional wood decking
Traditional wood decking has different properties, advantages, and disadvantages depending on the type. Below we briefly introduce the common types of wood decking.
Pressure Treated Pine Decking
Pressure-treated pine decking is one of the most used wood decks. It has the advantage of being the least expensive and very easy to obtain. Any nearby construction store will sell this type of wood decking.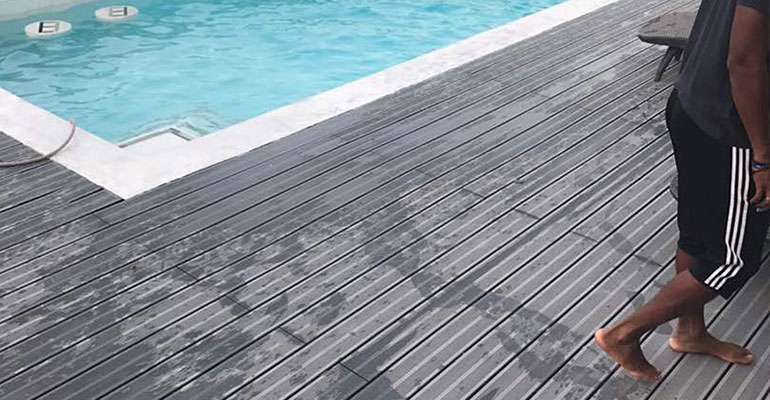 However, pine is a softwood that is susceptible to rot, mold, and insect infestation, which also means that regular maintenance such as painting and sealing is required to extend its life. In addition, pressure-treated pine decks undergo repeated cycles of thermal expansion and contraction in areas with large seasonal temperature changes. This can easily cause the outdoor deck to warp or crack.
And as a pool deck, people usually walk barefoot on top of the deck. A pine deck that is prone to cracking or splintering is not people-friendly. Therefore, pressure-treated pine decking is not very suitable for a pool deck.
Cedar decking
This is also another type of softwood deck, but unlike pine, cedar has some natural resistance to mold and decay. When hot, over time, cedar decking will eventually mold and rot as well.
In addition to having a good rot resistance advantage over pine decking. Cedar decking also has the same disadvantages when used as a pool deck. For example, the deck surface is prone to cracking or crumbling and needs to be sealed regularly with a waterproof sealer. Ongoing maintenance is required to extend its life. Overall, cedar decking is also not well suited for pool decking.
Hardwood Decking
Hardwood decking usually refers to trees such as IPE as the raw material. These hardwoods are usually naturally resistant to decay, mold, splintering, and slippage. They are also long-lasting, lasting 25-30 years in a low-maintenance state. In contrast to hardwood decks, pressure-treated pine or cedar decks can last 15-20 years with continued good maintenance work.
Hardwood decks also require regular maintenance work. But they are relatively simple to maintain, except for regular cleaning of dirt and debris from the surface. The other thing to do is to oil the hardwood regularly to prevent it from fading due to UV light. Oiling a hardwood deck not only maintains the appearance of the wood but also enhances the texture of the deck's surface.
Of course, there are still some disadvantages to using hardwood decking as a pool deck. For example, hardwood is dense and not easy to transport and install. Most notably, hardwood decks are expensive to install, typically three times more expensive than pressure-treated pine decks.
Stone Material
Poured Concrete
Poured concrete is also the preferred pool deck material for many people because it is durable and water-resistant. To improve the slip resistance of the concrete surface, you can have its surface brushed. When the brushed surface is finished, even if the concrete has water in it, it will not allow swimmers to walk barefoot and slip.
The advantage of concrete pool decking is that it can be poured into any shape you like, whether it is a curve or a geometric pattern, it can be done very quickly. And the cost of pouring concrete is relatively low. The downside to it is that you need to find a professional to install it because concrete can start to set within minutes. If you don't handle it well, you may end up needing to break it and start over. The second is that the concrete may look a bit monotonous and not give you a more beautiful look.
Precast Cement Pavers
Precast cement pavers are similar to poured concrete in that they are a good alternative to poured concrete. This material comes in a variety of prefabricated geometries, including squares, rectangles, and octagons. The variety of geometric shapes allows you to better design the surface pattern. Compared to the single color of poured concrete, precast cement pavers can be additionally selected in gray or earth tones.
Although this material is a bit more convenient than poured concrete, it still has its drawbacks. If not properly installed on a bed of excavated sand or gravel, the cement pavers may sink. This creates an uneven pool deck surface, making it impossible for people to use their outdoor pools properly.
Composite Materials
Composite Decking
One of the main advantages of composite decking is that it requires very little maintenance. This is one of the main reasons why composite deck boards are the most popular pool decking. Composite materials are also resistant to moisture, rot, and warping, which is essential. This is because pool decking will often be in a state where water is present. In addition, composite lumber decking is also stains and fade resistant. It does not fade easily even after prolonged exposure to UV rays, thus ensuring a good appearance of the pool deck.
Although composite decking boards are more expensive to purchase than pressure-treated pine decking, they are also less expensive to purchase than hardwood decking. However, they are also less expensive than hardwood decking. And composite deck boards require little to no maintenance, which means you not only save a lot of money on post-maintenance costs. It also allows you to have more time to enjoy the outdoors. The strong and durable nature of composite material allows it to last for at least 25-30 years. If you use it properly, you can even enjoy your pool deck for longer.
PVC Decking
PVC decking is another popular choice for pool decking. Like composite, it is resistant to rot, mold and moisture. However, there are some differences between PVC decking and composite decking. PVC decking can have a slippery surface, which can be potentially dangerous to people walking on it when water is present on the surface of the deck.
While PVC material also does not require regular maintenance, it can chip or crack in cold temperatures. If you live in an area that experiences cooler temperatures during the season, then it is not a good idea to use PVC decking as a pool deck.
In Summary
Combining cost, performance, appearance, and longevity, composite decking is better suited as a pool deck. Of course, you still need to choose the right decking material according to your actual needs.
Hot summer is coming, hurry up and start your outdoor pool deck project, then enjoy your outdoor life.