Installing an outdoor deck on your patio does more than just provide a fun gathering space for you and your family. In addition to that, it can increase the resale value of your home and add to people's curb appeal. The best color combination for your house and deck depends on the style and look you want to achieve.
A classic combination is a warm beige house and a dark gray deck. This gives a timeless look that can be used in both modern and traditional settings. For a more modern look, a white house with a charcoal gray deck can provide a sleek and clean look. If you're looking for a more rustic feel, a light brown house with a dark red deck will give a unique, cozy vibe. No matter what style you're going for, there's a color combination that will create the perfect look.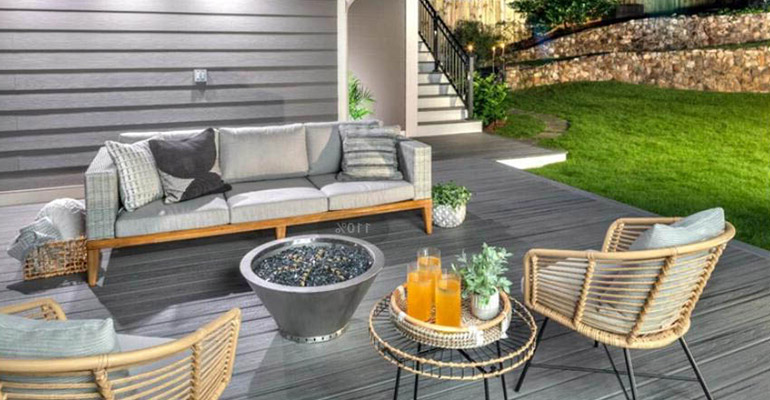 Whether you're adding an outdoor deck to your home, repainting your deck, or giving your house exterior a makeover. It's important to consider all the design options you have so you can choose one that will make your neighbors look at you more than once. Make sure your deck looks good with your house so you can get the most out of it. If the styles don't match, your deck could stand out for all the wrong reasons and take away from the beauty of your house. Outdoor decks can really make the outside of your house look better, so don't rush into any deck project without careful consideration.
Deck color trends
Before you decide on the best color for your outdoor deck, let's take a look at some of the most popular deck colors available right now. Some of these styles are more modern and up-to-date, while others are more rustic and have been around for a long time. Even though trends are changing, Composite decking usually comes in browns, reds, and grays.
When choosing colors, take into account the style of your house and the style of other houses in your neighborhood. Think about the color of your house and how the color of the deck will match it. You don't want to choose colors that clash. Instead, choose colors that will go with what is outside and around your house.
Deck Colors for Tan Houses
Tan is a classic, neutral color that is used in many places, such as siding, decks, etc. Tan is probably one of the most popular colors because it goes with almost everything. When choosing a deck color for your tan house, think about the style you want. Do you want to stick with a classic style, or do you want something more modern?
Choose a darker color, such as a rustic brown, for a more traditional look. If you want to add a modern touch, choosing a lighter gray will look great. Whatever color you choose for your flooring, be aware of whether it has warm or cool tones. This will help it match the color of your house. For example, if you have a tan house with cooler tones and want a simple gray deck, then look for gray deck boards with cooler undertones that will help match the two.
Deck colors for blue houses
Whether you want to install blue siding on your house or sky-blue doors and shutters. There are many different shades of blue trim to choose from. Whether you choose a soft powder blue or a strong cobalt blue, these bright colors may work best with a sleek, modern deck. Think outside the box and use a dark gray with cool tones or a warm brown to create a space that people will want to linger in.
Deck Colors for White Houses
The white look is also very common in houses because it matches so many colors. That's why white has been one of my favorite colors for decades. For a white house, you can install a dark outdoor deck such as chocolate or dark mahogany. To match the white color of your house, you can also put a white awning on your deck. This will make your outdoor deck stand out and draw more people's attention.
Deck colors for gray houses
Grey-look houses are relatively rare. However, if your house has gray siding, you can make a deck that looks interesting and impressive. It's all about the difference! If your house has a light gray siding exterior, choose a dark gray for your deck. If the house is dark gray, it also looks great with a lighter shade like tan.
Deck colors for yellow houses
Yellow houses are not common, but they are still beautiful. If your house is a brighter yellow, then a dark brown deck will work well with it. Natural wood styles in golden tones look great with lighter shades of yellow, such as soft buttercups. You can also place some white or light blue furniture to make your outdoor living space look more comfortable.
Color Matching for House and Deck
Choosing the color of your outdoor deck is a big decision. The best way to start is to decide on your own style. Do you want classic, cool, or unique? Here are some more suggestions to help you get started.
Traditional designs have been around for a long time and won't become outdated anytime soon. Choose one of these for a classic look:
House that is light blue and has a brown outdoor deck
White House with a dark gray deck
Tan house with a dark deck
Trendy styles will make your house look great from the outside and they can be a good choice if you want to sell your house soon. Here are a few things to keep in mind:
A black and white house with a natural-looking wooden deck
A light gray house with a dark gray or black deck that stands out
For a unique and beautiful look, you can choose from the following styles:
A light yellow house with a dark, rustic brown deck
A royal blue house with a light brown deck