The weather is heating up, which means swimming season is here! A proper outdoor composite decking pool can make for an enjoyable way to spend the hot summer months. composite decking boards are one of the most popular choices for pool decking materials because they require less maintenance than other materials and are a durable, lightweight material that won't warp, rot, or splinter.
Composite decking not only provides a modern look to your backyard but also increases the value of your home. When used as a pool deck, composite wood decking is a great alternative to any type of wood decking material. A pool may be a great addition to your home, but the surroundings can affect the decor of the entire area. Composite deck boards come in different colors and styles to complement your existing decor and provide you with more options.
What kind of pool deck should I build?
An aesthetically pleasing outdoor pool can be an effective way to enhance the appearance of your home. When creating a pool deck for your outdoor pool, the right style of the pool deck is important. The deck style depends on the type of pool you have, its function, and your budget. Below we recommend five popular pool deck styles to give you more options for building your own outdoor pool project.
Full wrap-around decks
Side Deck
Semi-inground pool deck
Pool Deck with Steps
An above-ground pool with a safety cover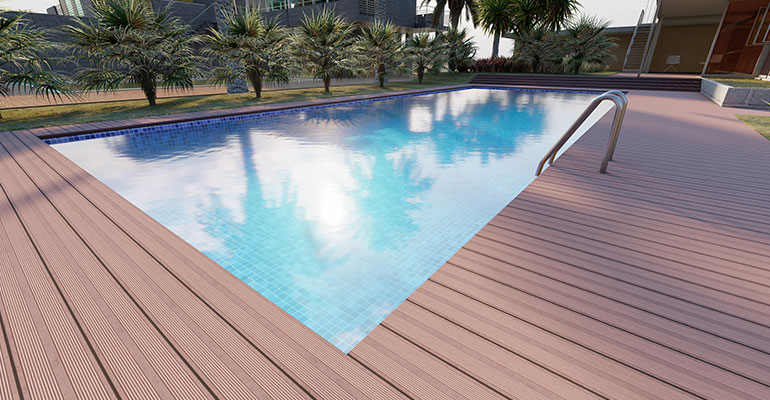 Full wrap-around pool deck
A full wrap-around deck is one of the common pool deck design methods. This type of pool deck can go around the pool, so the full wrap-around deck is large in size. This also means that you can place a variety of furniture on top of the wrap-around pool deck. For example, loungers, umbrellas, barbecue grills, etc.
This type of pool deck sits on top of the pool, creating a flush look for your backyard. For those with more backyard space, this type of pool deck has many additional benefits. Raised pool decks come with paneled walls that act as a barrier for young children and animals. Plus, you can fit filtration equipment neatly underneath! While wood decking is a cheap and common choice, we recommend that you use composite decking which is waterproof and mildew resistant.
Pool side decking
If you have less space in your backyard or have budget constraints, you may choose to build a poolside deck. Side decks take up less space than full wrap-around decks and fit on one side of the pool rather than around the perimeter. Although the poolside deck space is smaller, you can still put a seating area to facilitate rest.
To better decorate your pool deck, you can install a walk-in step for it, adding elegance and a true inground pool feel. Another benefit of installing an above-ground pool at this job site? Homeowners are able to save significantly on pool fencing and landscaping costs.
Semi-inground pool deck
If your backyard is sloped, then you can opt for a semi-inground pool. This pool deck can create an exceptionally dynamic effect in the backyard. Again, you can still choose a full wrap-around deck or a side deck depending on the size of your backyard space. To better decorate your backyard, you can place a little green potted plant so that you can enjoy the feeling of nature.
Pool Deck with Steps
This pool deck design is very stylish. composite decking steps serve as both stairs and seating. For a better installation of the pool deck, you can choose to wrap two sides with walls. The rest of the sides use composite decking to build the steps. This is a very smart and attractive way. You can choose materials such as composite wall cladding or masonry for the wall panels. This type of pool takes up little space and can be hidden anywhere. It is especially suitable for narrow urban backyards.
An above-ground pool with a safety cover
Unlike regular above-ground pools, you can install a protective cover for your pool. This type of above-ground pool will allow you to protect it better in winter. You need to install built-in safety devices on this type of composite pool deck. This further improves the safety of the pool deck.
What Are the Best Materials for Summer Pool Decks?
When you are preparing to build an outdoor project, the choice of material is one of the questions that will haunt you. The right material will not only make your pool deck work better, but it will also make you enjoy the outdoors more. Although composite decking material is one of the most suitable pool deck materials. But there are still other materials that you can choose to install your pool deck. Let's take a closer look at the different types of pool decking materials.
composite decking materials
Wood decking
PVC/plastic decking
Composite Decking Materials
The main advantage of composite materials is that they require very little maintenance. This is one of the reasons why more and more people are choosing it. In addition to this, composite decking materials have the advantage of being waterproof and corrosion-resistant. This is an essential requirement for a pool deck. Pool decking is usually in a state with water, without good waterproof and anti-mold effect. Then your pool deck will need to be replaced or reinstalled frequently. In addition, composite decking boards have the advantage of being strong and durable and fade resistant. They do not fade easily even when exposed to UV rays for long periods of time, thus ensuring a good appearance of your pool deck.
Wood Decking
Because of its natural beauty, rustic appeal, and durability, solid wood flooring is a timeless, elegant choice, It also has natural slide resistance, making it an excellent choice for use around the pool. You can modify your design by having the wood measured to your exact dimensions. However, utilizing pressure-treated wood or applying wood stain or paint can help to mitigate some of these issues. However, utilizing pressure-treated wood or applying wood stain or paint can help to mitigate some of these issues.
PVC/Plastic Decking
As a pool deck, PVC or plastic decking is also water and mildew resistant. In addition, PVC decking also has the advantage of being maintenance-free. In addition, PVC or plastic decking is resistant to stains, insects, and splinters, ensuring a safer environment around the pool.
But the difference with composite decking materials, PVC decking is more brittle. Over time, strong UV rays can damage the structure of PVC decking and can cause the PVC material to fade. With this problem, you will often need to replace the boards to ensure the deck looks great over time.
Preparation Before Building an Above-ground Pool Deck
You will need the following deck plan information before asking your contractor to draw deck blueprints.
Building codes. Have a contractor or building inspector review your plans to ensure they adhere to the required codes.
Pool measurements. Determine the size of the pool based on the size of the yard, then calculate the exact deck size based on the diameter and height of the pool.
Deck Measurements. Measure deck dimensions based on the finalized architectural drawings, including height, width, and area measurements for each material.
Material Preparation. Prepare all materials needed based on the measured dimensions.
Above Ground Pool Deck Considerations
Once you've decided on the style of pool deck you want, create the pool first, followed by the pool deck.
Build your pool and deck in close proximity to the house for safety reasons.
Consider how much sunlight your deck will receive when selecting a material. Some can withstand the heat better than others.
Instead of concealing your pool equipment or storage beneath your deck, make it easy to access these vital places by constructing a small equipment and storage room near your poolside.