The roof deck provides a unique, elevated outdoor space that can turn an unused space into a charming, functional area. You can hold parties, eat, relax, or even grow plants here. Whether you have a residential or commercial building, a rooftop deck can enhance your space and give you a more comfortable outdoor space.
Rooftop decks not only create an inviting oasis for relaxation and entertainment. It also acts as an extension of the indoor living area, seamlessly blending indoor and outdoor spaces. Through careful planning and design, a rooftop deck can create a special space. It allows you to escape the hustle and bustle of the city and enjoy the serenity and beauty of an elevated environment.
Things to Consider Before Building a Roof Deck
We all need to do some preparation work before we proceed with a building project. Making a roof deck is different than building a deck on the ground. This is because they are built on top of or on top of another building.
One of the first things to consider is whether your roof will be able to handle the extra weight of the deck. Ask the person responsible for building codes about load standards. A qualified professional engineer will calculate how much weight there will be before a building permit is submitted.
Weight is especially important if you want to add a hot tub, pergola, stone fireplace, or raised flower bed. When you calculate how much weight your roof can hold, make sure you factor in that extra weight.
Check laws and HOA rules
Check all local laws, zoning rules, and homeowners association (HOA) rules. This is the first and most important step in planning a roof deck. You should talk to the building department in your area to confirm that your building plans are in compliance.
Depending on whether you live in a historic area, your city or town may also have deck rules. Your HOA may have rules that say how big a deck is, what style, and where to put it. If you check these rules first, you can save a lot of money and time.
Ensure the construction environment
Often, roof deck construction requires more workspace than ground-level decks. You will need to determine how the construction crew will access your roof, whether by indoor stairs leading to the roof or outdoor scaffolding. Some houses may even require crane access to the roof deck, which means you must have enough space for the crane to move around trees or other obstructions.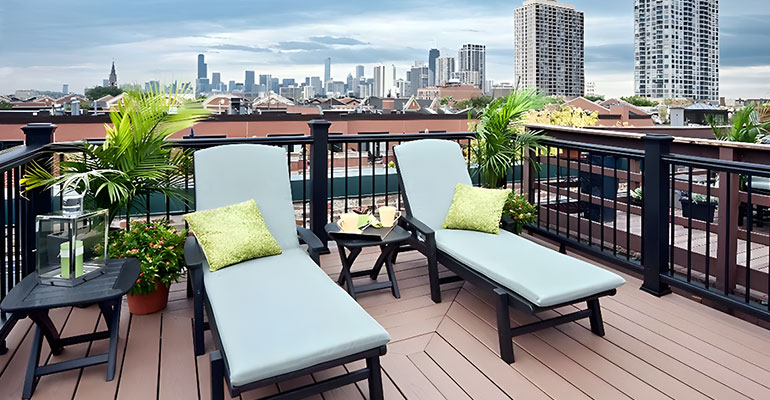 Also, if your roof is not completely flat, you'll need to figure out how to build a roof deck on a sloped roof. Your workers will have to figure out how to put the deck's supports in the right place.
Plan the surrounding landscape
When it comes to roof decks, the surrounding landscape of trees will be a very important part. Trees provide natural shade and add an attractive natural ambiance to the rooftop terrace space. Not to mention, they also provide a bit of privacy away from your neighbors.
Depending on how the trees on your property related to where you want your deck to be, you may need to cut down some trees or make plans to plant new ones for future growth.
You can also install built-in plant containers on your deck. Containers of plants and shrubs located around your deck can help provide the same benefits of privacy and shade.
Choose the right decking material
Decking materials selection is important, even more so for roof deck construction than for ground-level decks. Rooftop decks will experience harsher natural environments, including sun, wind, rain, and snow. Not all decking materials will work well for roof decks, so be sure to do your research before choosing.
Pressure-treated wood can splinter, requires a lot of maintenance, and often requires a 12-inch gap underneath, which makes it less suitable for most roof decks. Hardwood decking can be quite expensive and is not suitable for homeowners looking for an environmentally friendly option.
Composite decking materials are very adaptable to the environment, require little maintenance, are cool to the touch, and don't splinter easily. Better yet, you can use composite materials for all aspects of roof deck construction: flooring, siding, stairs, railings, benches, and gazebos. Anything you want to build with wood can be built with composites to create a beautiful and cohesive design for your rooftop living space.
Consider waterproofing and drainage
One of the disadvantages of a roof deck is that it tends to leak. Add an under-deck drainage system to your roof to ensure that all water runs off the deck.
You can find out the condition of your roof from a licensed roofing contractor. and advise you on your roof under-deck options.
Plan deck maintenance ahead of time
When you build your outdoor deck, you should consider how you will keep it clean. And how you will fix it if it breaks.
Especially if you build your deck under a pine tree, you need to be able to get the pine needles out from under the boards. If you add a drainage system under the deck, make sure you can reach any cleanup points.
Roof Deck Design Ideas
Once the prep work is done, you're ready to design your roof deck! What style of rooftop deck do you want? Do you want to have a party, or use it as a private haven? Do you want a bath to soak in or a hammock to relax in? Do you want to add plants that prefer full sun or plants that prefer more shade?
Talk to an experienced builder about all your needs. They can help you think through all the little things. Don't forget that your deck plan needs to include any utilities and amenities you want.
Landscaping
Just like you would plan a deck in your garden when you are landscaping. You should plan your roof deck in the same way. This landscaping can be as simple as adding risers and drains to your annual garden box, or as complex as planning trees and shrubs.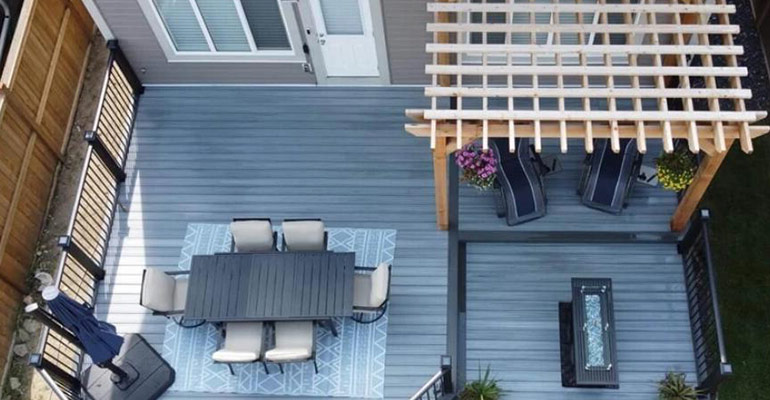 Choose plants that can handle being in full sun for long periods of time. Or add a cover to keep you and your plants from getting too hot. Adding landscaping to your roof deck can give you more gardening options, but requires more planning.
Deck Layout
Think about the design and layout of your roof deck. The planks on your deck can be set in a herringbone, vertical or horizontal pattern. A simple deck can be turned into something more artistic with the help of careful inlay. Add the edges of picture frames to hide the sides and make the colors stand out more.
Roof deck railings
When you're making plans for your deck, don't forget the deck railing. Consider adding a complementary color, or one that stands out, to improve the look and feel of the whole thing.
The International Residential Code (IRC) requires that any deck that is 30 inches above grade must have a railing that is at least 36 inches high. Therefore, roof decks need railings at all times.
Pick the right rooftop decks furniture
The right furniture can transform a simple rooftop deck into a comfortable outdoor living space. Just like choosing the right materials to build your rooftop deck, it is extremely important to choose rooftop decking furniture that can withstand direct sunlight and rain.
When choosing outdoor furniture that will last, look for furniture that is rated for outdoor use, is easy to clean, and is fade and stain-resistant.
Accent with a pergola
Another benefit of a rooftop deck is that you can enjoy the bright unobstructed sky. Sometimes, however, the sun can be too intense. If you want just the right amount of shade without compromising your experience of resting up high, consider adding a pergola.
Pergolas provide partial shade for outdoor living spaces. More importantly, a unique pergola design can add to the overall feel of the outdoor living space.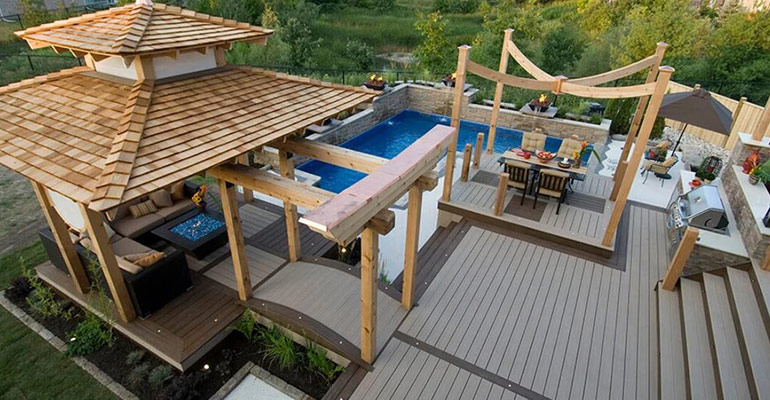 Add seasonal elements
There are many ideas for making your rooftop deck available almost year-round. Plush blankets will allow you and your guests to rest in comfort while infusing your space with design-rich textures and an inviting atmosphere. You may also consider adding a fire pit so you can continue to enjoy your outdoor space after the temperature drops.
How to Build a Deck on a Roof
Once you've considered your options and researched the local rules. Then hired a qualified builder, or decided to build your own DIY deck. Then you're ready to start your rooftop deck project. Here are the main steps to building a deck on your roof
Step 1: Prepare the roof and get the materials.
First, you'll want to decide whether the deck will be supported by railings, a wooden frame, or an adjustable base system. Prepare these supplies for the roof deck, as well as the roof deck and tools needed for the job.
Step 2: Prepare the sill plates and support beams.
Next, cut the supports and baseboards. The specifications for these products can be provided to you by your builder or architect. If you live near salt water, be sure to use galvanized or stainless steel fixings.
Step 3: Put the transom and base plate together.
Place the transom on the sill plate. Mark the hole in each panel's fixings and attach the beam to that hole.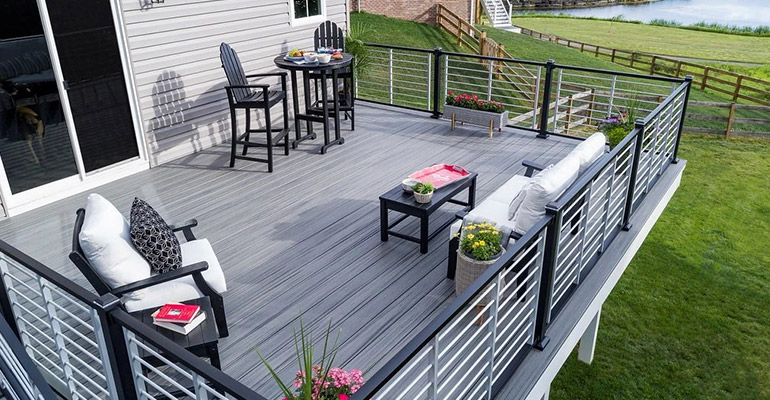 Step 4: Erect the joists and frames
Make sure all the beams are in place, then put the joists and brackets in place.
Step 5: Install the deck boards
Finally, lay down the deck boards. As mentioned before, you should figure out the plan for the boards before you start working.
Start Putting Together Your Dream Roof Deck
Now you've decided on the plans for your roof deck, chosen the materials you want to use, and considered the details. Then, it's time to start building your deck.
If you are interested in low-maintenance composite decking materials, then contact us today. We have a professional service team to answer any questions you may have. Also, we will provide you with composite decking-free samples so you can get a better understanding of our products.