A relaxing summer day on your outdoor composite deck. You lie in a hammock or lounger and enjoy a nice weekend. However, soon after, you give up the act. Because it feels a little sunny, which causes you can not continue to lie on your composite deck to relax. Creating an outdoor composite deck to relax is a smart idea, but it requires the addition of pergola ideas to shield you from the sun.
On a hot summer day, hang out by the pool, gossip on the lounge chairs, and have another round of barbecue fresh off the grill. To provide decent shade features, we offer a simple solution to build a pergola to transform your composite deck.
The pergola idea is a safe way to bring the wow factor to your outdoor deck. If you are looking for a new outdoor pergola, you can refer to the following solutions. Pergolas are an eye-catching focal point that is both practical and stylish and can provide needed shade in sunny areas.
Pergolas are also super versatile, providing a means to channel your personality and match the theme of your garden design ideas. From painting and planting to lighted styling, there are many ways to make a pergola your own. Pergolas aren't just for patios either – how about a pergola that can also be used to create a charming canopy over a pathway, or how about a mini version of a pergola to add interest to a fence?
Pergola Ideas: A Lovely Look for Your Outdoor Space
A pergola is a safe place in your yard from the rain, sun, and wind, a way to enjoy some shade in warmer, cooler weather. A roof structure will extend the amount of time you spend outside enjoying and relaxing. We've put together some different styles of pergolas to inspire you to design your own.
The growing popularity of outdoor living spaces can add value to a home, and they can be attached to or detached from the house. Pergolas can also be used as canopies over pathways.
Cover entertaining spaces with pergolas
A stylish pergola provides a heavily shaded vantage point from which you can relax and enjoy the view. If you enjoy hosting family and friends and have a large patio space, then pergola ideas can provide the perfect accent. Hanging ferns provide a refreshing green color. Pergolas also make it easy to hang a chandelier or two above the outdoor dining table to keep the lighting mild as night falls.
The space around the courtyard and the paved outdoor deck is formed by a wooden structure. Thus, the eye is drawn downward for additional visual interest while making the feeling of a unique garden place. The selection of evergreen shrubs will provide plenty of greenery throughout the year. Arranging borders on all sides helps to further expand the dividing line. Choosing evergreen foliage will provide year-round greenery.
Match the wood pergola design to your furniture
This striking pergola is handcrafted from composite materials that are not only durable but add a wonderfully organic and warm tone to the scene. What's more, the pergola's slatted design allows the warm summer breeze to flow comfortably through while still providing plenty of shade.
Pairing it with a wooden dining table in the same color brings a real sense of harmony to the area.
Expand the look of your home
A pergola can either be freestanding or attached to the surface of your outdoor room. We love this timeless look, and it becomes even more beautiful when you add climbing roses. You can add a pergola right from your back door for instant shade.
It's kind of like an extension and helps enhance your home's sense of space. And, if you also invest in a covered style, it will provide a piece of your garden that is still accessible even when it rains.
Create a shaded sunken space
If you choose to combine plants with your pergola idea, consider choosing scented varieties for a real ambiance boost.
You can use star jasmine because their white flowers are scented. The additional plants bring a is wild feel to this space. And the gray look maintains a modern palette. Sinking the area from the rest of your plot is also a great way to make it feel more sheltered and will make the boundaries more defined.
Install stylish hanging chairs
A hanging chair can be perfectly combined with a slender pergola. It is an eye-catching focal point in a black palette while complementing the trendy tiles and minimalist fence panels nearby. It also suspends the egg chair to provide sturdy support.
Statement furniture and a bold color palette are always a good choice for modern garden ideas.
Choose beautiful colors for your pergola
Composite materials can be customized with specialized colors. You can customize the color you need through the manufacturer to make it fit your scheme. A lighter color can brighten up the space and give the garden a summer feel. Combined with sleek pavers and chic furniture, the result will feel modern and fun.
Choose a bold color scheme
A black or dark gray pergola adds a dramatic accent to an outdoor space, which is perfect if you're going for an industrial edge.
If you choose this approach, pairing it with neutral accessories is a surefire way to achieve a subtle yet sophisticated vibe. However, if you're going for something more interesting, try combining inky tones with bold yellow tones. We can use textiles that resemble sun-appropriate patterns, which contrast beautifully with black. Garland lights and hanging baskets can help you complete a gorgeous look.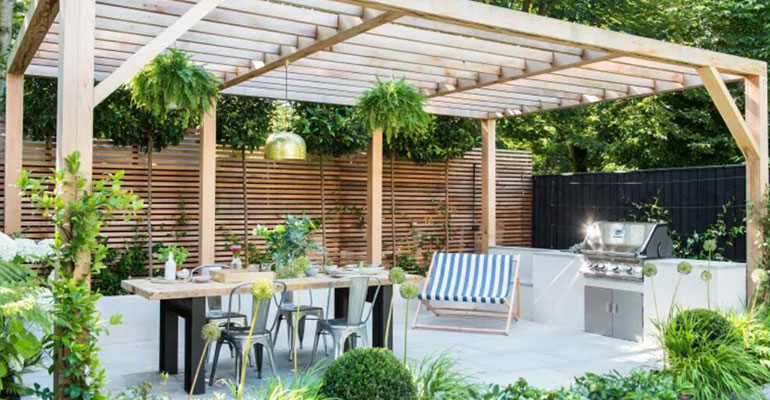 Decorate the fence with a mini pergola
Want to try something a little different for your pergola ideas? Add a miniature pergola to your fence. It will add height to the fence and shade to its surroundings.
Combined with a trellis, it's also perfect for supporting climbing plants. and create a green and leafy screen as they grow. If you're considering updating your garden fencing ideas, this is definitely one to consider.
Combine a natural roof with decorative lights
Take a style cue from the setup above and plant climbing plants on your pergola. This will provide a natural ceiling that offers protection from the sun and showers – perfect for your outdoor seating idea.
To avoid the space feeling too enclosed, cultivate the plants up and over the top from one side of the pergola, leaving the other three sides open. Then complete the scene with hanging paper lanterns and a string of ribbon for a cozy glow.
Curate a brightly colored space
One of the best uses for a pergola is to create a partition to create a relaxing area in the garden.
Try using your pergola idea to frame an outdoor living area with a coffee table and outdoor lanterns. This design uses pergolas and angled decks to define the relaxation space and make it feel like a living room of its own.
Choosing bold colors will bring a laid-back summer vibe to this space.
Create an outdoor dining area
If you like to dine outdoors and don't like your food to be completely exposed to the air. Then you can use a pergola to protect the food from rain and wind.
Add some string lights and a candle or two, and your new dining space will feel cozy and intimate, perfect for an elegant dinner party with friends.
Transform your home office environment
Combine your home office with a covered pergola in a stylish design. After months of working from home, do you want to introduce the idea of a garden office into your scheme? You can add a covered patio to your design that will allow you to have coffee and fresh air on a regular basis.
We love this stylish design that turns the covered space into a room of its own, complete with lighting, sofas, and even a coffee table.
Which direction should the pergola face?
For optimal shade for most of the day, consider facing the open pergola toward the sun to intercept it before it hits your seating area.
What is the optimal height for a pergola?
The minimum height of a pergola should be no less than two meters to provide adequate headroom, although some pergolas can be higher.