There are many ways to improve your outdoor living space, and if you want to add something to your outdoor area that is both functional and beautiful. Then a water feature is one of the best ways to do so. Outdoor water features can infuse serenity, visual interest, and luxury into any outdoor living space.
Whether you have an expansive backyard or a cozy balcony, adding a water feature can enhance the ambiance and create a soothing oasis. From elegant fountains that emit the sound of gurgling water to serene ponds filled with aquatic life, the options are many and varied. You can customize it to fit your aesthetic preferences and available space. Incorporating water, a natural element, into your outdoor environment not only brings a sense of serenity but also promotes a connection between people and nature, making it the perfect addition to your outdoor retreat.
Are patio water features worth it?
There are two main reasons to have a water feature in your backyard. The first reason is that a water feature can serve a practical purpose, such as allowing you to shower outdoors or serving as an inexpensive alternative to a swimming pool. The second reason to have a water feature in your backyard is that they look beautiful. They help to enhance the style of an area and give off a calm, relaxing vibe.
Finding the perfect water feature for your outdoor living space takes a little inspiration. Here are a few of our favorite water features that will make your garden beautiful.
10 Water Feature Design Ideas for Your Patio or Deck
Outdoor water features vary in difficulty to build, cost, and placement. For example, if you want to add a water feature to your patio, you can choose a design that takes up less space. Whereas, if you have a larger patio area, you can opt for a more complex water feature.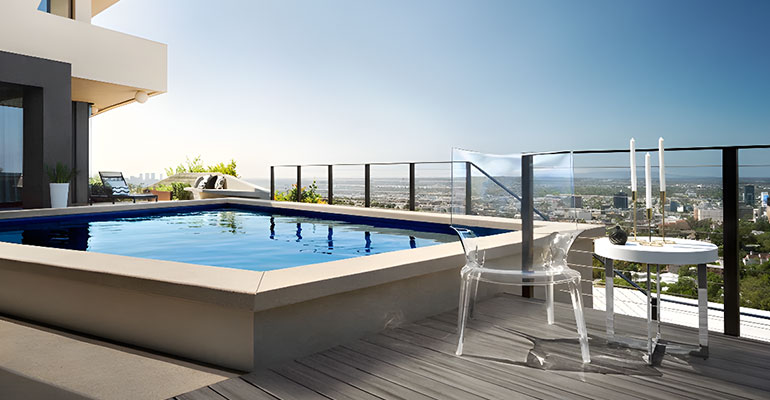 Streams or Creeks
Building a stream is one of the more difficult water feature projects. But if you're up for the challenge, you'll need a pump, PVC pipe long enough for the creek, some dirt, and a few bags of concrete. Finally, you may also need to get permission from your homeowners association or find out if you need a permit to build the feature.
You can use rocks or bricks to direct the flow of the artificial stream to make it look more aesthetically pleasing. Since you can control the flow of water, you can use these patterns to create water features for your patio and surrounding areas even if you don't have a large backyard.
Patio Ponds
Patio ponds are an easy hands-on water feature that almost anyone can make. While a backyard pond isn't big enough to swim in, it can be a great place to relax by the water and is one of the most affordable landscaping ideas for a job of this size.
If you want to take it a step further, you can even make your own koi pond. You just need to make sure that the pond is large enough for the fish to grow well and that any plants you add will coexist with the fish.
Outdoor Showers
An outdoor shower can combine the most attractive part of your water feature with the most useful part of your design. Whether you're looking to set up a shower area for your pool or you want to enjoy the freedom of an outdoor shower when the weather is right, a DIY shower can have many uses.
But since this is a difficult project, you'll need to know more about how to build an outdoor shower and what skills are required.
Water Basins
Water basins are one of the most popular water features in the backyard and look great almost anywhere. You can help wildlife while allowing birds to come to your yard. There are many different kinds of birdbaths you can place in your backyard, from complex fountains that serve as eye-catching focal points to simple fountains that blend in with your garden or shrubbery.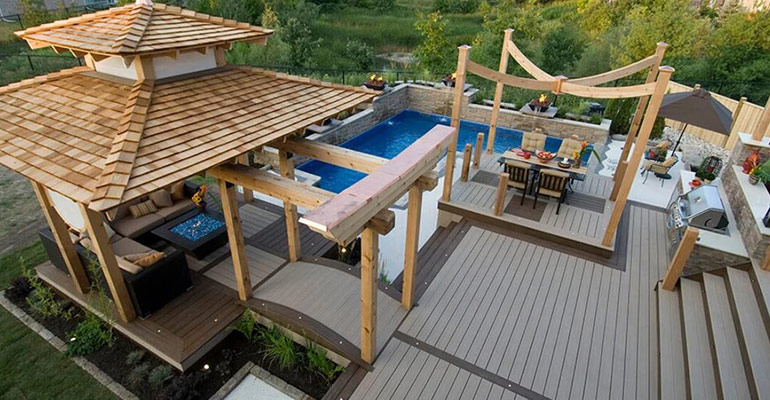 Water Walls
A water wall is one of the best ways to give an area a definite sense of space. Water walls can create a sense of separation and add a natural flavor to the landscape, which is more than a regular wall can do. Water walls can be built on their own or to mirror an existing fence or wall.
A pump at the bottom of the water wall helps the water to rise and then trickle down, creating a beautiful flowing effect. This can be a great addition for homeowners who are decorating a small area such as a deck and are considering adding a water feature.
Small Pool
While it's not as big as an Olympic pool, building a small swimming area of your own is easier than you might think. Even if you don't have enough room to swim, you'll only need a small pool to cool off on hot summer days.
If you live in a colder area, you can also add a hot tub to your lawn as a relaxing water feature instead of a small pool. In either case, a properly located wading pool or hot tub can be a great addition to your yard.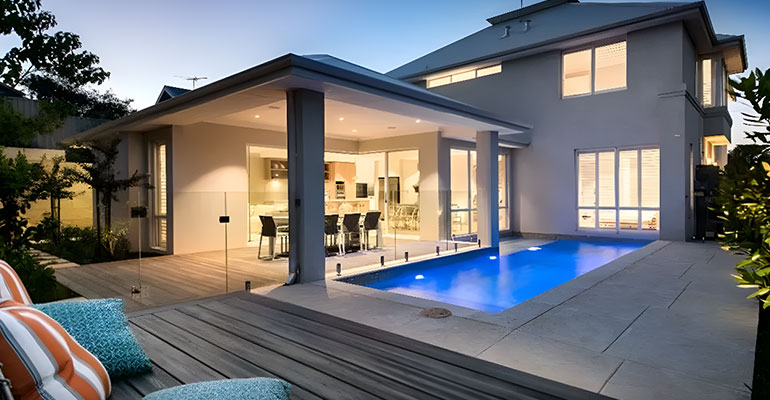 Fountains
Fountains can give your backyard an elegant look. Fountains can make your backyard look more interesting, but they are usually best used to create the centerpiece of a room.
For the most part, the best ideas for outdoor fountains have a focal point that you can build your fountain around. For example, your fountain can be surrounded by some nice plants or near one of the most commonly used paths in your yard.
Hanging Fountains
Some outdoor fountains take more time to set up, but others are great fun. With a well-made hanging fountain, you can save the space that a regular fountain takes up and still enjoy a beautiful water feature in a smaller area.
Hanging fountains are a great way to make the most of limited space, but you will need to plan the way the water flows carefully.
Waterfalls
Waterfalls are one of the most beautiful natural water features. Well-designed waterfalls combine a calm flow of water with a babbling stream in a pleasing way. Making a waterfall is not much harder than making a stream.
You just need to keep in mind that the path of the waterfall needs to be at different heights. Therefore, it is a good idea to build a waterfall in a garden with a hill or gentle slope.
Children's water playgrounds
Most splash pads are found in parks, but you can also build one yourself to make your backyard more fun. Splash pads don't have pools and are safe for kids.
The only problem is making sure the splash pad is built on a surface that isn't too slippery when wet. If your kids love running through puddles, then they will love the splash pad.
The most suitable decking material
When you plan to create an outdoor water feature, if it is adjacent to your outdoor deck. Then, you need to think about the maintenance and upkeep of your deck as well.
While a patio water feature can make your patio more aesthetically pleasing, it can also bring in more water. And too much moisture can make your wood deck damp or even rot. As a result, you will need to perform maintenance tasks such as sealing your wood deck frequently.
Of course, if you don't want to go through so much trouble, you can also choose composite decking material. Waterproof, mold-resistant, and low-maintenance, composite decking boards will allow you to enjoy your garden better.
Related Post