When the weather turns cooler, adding a fire pit to your deck can delay your enjoyment of your deck. A proper deck fire pit can create a cozy and pleasant atmosphere and add a different style to your patio. There are many backyard design ideas and sources of inspiration to draw from when planning a deck fire pit.
But when installing a fire pit on a wood deck or composite decking, safety should come first. Before deciding to add a fire pit to your outdoor deck, you should think about how much it will cost and what safety measures you should take. You can also look at some deck fire pit ideas to understand your options and weigh the pros and cons.
Is it safe to install a fire pit on a wood deck or composite decking?
In most cases, it is feasible to install a fire pit on a wood deck. However, there are so many factors involved in installing a fire pit that we need to determine a variety of issues prior to installation.
For example, you will need to check with a contractor or structural engineer to see if your deck is strong enough to carry a fire pit. You should check the building codes in your area to see if a deck fire pit is allowed. If you live in a city, the code may state that you cannot burn wood on your deck and must use a gas fireplace instead.
When you burn wood in a fire pit, flames, sparks, and smoke can come out, which can be dangerous. For some types of deck fire pits, you may need to designate a no-burn zone around the fire pit and place something between the fire pit and the railing to prevent someone from lighting the fire pit. The same safety measures will need to be taken if you want to build a fire pit on composite decking.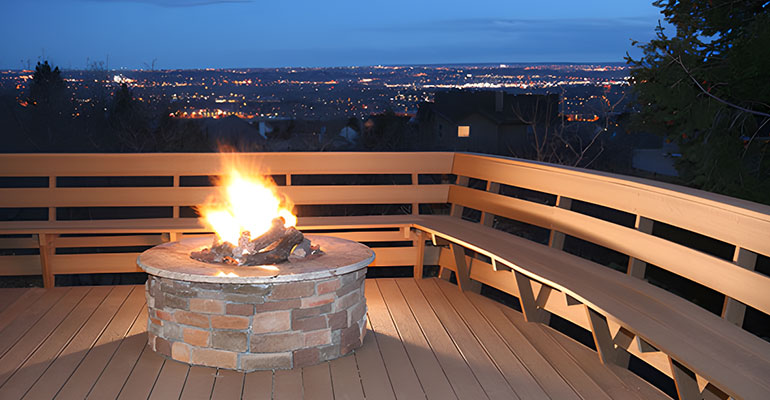 Different kinds of deck fire pits
One of the best ways to continue using your deck in the winter is to get creative with how you use your fire pit. There are several types of fire pits to choose from. Whether you're looking for more practical reasons like staying warm, or you prefer the style and fun that this addition brings to your yard, there are different kinds of fire pits to suit your needs.
Fire Table
As the name suggests, a fire table is a table with an added element of fire, usually located in the center of the table. This design of the table partially leaves at least a few inches of space at the edge of the flames for drinks, utensils, or other things. Thus it is not just a fire pit, but has some of the same functionality of a table. Stone is generally a more suitable material for a built-in design, but it is more expensive and harder to move than steel.
Fire pit bowls
A fire pit bowl is usually a large bowl placed on a tripod a few inches above the ground. Many people consider steel fire pit bowls to be the best for carrying around. They also hold up well to the heat and wear and tear of the outdoors. The feet on each bowl should be made of rubber or another material that won't leave marks.
Tabletop Fire Pits and Fire Bowls
Unlike fire pit bowls, tabletop fire pits do not require legs because they can be placed directly on another surface. It is important to note that this type of fire pit can get wet from rain, so this style may not be suitable for all environments.
Chimineas
This is a type of front-loading oven/fireplace that has been used for centuries in Spain and Mexico. You can find stoves with classic aesthetics and modern designs: some look like old-fashioned pot stoves, while others are more elaborate. There are still some chimneys that can be used for cooking, but most are no longer used for cooking.
The most important things for most fireplace designs are to be aesthetically pleasing, provide a consistent and even heat source, and be safe with the fire. If you want to use your chimney on your deck, you may prefer a portable chimney.
Built-in Fire Pits
Many fire pits are removable, or at least portable to some degree. A built-in fire pit on a deck, on the other hand, can tie the whole area together and give it a very high-end look. When placed properly, a built-in fire pit can be a great addition to the space in which it is located.
Fire pit style and shape ideas
There are different types of fire pits you can consider and different ways they can be placed. This includes their general style, shape, and size, as well as some differences in how they work. See the list below to get a better idea of your options.
Modern Fire Pits
There are many fire pits that look old-fashioned, like chimneys, but there are also many modern fire pits that look sleek and new. This style can look beautiful in the right place, but some modern fire pits may look out of place when everything else is aging. However, they can also make a statement and complement a more modern decor.
Excellent modern design is seen in round fire pits. It combines form and function beautifully, and you can't have one without the other. More sophisticated designs can add wireless connectivity but can be more costly, so be mindful of the placement of manual controls.
Rustic fire pits
Many people like decks that look like they belong to a rustic aesthetic. For this reason, a cast iron or other type of metal fire pit is the best choice for a rustic fire pit. Cast iron can last for years and still retain its beauty, but stainless steel is also a good choice.
Round Fire Pit
Round fire pits can make the most of space just like a coffee table. Since most round outdoor gas fire pits are low to the ground, they are not suitable for use as a table. However, it is perfect for providing heat on the ground.
Rectangular Fire Pit
If you opt for a longer rectangle, you will have to give more thought to the placement and size of the table. In most cases, this type of fire pit works best in smaller rooms and can make the room look more interesting. If the gas pool is not round, you may need to give more thought to how you approach the gas tank.
For example, the 43-inch propane fire pit has a front-loading gas tank that is easy to reach. The frame is made of powder-coated aluminum, which is lightweight without losing stability. This type of fire pit also allows you to change the height of the flame, which isn't always standard on newer fire pits.
Square Fire Pit
Square fire pits have the same sleek look as rectangular fire pits. However, they are not as long and therefore work better in smaller rooms and with smaller groups.
Square steel and wood fire pits sit low and the galvanized steel mesh keeps hot sparks out of the fire pit. It is easy to clean as the opening can be pulled out.
How to Properly Use a Fire Pit
Everyone who owns a fire pit is responsible for using it safely. Fire pits can be a lot of fun and make the outdoors warm and inviting. Keep these fire pit tips and best practices in mind:
If you have a wood fire pit, clean out the ashes frequently and cover it when not in use. This way the ashes won't spread.
Make sure the area where you place your fire pit is safe, level, and free of low-hanging trees.
Keep in mind that homeowners associations and building codes in your area may dictate how flames can be used.
You may also have to speak to the homeowner's insurance company about the fire. You can check with your agent to see if this will affect your policy.
Keep flammable objects away from fire pits at all times, and keep even plants and bushes at least 15 feet away from fire pits.
If you have composite decking, you should consult with the manufacturer of the composite decking about the best way to use the fire pit.
Related Post