Trex is an acclaimed and popular brand of composite decking known for its quality and durability. While Trex is the best choice for many, whether there is something "better" depends on your specific needs and preferences.
There are other famous composite decking brands such as TimberTech, Azek, Fiberon, and COOWIN. They all have their own unique styles, features, and price points. Determining which one is "better" for you requires consideration of factors such as your budget, desired aesthetics, maintenance expectations, and environmental concerns.
Each brand may have a different product line, and some excel in specific areas such as scratch resistance, color options, or sustainability. Ultimately, the best choice is one that fits your specific project requirements, striking the right balance between quality, aesthetics, and value for your particular situation.
Which Brand of Decking is Best For Me?
As composite decking has become more popular in life, more and more low-maintenance deck design methods have sprung up. There are many brands of composite decking out there, each with its own unique benefits.
But how do you know which brand is best for you? This practical guide to the best composite decking brands on the market will help you find the best deck brand for you.
Common Composite Decking Brands on The Market
For those who know the composite decking industry, Trex composite decking is far ahead of other brands. Trex is a well-established company that is trusted in the composite decking decorating industry.
Apart from Trex, there are some other more famous composite decking brands. We will be covering these decking brands in detail next.
List of The Best Decking Brands in The Market
Trex
Trex's composite decking boards are tried and true and easy to use. If you're new to the composite building materials industry, then you likely know Trex as a composite decking board. There's a reason for that. Trex is the most recognizable brand in the composite decking materials industry, as they pretty much created the category.
In the 1990s, Trex was the first company to sell low-maintenance composite decking. Since then, they have remained the best composite decking brand.
That's where Trex deck boards come in durability. Trex brand decking is a classic and will never go out of style, so your deck will always look great. In addition, Trex composite decking performs exceptionally well in harsh outdoor conditions, is structurally sound and aesthetically pleasing, and requires no constant maintenance.
Because Trex has a strong foothold in the composite decking market. It's easy for people across the country to use the brand in their decking projects. For example, DecksDirect has the largest inventory of Trex decking in the country. They can also quickly ship composite decking anywhere in the United States.
Because Trex is a big name in composite decking trim, it's easy to make deck projects that look great from top to bottom. You can find Trex decking boards, the hidden fasteners that go with them, deck railings, deck lights, and even under-deck drainage systems all in one place.
Trex decking features
Best-known brand of composite decking
Proven deck style
Available anywhere
Large selection of railings, lights, and decking from the same brand
COOWIN
Established in 2000, COOWIN is the leading manufacturer of composite decking in China. With years of production research and development of composite decking products. COOWIN has taken a leading position among composite decking manufacturers. Its composite decking boards can make decks look very stylish, trendy, and well-designed.
COOWIN composite decking is produced from 100% recycled, FSC-certified wood flour and waste plastic through an extrusion process. The brand's products combine the traditional look of wood with the durability and resilience of engineered composites, certified by SGS and Intertek.
In addition, COOWIN uses a patented extrusion technology that perfectly encapsulates wood flour pellets with HDPE. So that their composite decking boards have the look of wood while retaining the rich color of HDPE. After years of research into non-co-extruded WPC production technology. COOWIN has successfully brought 3D wood grain and artistic colors to flooring and wall panels.
COOWIN's composite decking has excellent properties such as high strength, high hardness, acid resistance, corrosion resistance, no deformation, formaldehyde-free, easy recycling, etc.
Besides, it can be made into various shapes and holds the natural characteristics of solid wood. Meanwhile, COOWIN's composite products are widely used in flooring, fences, pavilions, bridges, tables, chairs, handrails, flower boxes, pallets, and so on.
As with Trex, you can buy all the trim boards, railings, and hidden fasteners you need for your decking project at COOWIN.
It is important to note that as a manufacturer of composite decking for direct delivery. Composite decking from COOWIN is less expensive and more suitable for homeowners building large outdoor decks as well as dealers and agents.
Features of COOWIN decking
Patented 3D wood grain surface with artistic colors
3D wood grain decking perfectly mimics wood grain, featuring deeper grain, durability, and abrasion resistance
Capped composite decking with 4-pack cladding technology
Can be customized with the desired model, color, and wood grain surface
Manufacturer-direct delivery for more affordable prices
Timbertech
TimberTech is also a popular composite decking brand with a large assortment of products. TimberTech honors the unique style of each deck and can make your decking dreams come true.
Since TimberTech always stays on top of color and style trends, they can offer you a wide variety of the latest fashion choices. They all feature the reclaimed wood look that is so popular in interior design these days.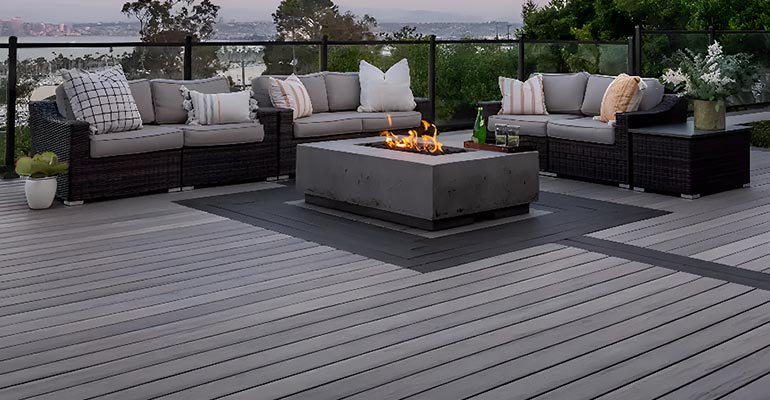 TimberTech has many different products, and depending on the needs of your deck, you can choose either PVC or composite decking. TimberTech produces innovative multi-width deck boards in the PVC category. With these boards, you can mix and match extra narrow and extra wide boards to make a unique outdoor deck design.
With so many options available, it's easy to see why TimberTech is so popular with roofers and deck builders across the country. TimberTech produces a very reliable, high-quality product that can be retrofitted in a variety of ways.
Features of TimberTech decks
Deep, on-trend styles
Wide variety
Different widths of outdoor decks
High-end PVC products
Deckorators
Deckorators have the best and most durable decking boards Deckorators are known for their mineral-based composite decking, which is one of the newest and best decking materials available.
The new composite decking made from minerals is different from the old-style wood-plastic composite decking. This decking board of the future has the best strength-to-weight ratio in the industry because it is made from synthetic plastic and long-lasting minerals.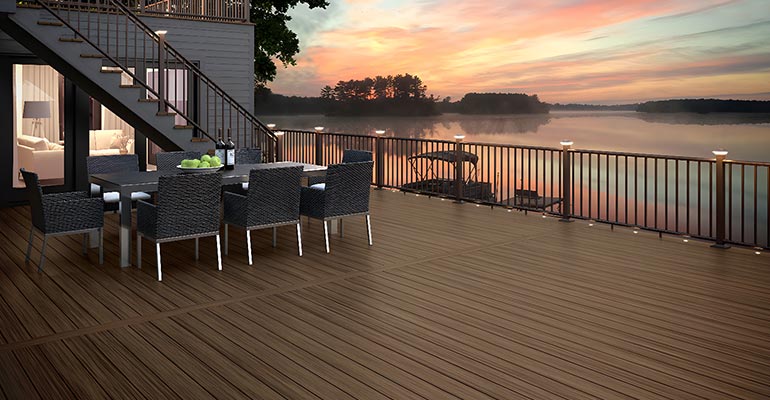 In addition, mineral decks are very stable at any temperature. They do not grow or shrink when the temperature changes. This keeps the boards from changing shape or warping and keeps the screws from loosening over time.
Deckorators Deck boards look great because they mix colors in a natural way for a stunning multi-colored look. If you want your deck to look brand new, Deckorators is the way to go.
Features of Deckorators Decking
High-end, gorgeous deck look
Mineral-based composite material
Popular color combinations and multi-tone look
Fiberon
Fiberon Deck Boards are both valuable and environmentally friendly, and these composite decking are one of the best values in the industry.
By using new methods of manufacturing products, Fiberon is able to use a large amount of recycled material in each deck board while still producing high-quality deck boards at a great price.
Innovative technologies, such as Fiberon's closed-loop water cooling system, have helped the company save money and materials, allowing them to produce quality deck boards at a "great value."
Features of Fiberon Decking Boards
Inexpensive, high-performance boards
Environmentally friendly, long-lasting, and effective manufacturing methods
Designed by experts, approved by experts
Barrette
Barrette is a unique name, and if you want your decking to look unique, it's the way to go.
The most interesting thing about Barrettecomposite deck boards, each board comes in a variety of colors and shades. This makes each board different from each other and from one end of the same board to the other.
Barrette deck planks give off a unique, eye-catching look at a glance. This individuality goes beyond style. Barrette also has a unique method of installing boards called Step-Clip hidden fasteners. This system allows you to install the planks by stepping over the fasteners.
Choosing Barrette composite decking is also easy and convenient. You can choose from any of the brand's seven colors and select either a flat bottom (Siesta Series) or a pleated bottom (MVP Series).
Features of Barrette decking
Decking that looks different
Unique and innovative "ladder clamp" fastening method
Each board is available in many different colors
Envision
Envision composite decking is beautiful, extremely durable, and affordable. So you can build larger decks or more complex deck board designs without going over budget.
Envision decking comes in classic soothing colors with natural tones. They have a classic look that goes with many different architectural and design styles.
The great thing is that Envision pays close attention to detail. Composite decking boards sometimes have the same texture pattern repeated. But Envision makes sure that the texture pattern doesn't run the entire length of the deck board. This gives the deck a truly natural, rustic look that complements the untouched natural beauty of its surroundings.
Features of Envision decks
High-quality deck boards at an entry-level price
The grain pattern of the wood is never the same
Traditional and classic deck look
Summarizing
Whether there is a better product than Trex in the field of composite decking is a subjective question that largely depends on personal preferences and project requirements. Trex is a reputable and reliable choice, but it is not the only option.
Other quality brands offer excellent choices with different features that can better meet your specific needs. Whether it's enhanced durability, specific color tones, or unique sustainability measures. It's worth exploring the full range of composite decking products to find one that perfectly matches your budget, aesthetic preferences, and performance expectations.
The best composite decking boards bring your outdoor vision to life, ensuring that your outdoor living space is durable, low-maintenance, and visually appealing.
Related Post