Setting up a table on your outdoor deck can make as big a difference as setting up furniture in your room. When the weather is right, a well-placed table makes it easy for family and friends to get together and enjoy the outdoors. There are many benefits to making your own deck table. Not only will you save money, but you can make it fit perfectly with the style and size of your outdoor deck.
Why make your own DIY deck table
Making your own deck table is a rewarding DIY project that allows you to customize a piece of outdoor furniture to fit your style and needs. To begin, you will need the right materials and tools, and then consider the design drawings for the deck table. Once you are sure that the designed deck table meets the various requirements, proceed step by step with the fabrication and installation of the deck table according to the required steps.
Once you have the basic DIY fabrication experience, you can make a range of outdoor tables. From coffee tables to dining tables, each is suitable for different situations. With some advance planning, anyone can learn how to make a beautiful and functional deck table.
DIY Outdoor Dining Tables
Learning how to make an outdoor dining table is easier than you might think at first. That's because it doesn't require fancy decorations or carvings and looks like it was made by professionals. This simple design has six seats and looks great outdoors. With this table, you can easily install parasols, lanterns, or lights on your deck so you can enjoy it all year round.
Required Materials
Three 2 "x4 "x8′ boards
Seven 2 "x6 "x8′ boards
2-1/2″ pocket hole screws
Four dining table legs or 29″x 3-1⁄2″ substitute
You can choose any of the deck materials. Aside from appearance, each manufacturing material has its own advantages and disadvantages. Imported woods, such as hardwood, are ideal for outdoor furniture, as they are strong and durable. Cedar, on the other hand, is a popular and inexpensive choice. Of course, you can also choose composite material for your deck table, which is strong, durable, long-lasting, and has good resistance to mold and insects.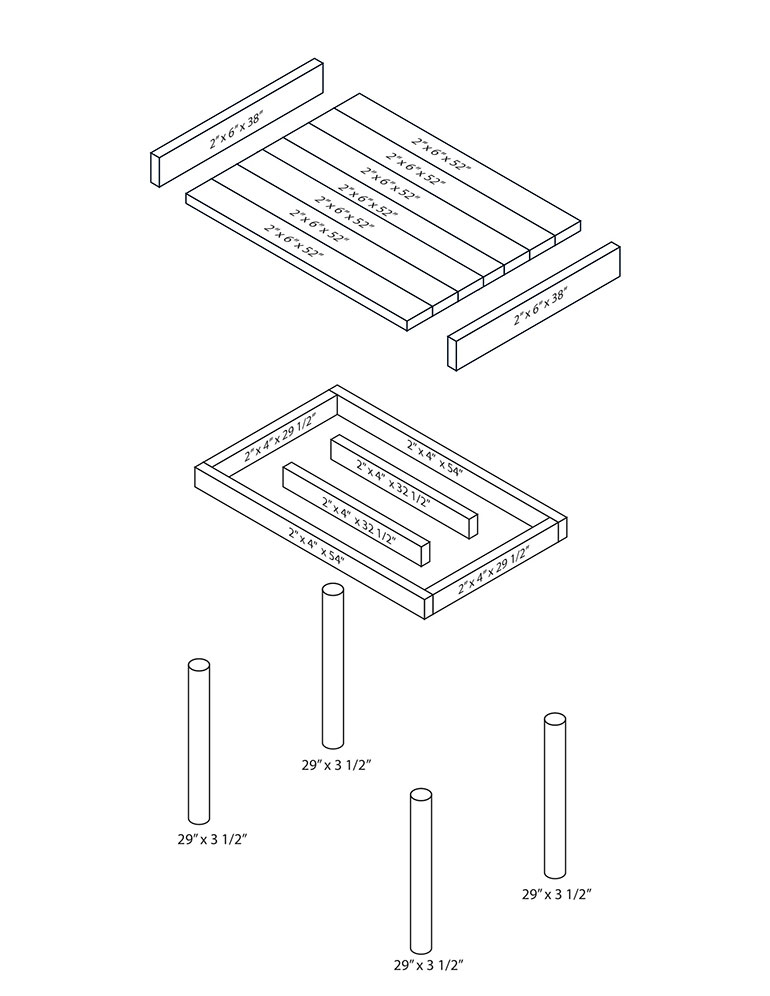 How to make an outdoor dining table
Step 1: Cutting the boards
Using 2 "x6 "x8′ boards, cut the tabletop into seven 52″ boards and two 38-1/2" boards. Cut two 54-inch pieces from the 2 "x4 "x8′ planks for the length of the frame. Cut two 32-1/2″ blocks for the center section of the frame. Finally cut two 29-1/2" wood blocks for the width of the frame.
Step 2: Make the base
Put the frame together. Punch holes in each corner so you can attach the table legs. First, attach the legs with screws. Then, drill holes in the top of the frame so that the tabletop can be attached.
Step 3: Putting Tables Together
Align the seven 2 "x6 "x52" boards, then add two 2 "x6 "x38-1/2" boards on each side. To attach the planks, drill holes in the planks. Clamp the joints of each plank before attaching the planks together with screws.
Step 4: Assemble the table
Attach the tabletop to the base using the holes already drilled and secure it with screws for stability. Sand any rough spots flat and smooth, wipe away any wood shavings with a damp cloth, and let the table dry. Finally, apply a coat of outdoor-grade varnish or paint to the surface of the DIY patio table to keep it protected from the elements while also matching the deck better.
DIY Deck Coffee Table
A good coffee table can do a lot more than just hold drinks. This elegant X-shaped table leg design gives you plenty of room to share a seat with friends. It can also brighten up your deck and make it more appealing to people.
Once you've finished making this square coffee table, it's also easy to change its tabletop shape if you want to. Use a miter saw to easily change this small coffee table from a square to a round tabletop.
Required Materials
Wood glue
2″ Wood screws
1-1/4″ and 2″ brad nails
One 1 "x4 "x8′ board
One 2 "x4 "x8′ board
Three 5/4 "x6 "x8′ decking
How to make a coffee table for a deck
Step 1: Cut the boards
Cut the decorative boards into four 36-inch planks. For the table legs, cut them into four 14-1/2-inch boards with 36° angles on each side. Cut the 1 "x4 "x8″ boards into four 18-3/4-inch boards. These boards will be used to support the top and bottom of the legs. Then, cut four more 3-1/2-inch planks to make the foot sections. Use the remaining planks to cut four sections for a tabletop that measures 20-3/4″ and a center beam that measures 26-1/2".
Step 2: Assemble the Sides
To make the X-shaped legs, cross two 14-1/2″ boards together. Place 18-3/4″ cuts 3/4″ from the edges and 1-3/4″ from the sides on the top and bottom of the legs, respectively. Drill holes in the top and bottom ahead of time and assemble them with 2″ wood screws. Secure the legs with wood glue and large head screws.
Step 3: Putting Together the Base
Attach the sides to the center crossbar. Pre-punch holes in the crossbeams before attaching them with 3-inch wood screws. On the other side of the center crossbeam, attach the 2 "x4 "x1" ends to the crossbeam using wood glue and corner nails.
Step 4: Splice the Top
Arrange the desk planks so that they are 1/4″ apart. Lay the 20-3/4″ planks flat on top, 1″ apart on each side. It's a good idea to pre-drill holes in each board to make it easier to splice. Next, connect the seams, clamp them, and screw them together with wood screws.
Step 5: Attach the base and top boards together.
Before attaching the base to the top, drill holes in the top of the base. Then attach the base to the top with wood screws. Use a damp cloth to sand away any glue or rough spots. If you wish, you can stain or paint the wood after it dries.
Summing Up
With a few finishing touches, even a do-it-yourself outdoor dining table can look like it was made by a professional. This modified outdoor dining table draws on the best of both worlds: the traditional style of an indoor dining table and the open layout of an outdoor dining table.
Want a less formal dining table? The Round Wood Frame Dining Table is easy to use and looks great on any patio because it's both modern and classic. This design can easily be converted into a small coffee table or lengthened to seat six people
If you're looking to make an inexpensive outdoor table on a budget, the right treatment can give the wood a look you wouldn't expect. Even rough, inexpensive planks of wood can make a beautiful outdoor table. This is a great project for someone who is just starting to make their own.
Related Post