Deck planter boxes add a touch of green and natural beauty to your outdoor space. It allows you to enjoy gardening on your deck. Whether you want to grow colorful flowers, fragrant herbs, or fresh vegetables, making your own deck planter box is a simple and easy DIY project. By choosing the right materials and following a few simple steps, you'll be able to create just the right deck planter box.
Planter boxes are easy to make and can be installed in the afternoon. They can be any shape or size and are a great way to add natural color to your outdoor deck. We may consider making planter boxes out of composite decking material. This is because they last longer and don't require much care. In addition, composite decking materials are waterproof, won't rot, and prevent ants from eating them.
What is a deck planter box?
Deck planter boxes come in many different shapes and sizes, but all are used to display potted plants. They can be placed on a deck or in other locations and used to better decorate an outdoor living space.
Planters are typically made of 2x4s and 2x6s and have a 12-inch – 16-inch shelf under the top to support the plants. The purpose of this is to replace plants as needed while providing the illusion that the plant is growing from a planter.
Decorative panels are used to cover the parts of the plant that people can see. If you want to place soil in the planter outside of the pot, the inside of the planter should be lined with mylar to protect the wood. Planters are often used with benches to create an overall pattern.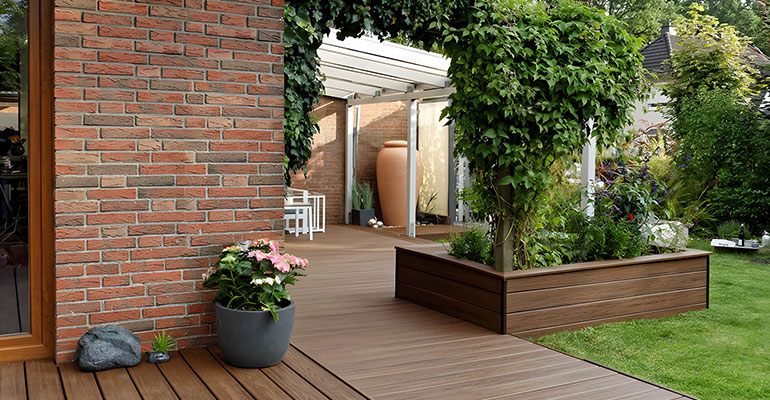 Raised Garden Beds vs. Deck Planters
Deck planters are usually placed on outdoor decks, but you can also build them to fit a porch, patio, sidewalk, or greenbelt. Additionally, deck planter boxes can usually grow one large plant or several smaller plants at once. Depending on your design tastes, deck plants can match or contrast with the rest of the deck.
Deck planter boxes need to have a channel that allows the soil to breathe and drain, just like the potted plants inside. This will help the plants grow well. Outdoor deck planter boxes can make it look more aesthetically pleasing. Use the right flowers or plants to repel bugs or grow herbs for the kitchen.
On the other hand, raised garden beds are usually placed in the yard. They are much larger than deck planter boxes and can grow many plants in long rows. Instead of small square boxes placed on a deck, raised garden beds are long strips of plywood or several 2×6 boards stacked on top of each other.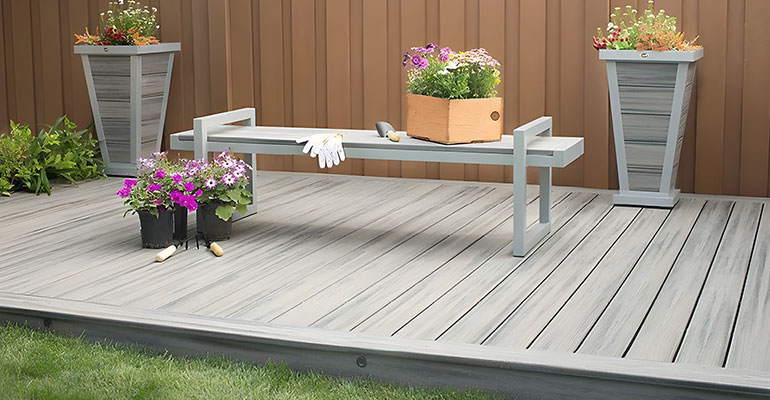 Both deck planter boxes and raised garden beds allow the soil to drain. Moles and rabbits can't eat plants if they can't reach them, another benefit of raised garden beds. You can also grow larger plants, such as vegetables and shrubs, in raised garden beds.
Things to consider before building a deck planter box
First, consider how much space you have. This will tell you how big and how many planter boxes you will need. Next is water runoff. Plants on the deck will need to have access to drainage and you will also need to protect the deck boards below from water damage. Think about the materials you need, such as composite decking materials that reduce the impact of water on the planter box itself.
What type of plants you want to grow is also something to consider. Does your deck get plenty of sunlight during the day? Or is there only some shade? Deck planter boxes also have a limited amount of space for roots to grow, which prevents plants from growing too large. How big do you want the plants to grow? Do you eventually want to move the plants outside?
Wood vs. composite materials
The wooden frame of a deck planter box will last for years. If there is a wooden bench next to it, you may need to replace it every five years or so. Wood planter boxes built on decks look nice, but they require more care and may not last as long as composite decking planter boxes.
You can build a wooden planter box on your deck and then paint or stain it. This way it will last longer and won't warp. You can also do the same for the bench next to it.
The composite decking planter box does not require much maintenance. And it comes in a variety of colors, making it easy to build it the way you want. If you want the color of the planter box to stay the same, reduce warping and get better results. Then planter boxes made of composite decking material will work better than wooden planting boxes.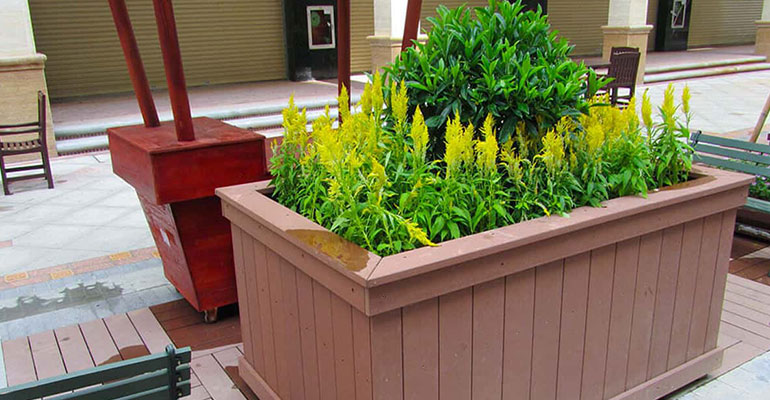 They will also save you money in the long run because you won't have to buy new ones as often. composite material planter boxes won't rot or become infested with termites and can be easily cleaned with soap and water or a light power wash.
Types of Plants
What can I grow in a deck planter box? I'm glad you asked. It depends on how much light your plants need and how big they will grow. Does the sun shine directly onto your deck on a hot summer afternoon? Or are the trees in your yard well-shaded?
Herbs such as parsley, mint, basil, and fennel grow well in deck planter boxes. Smaller fruits or vegetables will also work, such as strawberries, radishes, beets, scallions, and even string beans or tomatoes. Marigolds, geraniums, chrysanthemums, and evergreens are also good choices.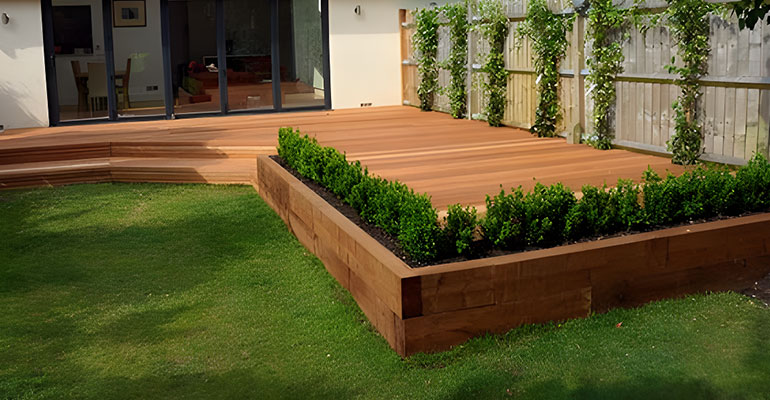 Drainage
If you have planting boxes on your deck, you need to be aware that the water from the plants can rot. How can you prevent your deck from rotting due to planting boxes? The key is drainage.
Drill at least three holes in the bottom of each built-in deck planter box for drainage. Then, if the deck boards underneath are wood, you'll want to make sure they don't rot over time. We recommend checking the wood underneath each planter at least once a month. Composite decking planter boxes will give you peace of mind by ensuring that your plants drain properly while not rotting.
Cost of building planter boxes for decks
The cost of making a deck planter box depends on the size of the box and the materials used. The cheapest option is pressure-treated wood, but it's not suitable for growing vegetables. Cedar and ebony are good choices, but they are more expensive.
Composite decking boards cost more to purchase than pressure-treated wood planter boxes. But it lasts longer and won't rot or attract pests. This may mean that you don't need to replace your planter box more often and spend less in the long run.
Tools and materials needed to build a deck planter box
Here are the items you'll need to build a planter box for your deck.
Tools:
Tape measure
Pencil
Circular or miter saw
Clamps
Power drill with drill bits and screwdriver attachments
Stapler
Safety glasses
Utility knife
Materials:
4×4 pressure treated (8 feet long) wood
2×8 pressure treated (two 10' and two 6') wood for benches
OR Trex composite decking, 5-6 planks
Lag screws, 3/8's 6" hex head (Zinc) 30-40
DeckPlus Gray 2 1/2" screws (for Trex)
Landscape fabric
Garden staples
How to Build a Deck Planter Box
With the right tools and materials, even a beginner can DIY a deck planter box in the afternoon. The exact steps depend on how large you want your deck plantings to be.
Step 1: Determine the size of the frame
Before buying materials or tools, make a deck planter box plan and figure out the size of the frame you want for your planter. See how much space you have and how many boards you need to cut. We recommend using boards that are 5 to 10 inches wide so that your plants have room to grow and you can put pots or soil into the planter box without needing much space. Plants in a deck planter box should fit snugly, but there should still be room for drainage.
Step 2: Cut the framing materials
Use a pencil to mark out the planks for your DIY deck planter box. Then cut them with a circular saw. When using composite decking boards, be sure to cut the boards where the fastener holes are for best results.
Step 3: Assemble the frame
Drill holes about 3/4 inch from each edge for screws or bolts. Deck planter boxes should be secure and stable. Start at the floor and secure them together.
Step 4: Making the Boxes
As you move the deck planter boxes upward, make sure the boards are spliced together the way you want them. This will be the part of the deck planter box where your potted plants will fit snugly.
Step 5: Cutting the material for the exterior cladding
Now it's time to build the exterior of the deck planter box, as you've made the part that will hold your plants. The exterior is called cladding and can be made from wood or composite decking boards. You will need to measure and cut the boards that make up the exterior. Then place them around the frame to make sure it looks right.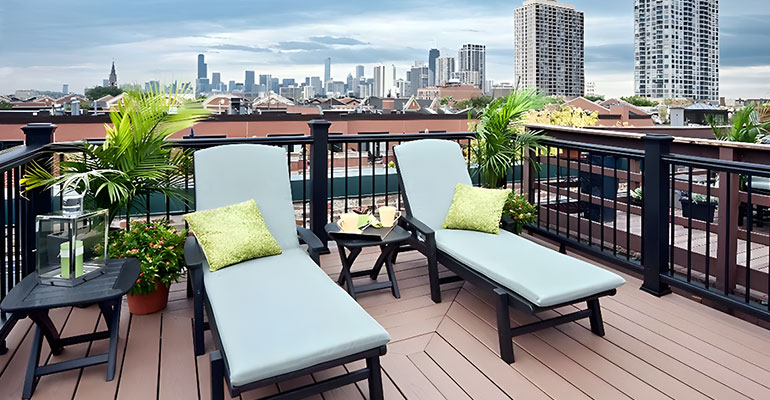 Step 6: Install the trim and cladding
Secure the trim and siding to the interior framing along the sides with fasteners. Make sure the screws holding the deck planter box in place go through the boards and don't touch the planter or the screws you already installed when you separated the inner and outer frames.
Step 7: Cut and add liner
Use a hobby knife to cut some landscape fabric. You can fold two or three pieces. Then use staples to secure the cloth to the inner frame.
Step 8: Install the drain
The final step is to punch four drainage holes in the bottom of the deck planter box and two drainage holes in each board.
Related Post