A low-maintenance and aesthetically pleasing composite decking will increase the resale value of your home. Once you've completed your outdoor deck project, you may need to install deck railings depending on local building codes or for safety reasons. Composite decking railings can be a great solution for your needs. Of course, you may also want to change the style, such as installing a metal railing on top of composite decking.
Metal deck railing is also strong and durable, and does not require the same regular maintenance work as wood railing. In addition, it can provide a variety of style options for your outdoor deck. They can also give your friends and family more safety and security while they enjoy the outdoors. There are many different types of off-the-shelf metal deck railings on the market, as well as many DIY kits. This gives you a lot of options when shopping for this deck addition.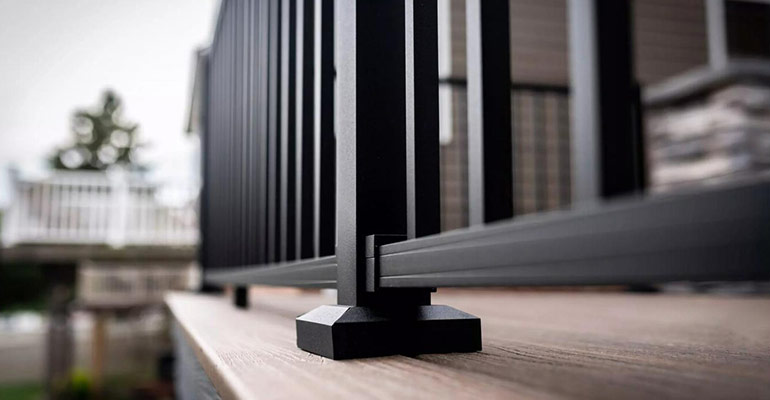 Different types of metal deck railings
In today's market, there are three types of deck railing: stainless steel, wrought iron, and powder-coated aluminum. Stainless steel is more striking, which is brought about by the silvery sheen of its surface. Wrought iron is the choice of some people due to its paintability and sturdiness. Powder-coated metal is very tough and it can come in many different colors.
Aluminum is the easiest of these three types of deck metal fencing to maintain. Next is stainless steel metal fencing, because stainless steel does not rust. Cold, wet weather can cause wrought iron to rust, so you need to be aware of this. Cast iron can be painted, so you may need to touch up the paint every year or two.
Things to consider before installing metal deck railing
Metal deck railings have many advantages. But there are a few things you should consider before installing it.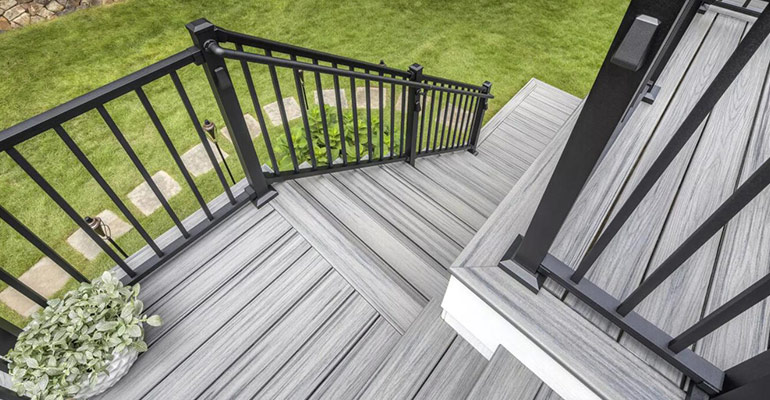 The first is to get a permit from your local building code, which varies from place to place. In some places, you may need a permit to install metal railings on your deck. Check with the building code office in your area to find out more.
The budget for installing deck railings depends on the size of the deck and how many metal railings are needed. You also need to take into account the outer perimeter of the deck and any stairs. Also, do you want to install it yourself, or do you want to hire a professional? A professional will cost more than a do-it-yourselfer.
Is it easy to match the style of the metal railing?
Metal deck fences come in a variety of styles to meet your many needs. Wrought iron can have traditional fleur-de-lis tips at the top, which adds a traditional touch to your composite decking. Stainless steel and coated aluminum have a modern look, or you can choose a color that contrasts with your deck or house, enhancing the overall beauty of your home with contrasting colors.
How long does a metal deck railing last?
Metal deck railing lasts much longer than the wood railing. Metal railing will not be damaged by water or ice rot, and the powder coating is resistant to rust, corrosion, and chemicals. Powder-coated aluminum railing can last at least 20 years.
Do metal deck railings get hot?
Yes, especially when the sun is directly on them. Therefore, do not touch metal railings when the outside sun is strong to avoid burns. But metal railings dissipate heat in a different way. When the sun stops shining on metal railings, the metal loses heat quickly. While wood will keep the heat for a few minutes after leaving direct sunlight.
Is metal deck railing easy to install?
Is metal deck railing easy to install for those who want to do their own DIY? The answer is yes, especially if you can buy a metal deck railing do-it-yourself kit. In addition, you will need the right tools and one or two people to help you. A handy person can put up a metal railing on a weekend.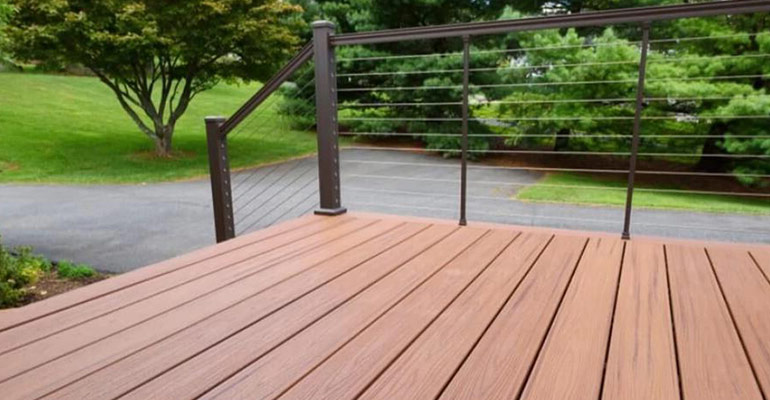 Tools needed to install metal railing
Here is a list of some of the tools you will need to install metal deck railings
A cordless drill with a screwdriver bit
A cut-off saw that can cut metal
A leveling device
A tape measure
A rubber hammer
Retractable hobby knife
Markers, pencils, or pens
How to cut metal deck railings
Aluminum can be cut with a standard saw blade, just like wood, so it will fit your plans perfectly. Some metal railing systems feature easy-to-install prefabricated steel or aluminum panels. Most metal railings are made by bolting the railing posts to the frame of the deck. To make a strong connection, you will need to put baffles in the frame so that the railing has a stable base. You should also always check and follow local building codes.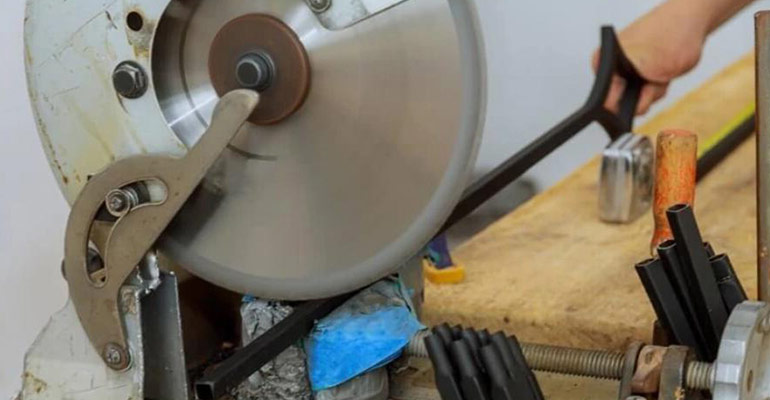 How do I install a metal deck railing?
For do-it-yourself DIYers, installing metal deck railings requires careful planning. And prepare for at least one weekend afternoon. Before you cut a piece of metal deck railing, you should measure your deck and make a sketch of a plan for how to properly install the metal deck railing. This should even be done before you lay the floor to ensure that the surface-mounted posts are properly supported. Surface-mounted posts are put in after the floor is laid, so it is very important to complete the framing design correctly to make room.
Step 1: Make space between posts and mark them
When you want to learn how to install a metal railing onto an outdoor deck. The first step is to measure and mark the post locations. Use your tape measure to mark the location of the metal posts on your deck. The space between the posts is usually between 6 and 8 feet, depending on building rules and whether the deck is for a home or commercial building.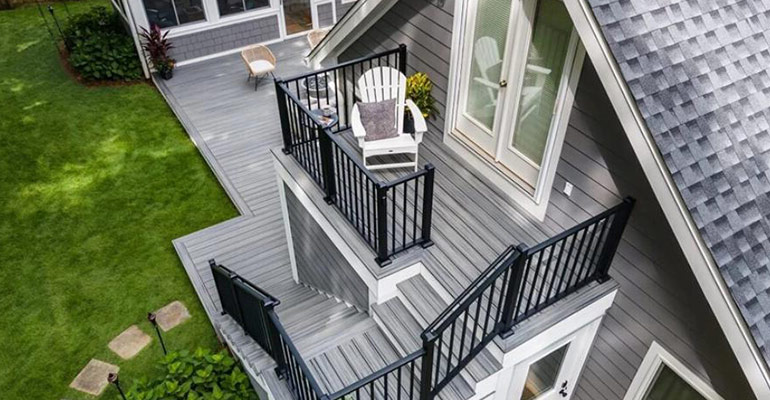 Step 2: Attach the metal posts to the deck
Drill holes for the metal posts in your deck ahead of time. This will make it easy to attach the metal posts to the deck. Place the first metal post, bolt it in place, and then replace it with the next one. You may want to have a friend hold the post up until you can put the first bolt or two on it. Use a level to make sure the post is standing straight. Always check the manufacturer's instructions for the proper way to install the product to make sure you're doing everything right.
Step 3: Attach the track brackets to the posts
Once you have all the metal posts attached to the deck, you can move on to the rail clamps. These clips clamp the rails together and keep them at the proper distance from the posts. Put the brackets on according to the manufacturer's instructions. To put the brackets on, you may need a portable drill, and the posts should be marked to show their location.
Step 4: Install the bottom rail
Because every metal deck railing kit is different, you should read the complete instructions for the one you buy to make sure you are completing all the steps in the correct order. Start with the bottom rail in most cases. Each bottom rail has holes for mounting the railing and is the right size. Make sure the bottom rail is straight and use a level to secure it to the bolts at the bottom.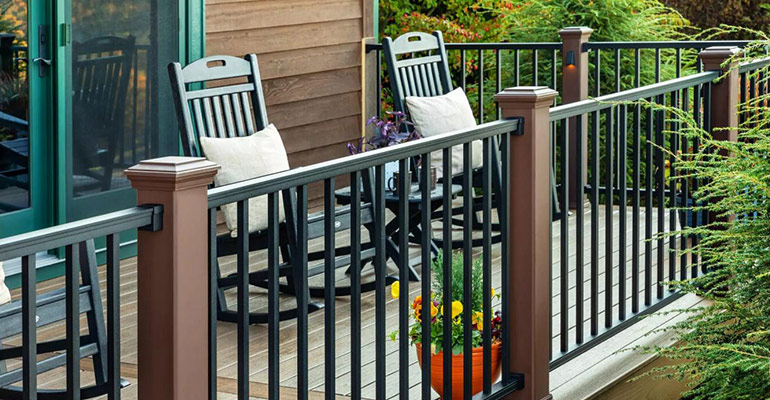 Step 5: Secure the railings
Each railing should fit easily into the bottom rail. There should be no more than 4 inches of space between the balusters. Use your level to check that the railing is perfectly straight.
Step 6: Install the top rail
Next, attach the top rail tightly to the railing. Again, these rails already have holes cut in them so they can snap together. Once the top rails are in the correct position, secure them to the top posts at each end. Take some measurements with your level to make sure the rails are perfectly straight.
When calculating the cost of your deck fence, you may want to consider including lighting in your plans. You can put deck lights along the railing to make your late-night parties more atmospheric outside. You should put any deck lighting in place before you put the cover on.
Step 7: Capping
Once the railings are in place, you can finish the metal deck railings by putting caps on the ends of the posts. Simply place the caps on top of each and use the screws in the kit to hold them in place.
Although installing metal deck railings is relatively easy, it is still a difficult project for those who do not have any installation experience. Therefore, you can absolutely look for a local contractor to install it for you. Before confirming the contractor, you can absolutely find several more for price comparison.