Are you bothered by the harsh sunlight when you are relaxing and entertaining on your outdoor deck? A deck shade sail can be the solution to your problem. A proper shade sail will not only protect you from the sun and UV rays, but it can also add a unique, high-end look to your home. Shade sails are a great way to provide shade on your outdoor deck, and they can be used alone or in conjunction with a deck pergola.
Installing a shade sail isn't difficult, but you need to plan ahead. Especially if it's going to cover a deck or other tricky area. If you want to know how to properly install a shade sail, read this article. There are some useful tips in it that can help you avoid common mistakes.
Things to Consider Before Installing Shade Sails
Before installing a deck shade sail, you should think about the little details that will bring the whole picture to life. For example, this may mean coordinating the placement of the shade sail and how it will connect to other things nearby. How much you like the end result will depend on how well you plan these parts of your shade sail project.
Design and Placement of Shade Sails
The orientation of your sail can have a big impact on the overall look of your outdoor deck but don't forget how it works in real life. For example, consider how the sun moves over the area you want to shade. Also, keep sails away from grills, fire pits, and other high-heat sources.
When stylistic tastes and practical needs don't coincide, try to find a middle ground. For example, obviously, asymmetrical corners look striking, but the shading may not be as effective as other shapes. A perfectly flat shade sail blocks more sunlight but looks less interesting. Sails that are angled too far up or down can be easily blown away by the wind.
After picking a location, look for places where you can build or use existing anchor points for your shade sail. Then, compare the strength of these points to the wind you expect. Here are the key factors:
Sun path and desired shade coverage
Size of the sail
Location and strength of anchor points
Average and extreme wind speeds during different seasons
Building codes and permits
Check the building codes in your area to see if a permit is required before any construction can take place on or around your home. Many areas do not have laws specific to shade sails, but California, Florida, and other hot states usually do. Also, if your building is part of a homeowners' association (HOA), learn about the regulations.
Shade Sail Mounting Hardware and Accessories
Most shade sail installations use the same type of mounting hardware to attach, secure, and extend the shade sail. The size of the shade sail has a lot to do with the type and size of the hardware. Common types of hardware are:
Anchors:
Links:
Turnbuckle
Snap hook / Carabiner
S-hook
D-shackle
Extensions:
Chain
Cable
Non-stretching rope
How to Install a Shade Sail on a Deck
Most methods of installing a shade sail on a deck require more than one attachment point in order to get the proper tension and strength. It's easy to attach a shade sail to something that's already there, but most installations require additional support, usually a permanent post. It is also possible to use some removable posts as support points.
How to install shade sails on house fascia boards
A house lintel is usually fastened to the ends of the trusses or rafters with nails. If it is used to secure a shade sail, the lintel may come loose. It's best to add extra support to the fascia board about 2 to 3 feet from each fastening point. If your shade sail is larger than 150 square feet, make sure the rafters are sturdy before proceeding further. Rafter tails can be reinforced by adding L-braces or hurricane hangers.
Make sure the additional supports are tall enough for your plans.
Make sure each anchor fixing point is strong enough to hold the shade sail.
When attaching the anchor hardware to the talking points, make sure it faces toward the center of the sail.
If the sail is large or windy, the anchor points may need to be bolted with steel plates.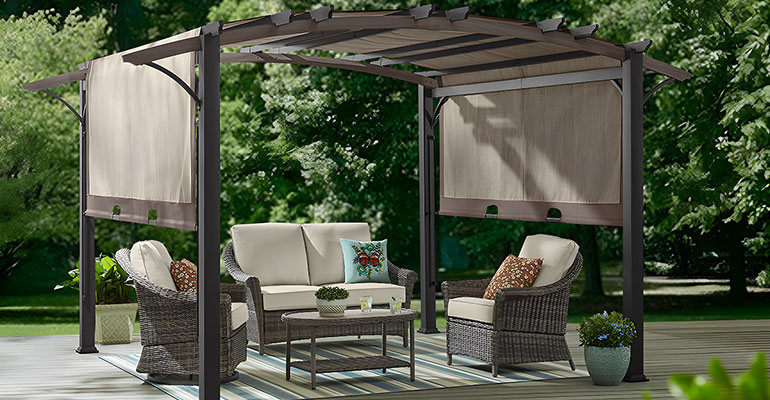 How to install a shade sail using additional brackets
Pressure-treated wood (at least 6×6), steel poles, or steel tubing make good shade sail struts. To put up a support post, you need to do the following:
Support the shade sail on the deck to locate the posts. Allow two to three feet of space between each post to tie sail halyards or ropes to the posts.
Attach the anchoring hardware to the posts by screwing two square head bolts near the bottom of the post, leaving two inches of space. These "ears" will make a stronger connection between the post and the concrete.
Dig a hole at least half the length of the projecting post. Add 4 inches of gravel to the bottom to help water runoff.
Tilt the post slightly toward the horizontal, away from the stress. Now, secure the post with temporary braces. Then pour the concrete into the hole and let it sit for 24 hours.
Assembling the shade sail
In most cases, shade sails require more than 100 pounds of tension to look smooth and wrinkle-free.
First, attach the sail's cable to the anchors in the two corners that don't touch each other. Use ratchet straps or turnbuckles to remove excess length. Don't strain it too much. Attach the other corners for more strength. Modify each corner to eliminate wrinkles or sagging in the center. To eliminate small creases, be careful not to put too much pressure on the fabric. This could tear the fabric.
Maintaining and cleaning shade sails
Clean the shade sail with a hose to remove tree debris and dirt that could stain it. For a deeper clean, use a mild detergent mixed with water and gently scrub the sail. Do not use harsh cleaners (especially those containing chlorine) or hard brushes. This is because they can damage the canvas and reduce its resistance to UV rays.
Do not wash the sails in the washing machine. If you really have to wash them, set the washer to "gentle" or "delicate" and use a mild soap.
Related Post