WPC decking stairs are more durable and easier to install and maintain. Install once in exchange for longer-lasting use.
Composite decking (also called wood-plastic decking) has a wide range of uses, not only indoors, but also outdoors, and can also be used as outdoor stairs to build and install. Compared to other materials, laminate floor stairs offer greater durability, lower maintenance requirements, and fewer inherent disadvantages of having a wood texture.
People who have not used composite decking before may not know how to install composite boards on stairs and whether the installation process will be complicated. The following can guide you on how to properly build stairs with composite boards to ensure long-term use.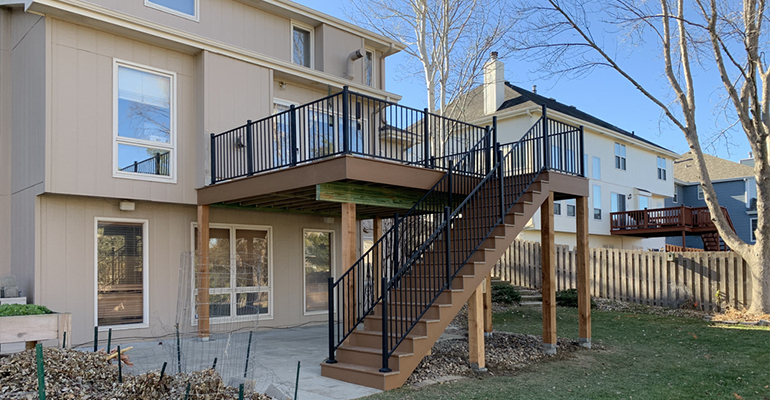 Basic Terms You Should Know
Building stairs with composite boards should be based on safety principles. Durable and safe stairs require care and skill to build. Below are some relevant structural elements.
Stringer
These are the structural members in the staircase that support the treads and risers on the sides. A network of stringers forms the framework of the steps. The spacing between stringers is typically 12 inches (center to center). At least four continuous stringers are required to secure the stair treads.
Treads
The surface that a person's entire foot touches is called the tread. It needs to be at least 10 inches for steady footing and at least 1 inch thick to support the weight of someone walking on it.
Riser
A stair riser is a near-vertical element in a set of stairs that forms the space between one step and the next. As shown in FIG. They make the stairs look perfect and make the stairs more stable instead of falling. They must be 0.5 inches thick. When installing the riser, use two screws per stringer.
Tools You Need to Prepare
Standard woodworking tools can be used for our composite boards. If screw fixing is applied, stainless steel or painted screws may be used. We recommend that you use the accessories given for our decking to achieve the optimum effect.
Some of the recommended tools are miter saws with carbide-tip blades, impact drills, screw guns, levels, tape measures, and rubber mallets.
Instructions on Building A Composite Staircase
Stairs tread built with composite decking must meet the requirements of your local building codes. Consulting building officials and professionals before construction is recommended.
Spacing & Gapping
Follow the gapping requirements for composite boards on page xx when using composite boards as stair treads and risers.
The overhang of stair treads should not exceed 1/2''(13 mm).
When top-fixing, keep a distance of at least 1''(25 mm) between the fixing and the board edge.
The spacing between stringers on-center depends on the decking profile. Refer to Table 3 for the stringer spacing requirements.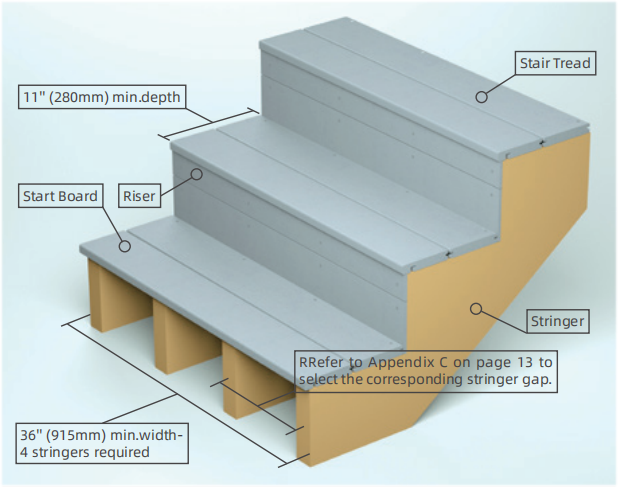 | | |
| --- | --- |
| Thickness of Board | Stringer Spacing |
| 0.82- 0.9" (21mm-23mm) | 9" (229mm) |
| 0.9" (23mm) | 12" (305mm) |
Table 1: Maximum Stringer Spacing on Center
NOTE: Stair treads should only be installed with decking boards of solid profiles. Use of any type of hollow decking boards for stair treads will not be warrantied.
Riser & Tread
Starter Board Installation
Fix starter clips on the stringers and put the starter boards in place.
Tread & Riser Installation
Install the next row of tread board with hidden fasteners, no locking clip is needed. Pre-drill pilot holes and top-fix the end tread board to the stringers at a 90° angle. Pre-drill pilot holes and install fascia boards in the same manner. Repeat these steps to finish the installation.