Stairs are one of the most important parts of any structure, and one of the most error-prone parts. In order to prevent falls, each ascent (vertical height) and running (horizontal size) need to be consistent every time, uneven tread will cause tripping. Safety must be kept in mind when designing, constructing, and inspecting stairs, whether it is wood or composite boards.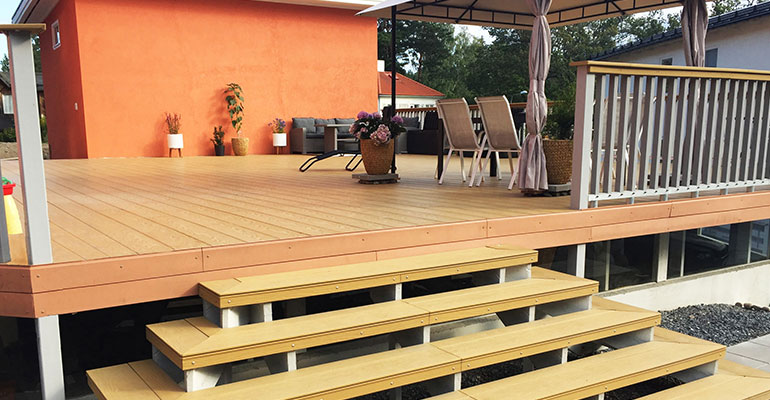 The basics of building deck stairs
It is possible that at some point of the day, you climbed a set of stairs without thinking too much about climbing composite deck stairs, or not thinking about what it takes to build them. That's because those deck stairs are built with heart and skill. The fact is that it is fundamentally difficult for humans to navigate stairs, and a lot of research has been done to make stairs safer. Even so, stairs are still one of the biggest sources of harm inside and outside the home. It takes planning, foresight, and skill to build a staircase that does not hurt the factory.
The challenge is to evenly divide the vertical and horizontal space between the two heights, taking into account the size of the parts you will use. The relevant parts of a set of stairs are:
Stringers: These are diagonal wooden blocks that support the stairs on both sides. Usually, they are 2×8 to 2×12 pieces of wood with right-angle notches. The spacing between the stringers is usually 12 inches from center to center.
Pedal: This is the horizontal part of the stairs you are stepping on. They need to be at least 10 inches wide to provide a safe foothold, and at least 1 inch thick to support the weight of the person standing on them.
Skirting boards: These are the vertical elements located between each tread. They are not strictly required when building stairs outdoors, but they make the stairs look beautiful, complete, and can prevent falls by preventing the feet from sliding under the treads. If used, they need to be at least half an inch thick.
Don't confuse the facade with the facade, which is a measure of the vertical distance between each tread surface. The first step in building stairs is to measure the distance between the horizontal planes you need to climb, and then divide by eight to get the number of steps you need. This is because when you add at least one inch of tread thickness, it will be lower than the maximum ascent height. If not, you just need to add one more step to the total and start counting from there. The lateral space is more flexible, you can expand the lateral space to reach the minimum ten inches of the tread. All of this is necessary to ensure safety and is usually painful on-site, so much so that I purchase pre-cut stringers and adjust the total height of the project around the prefabricated stairs when possible.
Typical problems with wooden steps
As the wood boards age, they are prone to mold. When the wood gets wet, this can easily become a slipping hazard. In addition, over time, the board tends to shrink, warp, or change its size in other ways. This may cause a trip hazard, such as the edge of the board twisting as it rises to catch careless toes.
As the size of the wood changes, fasteners such as nails, screws, and bolts may begin to loosen, thereby exacerbating the problem of uneven planks and causing the planks to no longer be firmly fixed to the deck. On the surface of the deck, loose planks are an annoyance, but on the stairs of the deck, loose planks are a safety hazard. As the deck ages, the use of composite boards on the stairs can alleviate some of the safety hazards.
What to look for in Composite deck stairs
Composite decking is a combination of synthetic materials (such as plastic) and organic materials (such as wood powder). Due to its synthetic composition, Composite decking is not as perishable as wood, and because it is not a fully edible surface, Composite decking will not be moldy or mildew like wood.
The water intrusion path in the composite board (especially the bamboo-based composite material) is also less. If the board is completely covered, the decorative board will be more moisture-proof. However, composite panels are not a perfect solution, and there may be some disadvantages, especially when using poorer quality composite materials. 
All these problems can be solved by using a high-quality Composite decking system. Some features will help you choose a high-quality composite board. Look for:
Rigid boards that don't require extra support to avoid sagging. The key thing to look for when building stairs is stringer spacing that maintains the 12-inch centerline separation for installation on stairs.
Specialized tread boards that are at least 12 inches deep and at least an inch in thickness so that only one board can be used for each tread, creating a clean look and easier installation. Keep in mind that boards that are wider than 12 inches but are less than an inch in thickness are actually fascia boards and can't be used as treads because they won't support the weight of someone standing on them. They can be used as risers or kickplates, however.
Capping that surrounds the board and protects the entire thing from moisture intrusion. Some capping is hard and slippery, so for maximum safety choose composite decking that uses a rubbery, slip-resistant capping material. A cover that surrounds the circuit board and protects the entire object from moisture intrusion. Some covers are hard and slippery, so for maximum safety, please choose a rubber-like non-slip cover material composite floor.
As your deck ages, stairs made of high-quality composite materials with these characteristics will be safer. They will also look better, with a stylish, one-piece appearance usually found only on indoor stairs.