People often use box stairs on lower decks and multi-level decks. Many deck builders use this method to build wide staircases. These wide box stairs can go across the front or side of the deck. Box stairs have three sides and do not have stair stringers that are cut out like traditional stairs. Box stairs are basically short sets of stairs made of pressure-treated boards or composite decking boards stacked on top of each other. This method makes box stairs easier to build and stronger.
Why not use longitudinal beams to build deck steps?
Whether you can use box stairs on your deck depends on how high it is. Wide stairs on a deck are also good for using box steps. Box steps are easier to build because you don't need to cut or notch them. Box steps are just a stack of boxes or rectangles.
When you have more than three deck steps, you should use longitudinal beams to build them. You can learn how to build box steps here. If you don't think you have enough experience, you may want to hire a professional.
Can I build my own DIY box steps?
If you want to build box steps for your outdoor deck, you may want to know if you can do it yourself. You may enjoy building things, or just want to save a little money.
Building box steps isn't very difficult, but it's not the easiest either. If you are confident in your DIY skills and have some woodworking experience. Then this renovation project shouldn't be too difficult for you. Just take your time and prepare well before you start building.
If you are new to home improvement or don't have much experience in woodworking, building box steps may be too difficult for you. In this case, it's best to hire a professional or ask a friend or family member who is familiar with decks to help.
How to build box steps for an outdoor deck
Step 1: Measure the height of the deck
First, you need to measure the height of the deck and then figure out how many stairs you need to build based on the deck height. The minimum tread depth is 10″ and the maximum riser height is 7 ¾". Be sure to check with your local building code department before building to find out what is allowed where you live. Most deck builders build staircases with 2×6 or 2×8 framing and use two 5-1/2″ deck boards overhanging the riser boards by 3/4″ – 1-1/4″.
Step 2: Cut the sides and put padding inside
Cut the sides of the box and put padding in. If you are using wood decking, then put plugs every 16″ inside. If you are using composite decking, then place plugs every 12 inches. Check the composite decking manufacturer's installation guide to see what the maximum span is.
Step 3: Secure the box and install the deck
Attach the individual stair box frames together with strapping tape and bolt the stairs to the deck frame. Installing decorative panels to make the steps is a great way to complete the stair box.
Material Preparation
Building a box staircase for your deck is a great way to give your outdoor space more style and character. But before you start building, you should figure out what materials you need to prepare. Here are the materials you should have on hand before you start your project
Decking materials, such as wood or composite decking materials
Framing and railings
Bracing frames
Railing Post Anchors and deck ties
Rated carriage bolts, nuts, and washers
Deck screws
Deck hardware nails
Concrete anchors
The material chosen for box steps can change their appearance and should match the deck. If you have a traditional wooden deck, wooden box steps are a natural choice. But if you have a more modern composite decking, you will definitely want to use composite decking material for your box steps as well. The most important thing is to choose materials for your box steps that match your deck and help create a smooth design.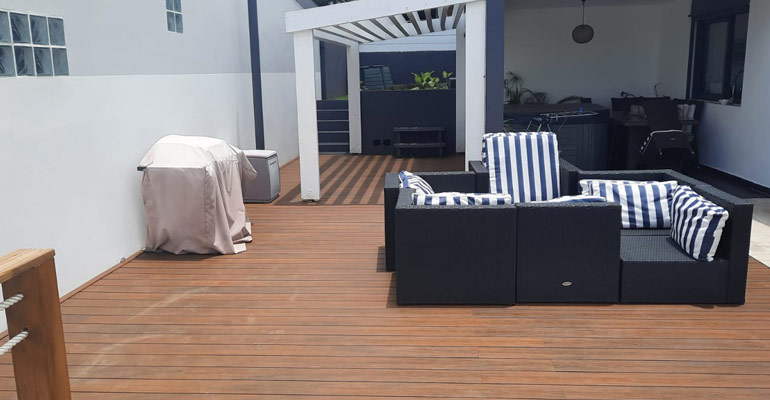 Color Selection
There are a few things to keep in mind when choosing the color of your box steps. First, the color of the treads should be the same color as the deck. This will make the stairs look neater and make getting up and down the stairs easier. The color of the risers can be different, but they usually match the color of the deck railings. This can be a good opportunity to add contrast or use complementary colors to add a sense of design.
For example, if your deck is made of light-colored wood, you can paint the risers a darker color such as black or charcoal. If your deck is a bright color, you can balance it out with white or cream-colored risers. Whatever you choose, make sure the colors work well together to give the room the look you like.
Summing up
Now you know how to build box steps for your outdoor deck step by step. With this installation guide, some simple tools, materials, and some basic woodworking skills, you can build a beautiful deck with sturdy steps that will last for years to come.