The composite deck provides better outdoor living spaces. Composite materials are stronger, more aesthetically pleasing, and moisture and insect-resistant for easy installation and maintenance. It's also why more and more homeowners are choosing composite materials to create outdoor decks. As an outdoor composite decking, it can provide a higher aesthetic to your home. It is important to note that it is also important to finish composite decking edges.
If you're planning to build your composite deck, you know every detail is important to consider. And so your completed deck looks just the way you intend. How to finish the ends of composite decking boards is one such detail you'll need to think about while planning your build.
Benefits to Finishing Composite Decking Edges:
Gives you a refined, polished perimeter
Keeps composite deck board ends from being fully exposed
COOWIN supplies 6 ways for your reference as below:
Fascia Board
When it comes to raised decking projects, some customers are often faced with a fascia area to contend with. In this case, customers will often decide against our composite trims instead. And install a full-length board (or boards) to form a more consistent-looking finish to their main deck area.
Deck Board as Fascia Board
It is a very easy and convenient way to finish the whole project. Just use the same WPC decking board to make the edges and also cover the fascia area. From the purchase aspect, it will be also more cost-effective than buying a few quantities of the fascia board.
Secondly, it will be totally the same color and surface design as your decking board. And making the whole decoration better.
The options for installation are varied. Customers can either position the boards wood-grain-side exposed. And customers utilize the reversibility of our boards to show the grooved-channel finish. The options are varied and provide an element of contrast to the project. Depending on your preference – our boards can be installed both vertically and horizontally.
WPC L Corner
It is a common way to cover the edges of the decking project. It will be covering the edges of the decking board. And also notice our people about it is the edges of the area. And dangerous if step out of these edges. So some of the projects use different colors L corner or different materials L corner, see below:
Use alternative materials
Framing your sleek and contemporary boards can truly top of the perfect decking project. And offering a well-balanced color and material contrast. Brick garden edging solutions and stone tiles can form clean and neat borders. We find this works well around ground-level decking projects especially when a trim option may simply not be a choice.
Decking Caps
For the hollow decking, many clients also prefer to use a plastic cap to cover the holes. It will help to stop the small bug from going into the decking holes.
COOWIN products are designed for outdoor use so they are able to withstand the elements. COOWIN composite products won't rot, or collect mildew or mold. And composite decking will not splinter, 100% safe when you walk on the surface.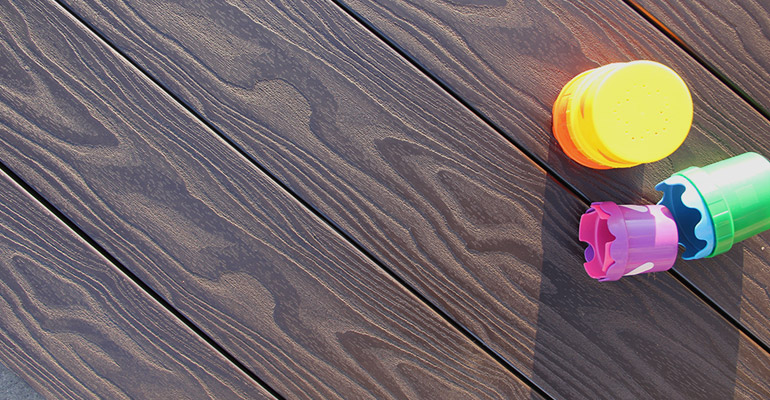 Bullnose board&Edge board
This is also a good way to finish the edges of the WPC decking project. It can be the same 3D wood grain surface and the same color as the decking board. Will not show the side groove.
COOWIN composites mean quality, aesthetics, and minimal maintenance, saving you time and money. In addition, COOWIN composites combine the look of wood with the durability of plastic and provide superior performance that wood cannot. COOWIN composites resist termites without rotting, warping, cracking, or splitting. Unlike wood requires regular maintenance. There is no need to use weather protectants or water seal products and to stain or paint WPC products.
We are committed to providing sustainable products and doing what is right for the environment. COOWIN composite lumber decking is made from recycled wood flour and recycled plastic. And what's more, they don't require the constant use of environmentally harmful paints, sealants, or stains.
Now that you're familiar with different methods on how to finish the ends of composite decking. So you're ready to decide which option is right for your build, and then get the job done.