In most homes, the kitchen is the most used place. This is because food is a basic need for people and it can be fun to talk to others in the process of making food. Building an outdoor kitchen and using it can make this fun time even better.
Imagine being outside on a warm weekend afternoon with friends, family, and neighbors and enjoying wonderful food. What a life to aspire to. In this article, let's find out why you should build an outdoor kitchen and how to build it.
Why build an outdoor kitchen?
As mentioned earlier, having an outdoor kitchen can make cooking a lot more fun. Your guests are likely to have more fun when they are near a new outdoor kitchen. With careful planning, guests will be close, but they won't get in the way or step on the person who is cooking.
When you build an outdoor kitchen, it will be the perfect place for your friends to relax and unwind with you and your family. Talk to the best sellers in your area and they may agree that an outdoor kitchen can make your home worth more.
Can an outdoor kitchen increase the value of your home?
The value of a home increases if it has a high-quality outdoor kitchen that is well laid out. How much a house is worth depends on where it is located. In most cases, the top realtor in your area is the best person to consult when you are planning.
This staff member can tell you about the demand for outdoor kitchens these days. More importantly, the realtor can tell you what mistakes, materials, or tools to avoid. Certain outdoor kitchen attributes may turn off buyers in your market.
Things to Consider When Building an Outdoor Kitchen
There are many important things to consider when building an outdoor kitchen, such as the site, the climate, the choice of materials, finding weatherproof decorations and furniture, and more.
You also need to consider whether you have the skills to build an outdoor kitchen. If you don't know how to lay electrical wiring or plumbing, you may need to find a contractor who knows how to do these things.
Budget
There is a lot that can be changed in an outdoor kitchen, which can make it difficult for you to determine a specific budget. How much it costs to build an outdoor kitchen depends on many things, such as the materials you choose, the size of the space, whether you need to add new equipment, whether you need permits and more.
Building permits and building rules
Many people ask, do I need a permit to build an outdoor kitchen? The answer varies. If you don't want to add a roof or do any plumbing or electrical work, you likely won't need a permit.
If your idea of an outdoor kitchen includes appliances or a heat source, your project may require a permit. You may also need to comply with state and city regulations when installing fireplaces and grills.
Climate
The temperature in which you build your outdoor kitchen can have a big impact on how it looks, the materials you use, and how long you use it. Here are some things you should keep in mind:
Coastal Climate
Saltwater and sea breezes are highly corrosive and can easily damage outside building materials and equipment. Consult an architect or experienced builder or remodeler to find out which materials and tools will not be damaged.
Desert Climate
The sun can be your worst enemy because it is so intense and harsh. You need to consider how to keep your outdoor kitchen in the shade, especially in the late afternoon when the sun is at its harshest.
Cold climates
In colder climates, it's important to keep your outdoor kitchen open as long as possible. Consider portable heaters, outdoor fires, and windbreaks, which can give you an extra 4-6 weeks of use.
For materials, we recommend the strong, durable, corrosion-resistant, low-maintenance composite decking material. This low-maintenance decking material will allow you to enjoy the outdoors better.
Size of the kitchen area
The size of the kitchen space will help determine the layout of the kitchen and how each section fits in with the others. Do you want the outdoor kitchen to take up only a small portion of the deck, leaving room for a sitting area or other type of area? Or do you prefer a huge outdoor kitchen that takes up the entire deck for cooking and entertaining guests?
If you have the space for a larger outdoor kitchen, it's much easier to add benches, built-in grills, and other practical features. On the other hand, working in a small space will force you to be more creative and plan ahead.
Location and planning
The style you choose for your outdoor kitchen should be aesthetically pleasing and make good use of your space. For example, when planning your outdoor kitchen layout, you may want the area to be as weatherproof as possible. Designing an outdoor kitchen should also take into account factors such as size, shape, layout, and flow.
There are a few things you should keep in mind when deciding where to locate your outdoor kitchen. For example, is the wind consistent on the deck most of the time? If possible, you don't want guests to be downwind of cooking fumes. Consider how guests and cooks will be affected by the sun. You don't want either of them to have to look into the harsh afternoon sun while they talk.
The distance of the outdoor kitchen from the house is also important. You don't want the outdoor kitchen to be too far away from where you think people would normally go. Remember, it will be the center of everything. Therefore, you don't want it to be located where neighbors can easily look down or across at your activities. Try to keep it quiet if you can. Check out this article on how to design and furnish an outdoor kitchen.
Utilize as much space as possible
After planning the size of your outdoor kitchen, you need to plan the shape of the kitchen. This is probably one of the most important parts of the planning process. Consider the following points to find out how to make the most of the space:
Available counter space
Proximity to appliances
Hot, cold, wet, and dry zones
The number of people you want to accommodate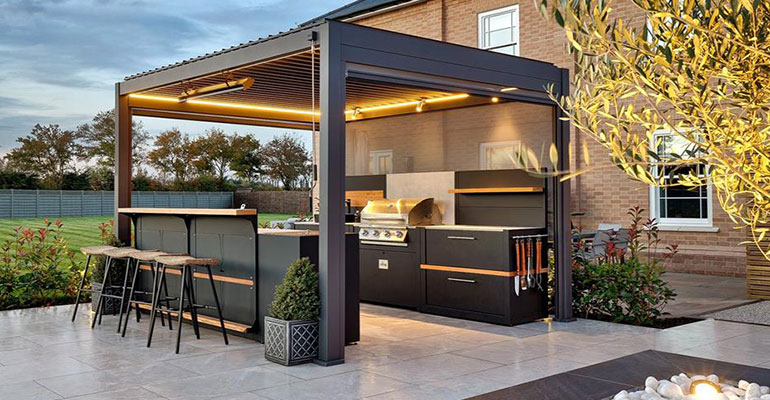 Cabinet materials
There are many different materials available for outdoor kitchens. The choice of material can have a big impact on the appearance, usability, and cost of your kitchen. It is important to choose materials that will work well in the environment. Even small expansions or contractions in materials can cause problems with hinges and swinging doors, and most materials are sensitive to large changes in temperature.
Powder-coated stainless steel cabinets are often the best choice when building an outdoor kitchen in an area where the weather can change. Stainless steel is popular in industrial kitchens because in addition to being weather resistant, it can withstand a variety of chemical reactions.
Outdoor appliances and lighting
Small outdoor coolers can keep drinks and snacks cool, while electric burners make it easy to heat food quickly. Some people need grilling equipment more than others. The good news is that there are many different tools you can choose from to make the most of your outdoor kitchen, as long as they're made for working outdoors.
Here are some of the must-haves for your outdoor kitchen:
Sink
Refrigerator
Freezer
Barbecue grill/oven
Burners
Adequate air circulation between appliances
About 1″ – 2″ of space should be left around the top and bottom of cabinets and between machines to allow air to circulate.
Poor ventilation can result in a machine that uses more energy, is more likely to catch fire, is harder to maintain, and has a shorter lifespan. To find out how far apart the vents should be spaced, it's best to check with the equipment manufacturer.
Choosing colors
Picking the right color for your outdoor kitchen means matching its style, making it compatible with the rest of your home, but mostly showing off your taste and personality. For this reason, many outdoor stoves are available in a wide range of colors and powder coatings.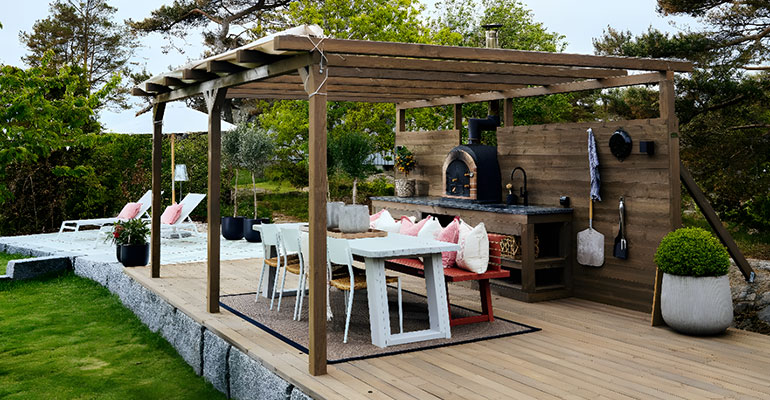 Delivery and installation
If a homeowner wants to install an outdoor kitchen on their own, they may find that it's much easier than they thought. Some kitchens are even easy to assemble. However, if you're not sure if you can build an outdoor kitchen yourself, you can have a professional in your area build it for you. Installing an outdoor kitchen is a fairly inexpensive endeavor, and hiring a professional can help your project avoid running into unexpected problems.
Normal care and maintenance
The amount of work you need to do to keep your outdoor kitchen in good condition depends largely on the materials you choose. As part of regular maintenance, you should wipe down the countertops and remove burnt food from the sides of the grill.
Most mistakes on stainless steel can be dealt with using a mild all-purpose cleaner. However, you should try to avoid scratching on it.
Summing up
If you want to add an outdoor kitchen to your deck design, you should consider these things. Having a clear idea of the space you want and any features you really want can help you budget better for your outdoor kitchen and make the building process go more smoothly.
Related Post