As the place where we live our daily lives, a nice decoration can add to our comfort. You can take some time and look at some composite decking designs suggestions based on your ideas and needs. At the lowest possible cost to install composite decking, combine your outdoor living space with your lifestyle. Build a perfect space of your own.
A perfect outdoor living space will not only improve your quality of life but will also increase the value of your home. What are you waiting for, take action now?
What is a composite decking material?
Composite deck is already very widely used. But as a new environmentally friendly building material, there are still many people who don't understand it. Now let's introduce the composite material.
As society is developing, a lot of plastic waste is produced, while forest resources are decreasing. Then there is the birth of composite decking materials. Composite decking materials are made from a mixture of recyclable plastics and wood fibers. On the one hand, it deals with the plastic waste produced in our life, and on the other hand, it improves the utilization of forest resources. It plays a role in protecting the environment.
Initially, the composite deck material had a single color variety, only gray composite decking. With the further improvement of science and technology, the color of composite decking is getting richer and richer. And the variety of surface wood grain is getting more and more close to the natural wood grain surface.
Advantages of composite decking
Unlike wood decking, composite decking does not require maintenance work such as sealing or staining. Wood decking can splinter or warp, but the composite deck does not. So it reduces the cost of composite decking maintenance for you, leaving you with more time to enjoy your life.
Composite decking requires minimal maintenance and lasts a long time. It often lasts up to 25 years or more, which is longer than the average wood deck.
Composite decking has better water and mildew resistance. And you can feel comfortable installing composite decking around pools or other areas where there is a lot of moisture.
Composite decking has good insect resistance, termites and other insects can not breed in it, avoiding the danger of insect bites.
Composite decking has good environmental adaptability and can effectively prevent scratching and fading. It gives you a different enjoyment from wood decking.
composite decking installation is very easy. It has matching fasteners and keel, etc.
Even if you don't have any building installation experience. You can follow the installation instructions provided by the manufacturer to perform a deck install. So, why not try DIY yourself?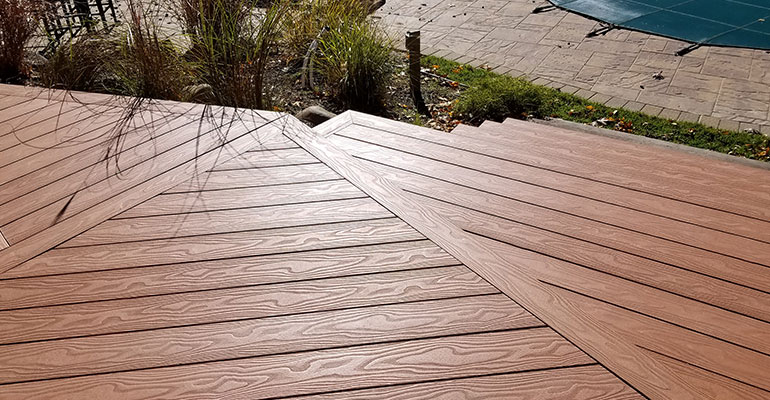 Disadvantages of Composite Decking
Composite decking is a little more expensive to purchase than a typical wood deck board. WPC decking costs about $1.80 to $3.50 per square foot.
Composite decking has a square natural wood grain, but when you look closely, it still has a slight plastic feel to it.
The composite decking material is denser, the weight of individual boards will be slightly heavier. Of course, this is only a minor issue.
Solid and hollow composite decking
The overall weight of hollow composite decking is lower, and the cost of composite decking will be lower. It can also benefit from hollowing to drive the wiring for lights or speakers. Solid composite decking is heavier, and the composite decking cost is a little more.
Usually, composite decking does wood grain treatment on one side and groove treatment on the other side. You can choose which side you want to use as you wish. The grooved has a better anti-slip effect and also has a pretty good decorative effect.
How to maintain composite decking
Wood decking needs a high level of care to make it last longer. Every year or two you will need to have it sealed, stained, and other complex maintenance. Composite decking only needs soap and water cleaning twice a year to keep it in working order.
Other Decorative Factors
Going out beyond the deck, such as railings, built-in seating, etc., can add to the composite decking cost. It is recommended that you fully consider these factors before building your outdoor deck.
How much does composite decking cost
Composites are usually much more expensive than traditional building materials. Consumers may save more money by choosing to purchase composite materials. In fact, homeowners with composite decks don't need to worry about rotting, splitting, staining, or sealing. And can save thousands of dollars a year in the maintenance cost of composite decking.
Composite decking prices can range from $9,000 to $25,000. When making a composite deck, four factors must be considered: size, form, materials, and production costs. After deducting labor costs, composite decking prices are $30-$55 per square foot.
The composite decking costs can get higher. Square and rectangular decks are simpler to produce and therefore cheaper. Round decks may require complex metal framing and joists to create the substructure, which may increase the composite decking costs of the project.
Skilled DIY people can install decking themselves. But more often than not, hiring a contractor saves time and usually provides a higher-quality finished composite deck.
Deck prices usually peak in the summer, when contractors or materials are in high demand, so try building in the fall or spring. Actual material costs and installation costs may vary depending on location, design, etc.
Which are the best composite decking brands?
The most popular composite decking brands, such as Trex and TimberTech, have good quality products, but the Trex and Timbertech also vary in price. Besides that, you can also consider the composite decking brand from COOWIN. Which is a composite decking manufacturer from China. In addition to laminate decking, they also produce composite wall panels.
Since 2000, we have focused on the development and design of WPC products. With rich experience in product production, we are determined to become the best composite decking brand! If our products meet your requirements, please feel free to contact us, we will solve your problem and provide free samples. Customer satisfaction is our top priority.