When you entertain with friends on your outdoor deck, do you experience the annoyance that unseasonably windy or rainy weather keeps you from enjoying your outdoor living space? We have a solution to this annoyance for you, and that is to add more to your deck. If you enclose your deck, you can use it as your comfortable haven no matter what the weather is like. Next, let's take a look at what it might cost to enclose a deck.
How much does it cost to enclose a deck or patio?
The cost to enclose a deck can range from $600 to $3500, with the average cost in the US being $1200. The cost of the project will depend on the size of the job, the materials used, and whether or not a professional is hired.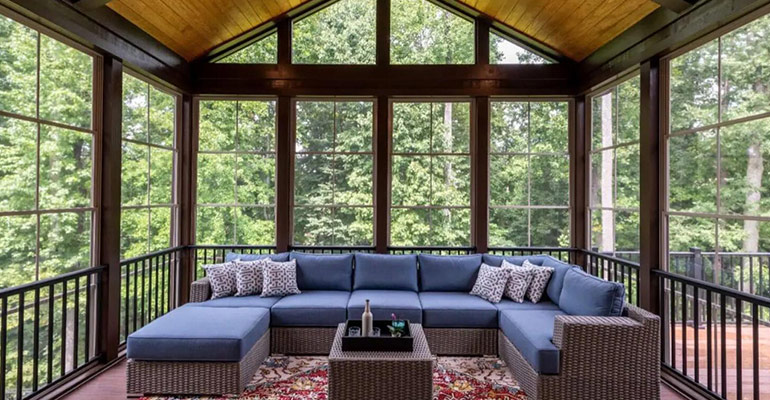 Is the expense worth it? A screened-in porch will keep the bugs away, and you can use your deck in the winter. Of course, you'll need to surround it with windows, insulate it, and then heat it to keep the cold winds out.
Depending on the complexity of the job, you may just need to wrap some sturdy screens around some support poles. On the other hand, putting up windows and a roof would add a lot of cost to the enclosed deck. Of course, you have a lot of options when it comes to enclosed deck projects, from a simple screened-in porch to a sunroom with heating and air conditioning.
Factors that affect the cost of an enclosed deck
In the preparation phase of a project, when we calculate the cost of an enclosed deck, there are several factors to consider.
Type
The cost of an enclosed deck depends heavily on the style of outdoor room you want. Adding a screened-in porch with only a few posts around the edges and an awning costs far less than turning the deck into a sunroom with windows, utilities, and a solid roof. If you want to use it even in the cold winter months, then you'll also need to add some warmth, which will also add to the cost of the project.
Size
The cost of an enclosed deck is tied to the size of the deck area. The exact size plus the amount and materials needed will give you a more accurate estimate. A 50 x 50 deck with screens may cost less than a 10 x 10 greenhouse deck with a solid roof.
Existing structures
What structure do you want to enclose around the deck? A deck may have three or four sides that are not attached to your house anywhere except at ground level. The deck will be attached to the main part of your house in some way. If there is already a roof on it, that will also determine the modifications you can make to the deck or patio.
The type of permit you need may also depend on the building you already own. Depending on local codes and building laws, you may have to pay for a permit if you dig in or add a structure to your house to enclose a deck or patio. Check with your area to find out the exact price.
Materials
The difference in materials may make the cost of the project go up or down. To enclose a porch, all you need is a simple screened-in porch with wood or fiberglass poles. It already has a roof.
A room for all seasons, on the other hand, may need a roof, windows with panes, and insulation. When you add a heater or window air conditioner to your basic utilities, the cost of an enclosed deck can quickly rise. But it's worth it to be able to use your room year-round.
Labor
If you do this work yourself or with the help of some friends, the cost will be much lower. You just need to buy the materials and then take your time with your friends or family to complete the project. How long it takes to complete the project depends on how many tools and skills you have.
Hiring professional workers will increase your costs. In places where the cost of living is higher, your project will cost more. The good news is that a professional installer with many skills can complete your job in just a few days.
Additional Amenities
What do you want to do with an enclosed deck? Do you want to use it all year round for gatherings with family and friends? Or do you just want to protect your kids from bug bites?
If you want to use an outdoor kitchen, light fixtures, or light strings, adding one or two electrical cords will help. You'll need an insulated porch to control the temperature and keep your energy costs down. The more additions you get, the more you'll have to pay.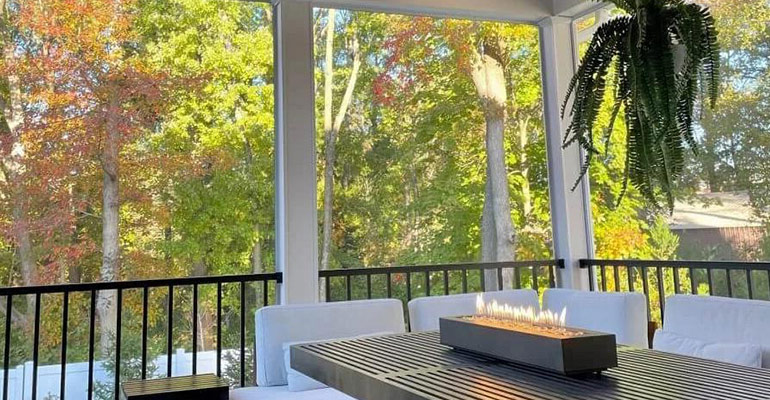 What are the costs of different types of enclosed decks?
The difference in the type of enclosed deck determines how much the project will cost. Now, let's talk about the cost of building the four most popular types of enclosed decks.
Screened
Depending on the materials, a simple screened porch can cost anywhere from $600 to $3,200. Mesh screens, for example, are much cheaper than fancy metal screens. Adding labor to the $600 job, the cost to enclose a covered deck is about $1,200.
Three-Season
The average cost of a three-season covered porch (all seasons except winter) is between $10,000 and $40,000, with materials costing between $5,000 and $30,000. You'll need wood, metal, or fiberglass for the frame. The most expensive thing here is the windows, which can cost anywhere from $150 to $1,000 per window.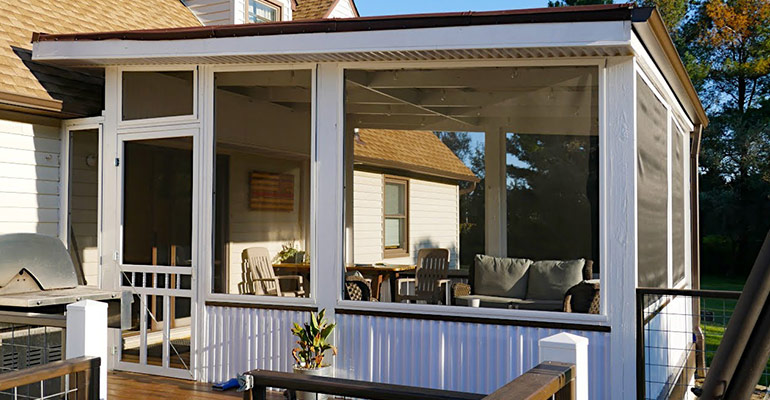 Four Seasons
An all-season porch that can be used year-round costs between $25,000 and $80,000 on average. The infill you use is what adds to the cost here. Fiberglass rods can keep your covered porch warm for 30 cents to $1.50 per square foot, while spray or rigid foam can cost up to $2 per square foot.
Solarium/Conservatory
Everything in a greenhouse or conservatory is made of glass, which makes it easy to grow plants at any time of the year. Think of this covered patio as a greenhouse attached to your real house. Solarium kits cost between $2,650 and $3,850, not including the cost of the work. The cost of having a greenhouse made just for you will be much higher.
To sum up
An enclosed deck can extend the time you spend enjoying the outdoors. Choose the remodeling options you need for your project based on your actual needs. When you are done with your enclosed deck project, you will be better able to enjoy the great outdoors with your family.