As the best outdoor living space for entertaining and relaxing, outdoor composite decking is gaining more and more recognition. As one of the best alternatives to wood decking, this new construction and decorative material offers homeowners more convenience. So how much does it cost to build a 20×20 composite decking?
Cost of Composite Decking
Composite decking board materials cost between $16 and $32 per square foot. Labor costs to install composite decking range from $24 to $48 per square foot. Therefore, including the substructure, the cost of installing composite decking is between $40 and $80 per square foot. Ultimately, a 20'x20′ composite decking can cost between $16,000 and $32,000 to build.
| Deck size (feet) | Square feet | Average cost installed* |
| --- | --- | --- |
| 8'x10′ | 80 | $3,200 – $6,400 |
| 10'x10′ | 100 | $4,000 – $8,000 |
| 10'x12′ | 120 | $4,800 – $9,600 |
| 12'x12′ | 144 | $5,750 – $11,500 |
| 12'x14′ | 168 | $6,700 – $13,450 |
| 12'x16′ | 192 | $7,680 – $15,350 |
| 12'x18′ | 216 | $8,650 – $17,280 |
| 12'x20′ | 240 | $9,600 – $19,200 |
| 14'x20′ | 280 | $11,200 – $22,400 |
| 16'x16′ | 256 | $10,250 – $20,480 |
| 20'x20′ | 400 | $16,000 – $32,000 |
| 20'x24′ | 480 | $19,200 – $38,400 |
| 24'x24′ | 576 | $23,000 – $46,000 |
*For attached ground-level and elevated composite decks
Cost of Different Types of Composite Decking
The following table shows the cost of building different types of outdoor composite decking: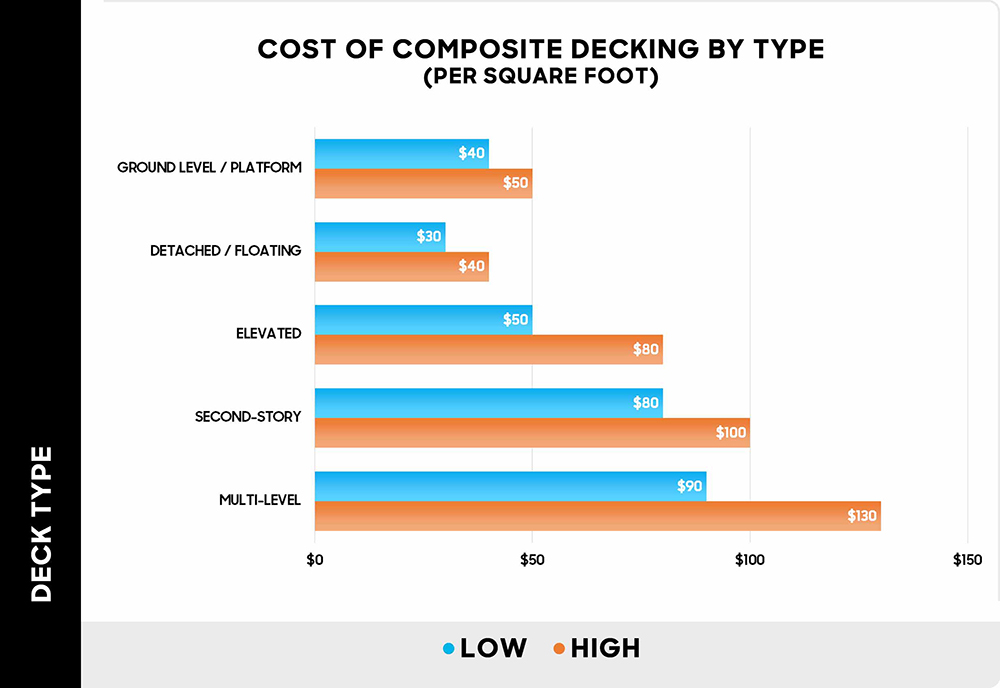 Deck design type
Cost per square foot installed*
Ground-level / platform
(Attached)
$40 – $50
Detached / floating
(Freestanding, no railings, no stairs)
$30 – $40
Elevated
(Attached)
$50 – $80
Second-story
(Attached)
$80 – $100
Multi-level
(Attached)
$90 – $130
*Price includes the substructure and decking surface.
Ground-level or platform decking
This type of outdoor deck is usually less than 30 inches and 36 inches in height. They are attached to the house at the back door and can have deck railings installed if desired. Depending on the number of steps and whether or not the foundation needs to be reinforced, the cost of deck installation can go up.
Freestanding or floating decks
Freestanding or floating decks do not require railings, stairs, or deep page feet below the frost line. Often, these lightweight decks are supported only by dirt and concrete blocks. In many places, these types of decks do not require a permit because they are not attached to the house.
Elevated decks
Elevated decks are at least three feet above the ground and below the second story. The base of this type of deck is usually made of reinforced concrete, and building codes also require it to be fitted with deck railings.
Second-level deck
This type of outdoor deck is popular because it creates a shaded porch below. This type of deck requires large columns and sturdy supports.
Multi-level deck
This is also the most costly outdoor deck and is most popular in homes with two or more levels. Multiple levels of connected decks can connect more outdoor recreational areas.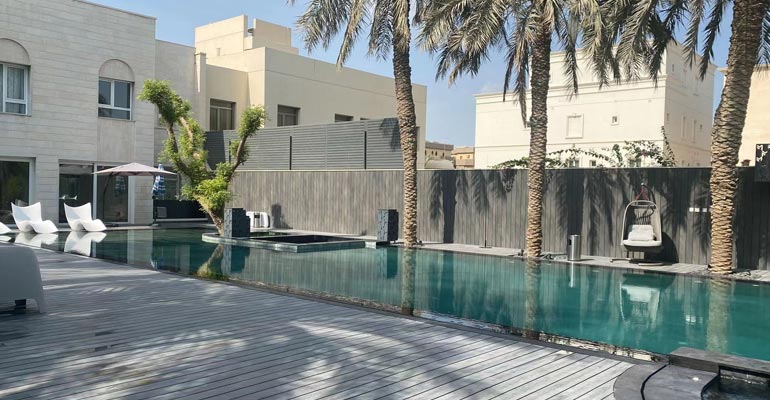 Factors Affecting the Cost of Installing Composite Decking
Labor costs to build composite decking are higher than wood decks because they require more care in assembly and have more parts. Typically, the labor cost to hire someone to install composite decking ranges from $24 to $48 per square foot.
| Factor | Cost per square foot* |
| --- | --- |
| Materials | $16 – $32 |
| Labor | $24 – $48 |
| Total cost to install | $40 – $80 |
*Prices for attached ground-level platform decks and elevated decks, including a base.
The relevant cost factors are listed below:
Design Ideas
Project costs are influenced by the color and texture of the decking surface. Composite decking that has an intricate pattern design and texture of wood costs the most. Those choosing the most basic colors and patterns cost the least.
Capped vs. Uncapped Composite Decking
Capped composite decking costs more than uncapped composite decking because they have an additional protective polymer layer on the outside that makes them more resistant to the elements.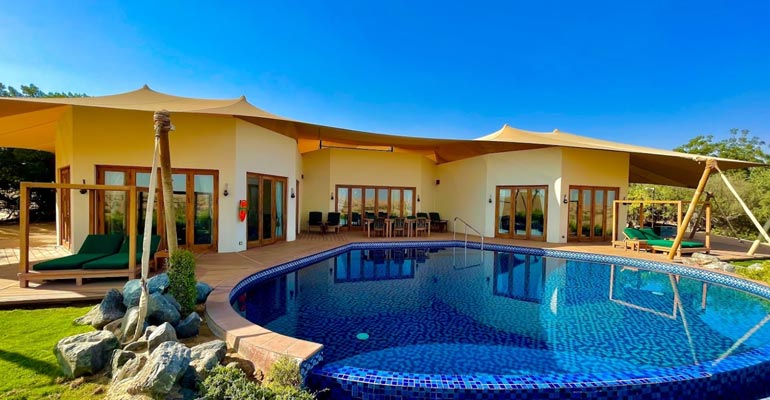 Solid and Hollow Composite Decking
Hollow composite decking is strong enough for most applications. Solid composite decking is more costly and tougher.
Types of Fasteners
Traditional fasteners are faster and less expensive, while hidden fasteners look better but take longer to install and cost more.
Posts
In cold locations, concrete footings should be below the frost line. Builders should not bury wooden deck struts as they will rot.
Deck Drainage Systems
Installing a new drainage system costs at least $1,000 to $4,000. A yard drainage system is important so that standing water does not rot the deck supports.
Elevated Deck Drainage Systems
The cost increases further if a drainage and runoff system is installed underneath the second-story deck.
Gravel Base
Pea gravel ranges from $0.85 to $2.80 per square foot. Gravel under a raised deck or second-story deck prevents weeds from growing and helps water runoff.
Railing
Adding vinyl or wood railing to composite decking costs $20 to $60 per foot.
Stairs
Installing deck stairs costs $20 to $30 per square foot, plus $80 to $160 for a concrete foundation.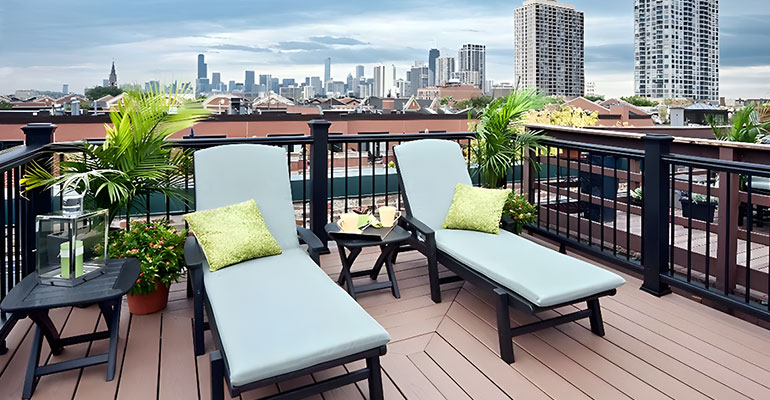 Leveling the Ground
It costs approximately $500 to $1,000 to level a yard before building an outdoor deck project.
Location
Labor costs are higher in cities with high demand for deck building than in rural or less expensive locations.
Building Permits
Depending on the size of the deck and the building regulations in your area, permits can range from $50 to $150.
Design Fee
A structural engineer who looks at the site and develops plans will cost $100 to $220 per hour for labor. If the building plans are large or complex, an engineer's specialized design is required to obtain a permit.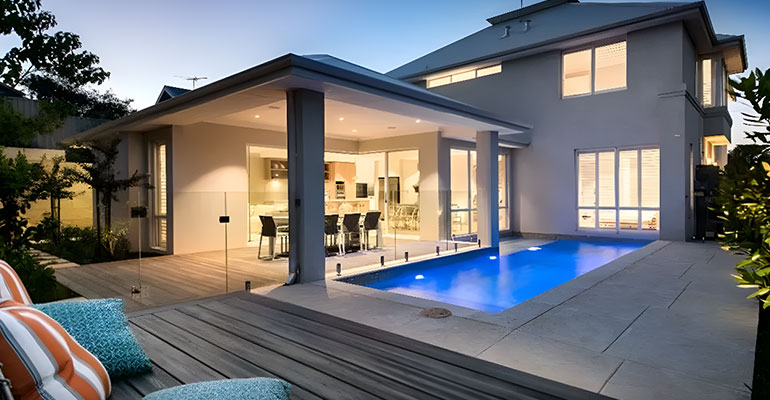 Customization and Extra Features
Installation of special features that add to outdoor living requires additional fees, such as
Outdoor furniture can cost between $500 and $1,500 per set.
Outdoor lights can cost between $80 and $300 per light.
Installation of an outdoor plug costs between $180 and $350.
Deck hot tubs can be purchased for $3,000 to $10,000.
Installation of a hot tub can cost between $150 and $500.
Installation of ceiling fans can cost between $150 and $400 each.
Outdoor fireplaces cost between $1,500 and $9,000. Check building codes in your area to make sure the fireplace is designed to be safe for use on a deck.
It costs $200 to $6,000 to erect an awning that can be used year-round or for short periods of time.
Concrete sidewalks cost from $7 to $17 per square foot.
Gravel walkways range from $16 to $35 per square foot.
Built-in wood benches can cost between $1,000 and $1,500, depending on the size of the deck.
Covered decks cost between $10 and $60 per square foot, depending on the type of deck roof.
It costs between $4,300 and $10,000 to build a shade gazebo.
Installing a pergola for partial shade can cost between $1,450 and $5,570.
Building an outdoor kitchen with a built-in grill costs between $3,000 and $10,000.
A gardener can charge $50 to $100 per hour for landscaping changes to your yard.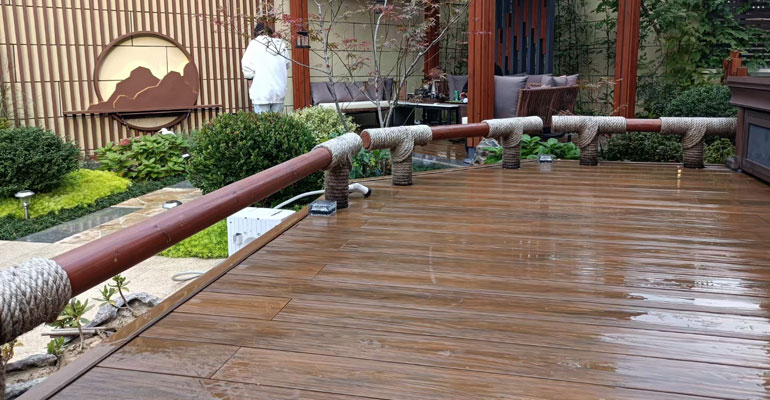 Composite Decking Board Material Prices
Prices for Different Types of Composite Decking Boards
Purchasing composite decking boards can cost between $4 and $16 per square foot. Footings, steps, railings, and substructures will cost extra. Most composite decking is made of polyethylene.
Polyethylene (HDPE) decking
This type of composite decking looks most like solid wood. However, PE and HDPE decking will retain more heat, so light-colored composite decking is recommended for sunny areas.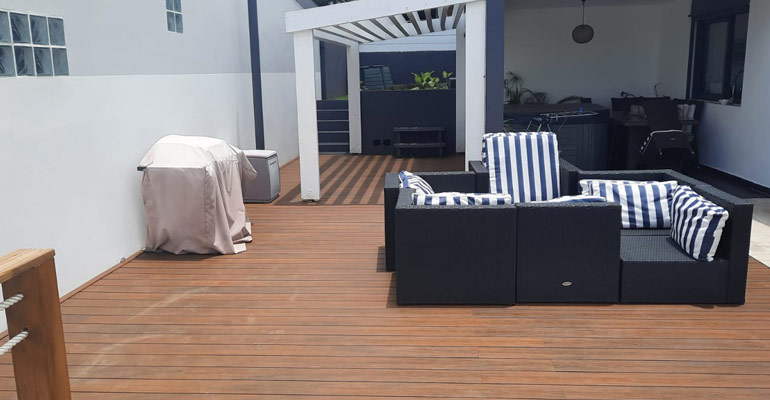 PVC decking
Looks more like plastic. This material comes in a variety of colors. However, it expands and contracts with temperature and is more prone to mold than polyethylene plastic decking.
Polypropylene (PP) decking
Polypropylene decking can handle extreme heat better than other types of composite decking. This material won't buckle when wet for long periods of time, but it can easily break in cold places.
Brands of Composite decking
The price of each brand of composite decking boards is shown in the table below:
| Composite decking brand | Material prices per square foot* |
| --- | --- |
| COOWIN | $2 – $4 (factory direct price) |
| Veranda | $3 – $8 |
| Genovations | $4 – $7 |
| Deckorators | $5 – $9 |
| Trex decking | $5 – $15 |
| Envision | $5 – $16 |
| Gorilla | $6 – $12 |
| Timebertech / Azek | $6 – $13 |
| CertainTeed | $7 – $9 |
| Fiberon | $7 – $14 |
*Prices for deck surface material only
Composite Decking Material VS. Wood Decking
The cost to install composite decking is $40 to $80 per square foot. The cost to build a wood deck is $25 to $50 per square foot. While composite decking material has a higher upfront cost, it does not require resealing and lasts longer than many types of wood.
| Composite decking | Wooden decking |
| --- | --- |
| $40 to $80 per square foot installed | $25 to $50 per square foot installed |
| Lasts 25 to 50 years | Lasts 10 to 25 years |
| Low maintenance | Needs regular maintenance |
| Many color & grain options to imitate wood | Natural look of wood |
| Doesn't rot & repels termites | Choice to stain or paint a new color |
| Difficult to change colors | |
FAQs About Composite Decking
What is Composite Decking?
Composite decking is a decorative product produced by mixing wood fibers and plastic. It is a durable alternative to wood decking. Some composite decking is made entirely of plastic, while others are made from more recyclable plastics and chemicals, making them longer lasting and more UV resistant.
Is Composite Decking Worth Buying?
Composite decking is a great option for people who want a deck that doesn't require much care. Composite decking materials also won't fade, scratch, or rot, and they're also resistant to pests. In addition, they won't warp or crack like wood decks.
How Long Does Composite Decking Last?
When properly maintained, composite deck boards typically last between 25 and 50 years. This depends on the brand, installation, weather, and foot traffic. Regularly check your decking for loose parts and keep it dry and free of dirt to extend its life.
Does Composite Decking Increase Resale Value?
Composite decking can increase the value of your home because it is both beautiful and durable. This low-maintenance outdoor deck is especially attractive to buyers.
Can I Paint or Stain Composite Decking Boards?
If you are purchasing an uncapped composite decking, you can paint or stain it. A capped composite decking with a polymer shell cannot be colored or painted. Painting some brands of composite deck boards may also void the warranty.
Can I Power Wash My Composite Decking?
You can power wash your composite decking, but only use very low pressure to avoid damaging the deck surface. Before you begin cleaning, spray the water at a gentle angle and read the cleaning instructions that come with the product.
Is Composite Decking Slippery When Wet?
Most composite decking is not slippery when wet, but it varies by brand. Most companies add a non-slip layer to prevent people from falling. On the other hand, cheaper brands may not have a good protective layer. To maintain the non-slip feature, the deck needs to be cleaned frequently.
Things to Ask About Hiring a Deck Contractor
If you are not planning to install composite decking yourself DIY, here are some questions you can ask a professional deck contractor when you are looking for them:
How long have you been installing composite decking?
Can you provide me with project photos of the composite decking you installed?
What style of decking do you think will work best for my house?
Are there any additional costs?
If there are additional costs, how will they be handled?
What are the best brands or types of composite decking boards?
Does the Composite decking manufacturer offer a warranty?
When do you think construction will begin and how long will it take?
Do you guarantee the installation work?
Who is responsible for obtaining the necessary permits?
Does the price include substructure, labor, materials, delivery and cleanup?
How do you dispose of construction debris?
Related Post