Building a front porch to your house will not only give create a beautiful place for you to be but also add value to your property. When you have a wonderful front porch, you can experience idyllic relaxation as you cool off in a rocking chair on the porch during the summer nights. In the autumn breeze, you can read on the front porch with a cup of coffee – what a comfortable living experience.
A beautiful, comfortable porch will give you a better living experience, but you also need to understand the practicalities of building a porch, i.e. how much it costs to build one. The following are some suggestions to give you a better understanding of the cost of building a front porch so that you can plan and budget for it.
Cost of building a porch
If you want to build a 200 square foot porch then it will cost on average between $4,600 – $22,000. Why is there such a wide range of costs, you may ask? This is because the use of different materials and different designs can have a significant impact on the cost.
The cost of building a front porch varies depending on the design elements, materials, and labor costs. Each porch has a foundation, floor, roof and, if you need it, additional screens, windows, or walls. To ensure the safety of family and friends, step railings are required for porches of a certain height.
In addition, labor costs are related to the building materials used and the complexity of the design. The more difficult the materials used are to install and the more complex the design, the higher the labor costs will be. For example, a covered front porch will cost much more than a simple slab foundation porch. In addition, if you want to add other decorative elements, the cost of the porch will also increase.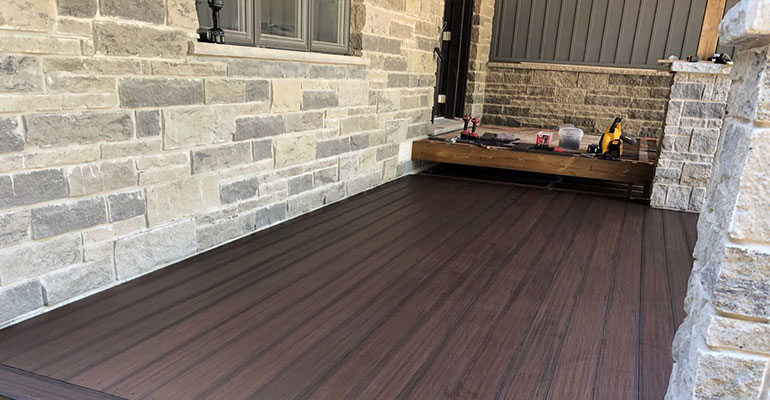 Foundations
A good foundation is important to provide structural integrity to your porch. The type of foundation required for a porch depends on the type of porch desired. A contractor may recommend a pier-and-post foundation, using crossbeams to carry the weight of the porch. Alternatively, slab foundations made of concrete may be used. Pier and post foundations typically cost between $5-8 per square foot and slab foundations may cost between $3-5 per square foot.
Porch decking
The next thing to consider is the porch deck, which is built on top of the foundation. Porch decking is an important part of the cost of a front porch. Wood or composite materials are common porch decking materials, in addition to the concrete, stone, or brick flooring you may see used on a low porch.
Depending on the material, the cost of decking can vary greatly. For example, wood decking costs $5 per square foot, composite decking costs $6-$10 per square foot, and brick costs $6-$10 per square foot. With installation costs added in, the decking could cost $800-$11,000.
Porch roof
When considering the construction of a porch, it is also important to consider is its overall design, which may include a porch roof. Porch roofs can come in a variety of styles and can be a traditional shaped roof or a shed-type roof. Different types of roofs have different benefits and you can choose one based on personal preference or as a complement to the existing architectural style of your home.
For example, a pitched roof is suitable for many house styles, while a shed roof can be suitable for a narrow porch. Pitched roofs are the most complex to build because their unique structure has no eaves or vertical faces, just a slope towards the porch itself. As a result, the pitched roof is the most expensive option for a porch roof. As a result, the cost of the installation of a roof is between 3,200 and 6,000 USD.
Walls, balustrades, or screens
Some front porches have low walls or balustrades, others are completely screened. These accessories add to the cost of a front porch but can make your home more convenient and practical. For example, a porch screen can protect your family from glare or insects. Similarly, balustrades add an element of security, as well as a more decorative element.
Railings can cost $400-$1200 to install and step treads can cost $300-$1900, in addition to building permits which can cost $100-$500.
Accessories
Do you want a ceiling fan? How about porch lighting? Paint or stain? If you want to dress up your porch with paint and electricity, this will make it more comfortable and add to the cost of building the porch. For example, adding a ceiling fan can cost between $100-$500. You will also need an electrician to install it, which adds an extra $65-$95/hour of labor. Then there are other pieces of furniture, such as porch swings, which also add some cost.
Cost of materials to build a porch
The cost variables for building a front porch depend on the type of materials used and the size of the porch. Generally speaking, you can budget for this based on square footage.
For example, the cost of pressure-treated lumber can start at $4, while redwood can go up to $30 per square foot, and even the cost varies greatly with different options for wood flooring.
Professionally installed composite decking, railings, and porch materials can cost between $20 and $60 per square foot. One of the main benefits of composite decking is that it is rot resistant and requires less maintenance than traditional wood materials, saving you a lot of money in maintenance costs and time costs.
Labor costs
Aside from building materials, another cost of building a porch is the cost of installation and labor. The cost of building a porch for an experienced contractor is between $20-40 per hour. The average cost of labor is $67 per square foot, although of course, the average rate will vary between contractors in different areas.
The time to build a porch can vary from a few days to a few weeks, depending on the complexity of the design. A front porch with many complex design features will take longer to complete than a simple slab porch.