When you install an outdoor deck, besides considering the material and cost. The exterior design and color choice of the outdoor deck is also important. A proper deck color and design contribute to the attractiveness of your house. Gray is one of the most popular colors when you are choosing a composite decking color. Grey composite decking includes everything from light gray to darker charcoal tones and everything in between. Composite decking has natural wood grain grooves, and textures, and can also offer you more color options.
Grey composite decking can create a crisp, modern look for your outdoor space. COOWIN Composite decking offers you a wide range of options. From light grey composite decking boards like Smoke Grey and Space Grey to dark grey composite decking like Stone Grey. Whatever you need, you can find the right composite decking color to match your design needs at COOWIN.
Design Ideas for Grey Composite Decking
Grey tones can range from warm "grays" with grey and tan tones to cooler grays with blue undertones. In fact, when designing an outdoor deck that matches your aesthetic. There are countless possibilities and exciting composite deck color options to consider. For homeowners, choosing the right grey composite decking is a more important issue. Therefore, we provide you with plenty of inspiration. Help you achieve the perfect outdoor composite decking boards with these grey composite decking designs.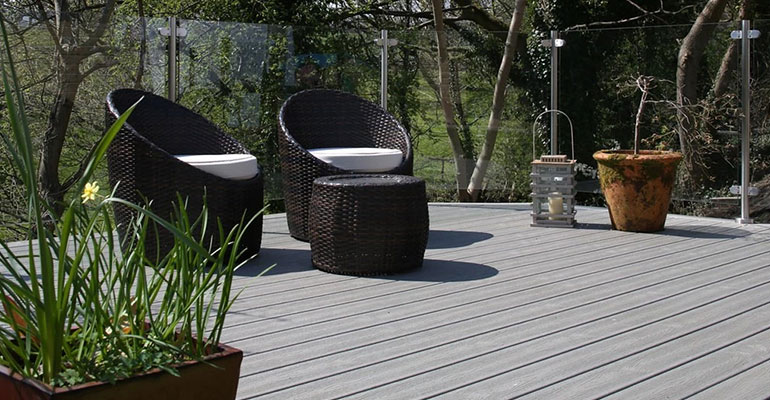 Choosing the right gray shade for your composite decking. It can help you create an outdoor space in your backyard that feels like a true extension of your home. Learn how to mix and match colors, materials, lighting, and railings. To create a one-of-a-kind look that complements your personal style. If you've long been envisioning your dream deck or are looking for ideas to create the perfect deck. Please check out the grey composite deck design ideas below.
Elegant grey and white dining room
An inviting dining space is created by installing soft grey composite decking on the diagonal beneath a bright white pergola. Black tables and chairs with white trim create a sophisticated look with plenty of seating for guests.
Monochromatic grey decking with pops of color
Light grey composite decking can be matched to the exact same hue as the railings for a pulled-together monochromatic look. In this case, the decking and railings complement the grey siding and shingles on the house. Throw pillows in turquoise blue, flowers in bright yellow, and place settings in bright yellow to add welcome pops of color.
Embedded lighting and bright colors
White is used as an accent color on this multi-tiered deck to highlight the stairs leading up to the platform deck. LED lights embedded in the deck itself illuminate the pathway at night. The stairway lights complement the recessed lighting in this covered deck's ceiling.
A simple design to frame a beautiful view
When you have a beautiful view, you want decking that complements it rather than competes with it. A simple pattern of pebble grey composite decking complements darker columns and trim on glass railings. These design elements combine to form a lush landscape. It provides the ideal setting to enjoy the deck and surrounding countryside.
Classic and comfortable
Don't be fooled by the cool tones of grey decking. It can create a charming and cozy outdoor setting. The light grey decking stands out against the warm-toned brick facade of this home. Darker grey columns complete the look.
Grey and tan deck colors
You can opt for grey composite decking with a slightly weathered look. It can incorporate tasteful cool tones into your outdoor decor. This grey composite decking brings out some of the cooler tones in the rattan chair and matching wicker pottery. The grey-and-white striped cushion matches the grey in the composite decking for a unified look. Glass railings trimmed in dark metal give this deck a modern, mixed-media feel.
Grey decking looks great with cooler brown tones
Gray composite decking demonstrates its versatility yet again. Grey with soft brown undertones creates a rustic-meets-modern vibe in this enclosed outdoor space. A cool brown stone fireplace complements the gray trim with light brown undertones. Creates a harmonious combination of two different color families. Even if you use contrasting neutrals like gray and brown together. They can also complement each other if you choose shades with cooler undertones.
Grey decking allows your natural surroundings to shine
Cream railings and framing surround this screened porch, providing a luxurious contrast to the pale grey decking. Dark Adirondack chairs with colorful accent pillows create a simple yet striking contrast. Brass sconces and a large plant in a cream-toned pot complement the natural foliage and gracefully drooping Spanish moss.
Make a roomy outdoor living and dining area
Light grey composite decking can create an open, airy feel, as seen here on this elevated deck. Dark grey metal rod railings create a contrasting border that complements the charcoal-colored patio furniture. Bright white cushions and colorful plants add a light and airy feel. For a finished look, make rectangular planters and flower boxes out of the same grey composite decking and fill them with bright blooms.
Grey decking for a beachy feel
When used to create an open-concept deck, misty grey decking can give the impression of being in a quaint coastal town. You can use the natural features of your home, such as built-in pillars, to set up different dining and lounge areas. Or recline the area on a wooden rocking chair to create boundaries.
Sunken built-In seating expands your deck space
Multi-tiered decks can help you maximize deck space by incorporating fun features like sunken built-in seating. Add some colorful, comfortable throw pillows to steep steps to create extra seating. A fire pit makes this "the" place to be on your deck for some campfire conversation.
Cabana-style indoor-outdoor decking
Similarly, gray composite decking has a slightly weathered look on this poolside indoor and outdoor deck. Giving you a driftwood look that can be upgraded with no maintenance. Glass balustrades provide unparalleled crystal clear pool views on this cheerful cottage-style deck. At the same time, they separate the dining area, allowing you to enjoy the outdoor life better.
Small room, big style
Because of the light grey decking laid in an unfussy parallel style and surrounded by clear glass railings. And this small, gently raised deck creates the illusion of a larger space. Bold, charcoal grey statement chairs and a matching wicker table created a comfortable seating area. While large floor lanterns and foliage add color, character, and light to the space.
Light it up
Two-tone grey composite decking combines lighter and darker grey shades for a simple, yet eye-catching platform-style deck. Using different shades of cool-toned grey creates a unified look in which all style elements complement one another. Therefore, the lighter and darker hues of the grey composite decking are picked up by the medium grey pergola roof and bright white pillars. By stringing fairy lights from the top of the pergola and embedding LED lighting into the raised steps of the deck. You can create an ethereal vibe on this outdoor oasis.