For homeowners who have used wood decks, regular maintenance work is important. Every year or two, they need to have their outdoor decks repaired, painted, and sealed. Composite decking has become more and more accepted as a popular alternative to wood decking. So, do we need to seal composite decking?
Before we answer this question, we need to understand that composite decking is made from a mix of recyclable plastic and wood fibers. Compared to traditional wood decking, composite decking has the advantage of being maintenance-free. Composite decking does not require much maintenance to maintain a good appearance. All you need is to clean the composite deck every once in a while. If you want, you can seal your composite decking. Sealing your composite decking will reduce the need for regular cleaning, but you will have to reseal it from time to time to keep it looking good.
Advantages of Sealing Composite Decking
There are many advantages to sealing a decorative deck. Even composite decking can benefit from it. If you choose to seal your composite deck, you will spend less time cleaning it. On top of that, you can avoid some of the problems of mold growth and stain staining.
Another reason to use a sealer on composite decking is to brighten up the color of the floor. With constant sun exposure and corrosion from the natural environment, composite decks may fade slightly. For faded composite decking, applying a sealer can make it look brand new.
Disadvantages of applying a sealer
Most manufacturers of composite materials do not recommend sealing composite wood decking. While there are benefits to sealing composite material, there are some drawbacks. Using a sealer on composite decking can void the warranty and also increase maintenance costs. While it makes outdoor decks easier to clean, once you start cleaning, you will need to reseal the deck periodically. Not only will this take you more time to maintain the deck, but it will also increase maintenance costs quite a bit.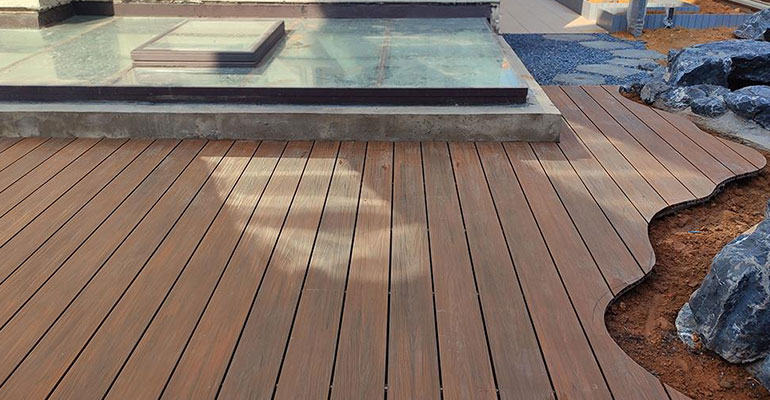 How to Seal Composite Decking
Some DIYers may prefer to maintain their outdoor decks. So let's learn how to seal a composite deck next.
Cleaning Composite Decking
Before sealing your composite deck, you should first clean your outdoor deck thoroughly. to remove any dirt, stains, or mold that may be present on your outdoor deck. Remember, once the composite decking is sealed, any dirt left behind will be "sealed" into the decking.
Avoid using cleaners that contain chlorine bleach. This is because chlorine bleach is corrosive. Using it in composite decking can cause premature fading, chipping, and cracking of the floor. If you want to use a pressure washer, then you need to know the precautions in detail to avoid damage to the composite deck.
Choosing a composite deck sealer
After thoroughly cleaning the composite decking, the next step is to start the sealing process. It is very important to choose the right composite deck sealer. Water-based sealers are more suitable than solvent-based sealers. Water-based sealers have two main advantages. Firstly unlike solvent-based products, they do not change the color of the composite decking. Secondly, they use synthetic resins, which prevent algae and mold growth.
Applying the sealer
To keep it clean, you should brush the sealer when it is wet. You can apply the sealer by rolling or spraying it, but always do not forget to back brush. Use a roller to apply the sealer and brush it back immediately after rolling it on. If you choose to spray the sealer, simply use a roller to complete the back brush. Back-brushing the sealer will increase the surface tension of the composite deck. So that the composite will become more porous and absorb more sealer.
The more sealer absorbed by the surface of the deck, the longer the life of the coating will be. It is important to note that you should not use too much sealer. If you use more sealant than the composite can absorb, wipe off any excess product. Excess residual sealant can create shiny moving spots on the deck surface. Therefore a spot of excess sealer needs to be wiped off to ensure a clean appearance. Then wait at least a day to let it dry. Once drying is complete, you can fully enjoy your composite decking!
Related Articles
Can you power wash composite decking?
Are composite deck boards worth the money?