When you are building an outdoor deck with composite decking, you may want to consider brown composite decking. brown is one of the most popular colors for composite deck boards. This is because brown composite wood decking looks most like natural wood. It is more suitable for people who like natural wood decking but do not want to spend their time on the maintenance of the deck.
Brown composite decking comes in many natural colors, from warm reddish brown tones to cooler tan tones. You can choose your favorite brown composite wood decking and create a new, modern backyard oasis with a combination of colors. Bring a classic and comfortable look to your outdoor living space. Whether you already know what you want, or are open to new ideas. Here are a number of brown composite decking design ideas to help you find the right outdoor deck design.
Simple, clean lines
Simple can stand out! The clean, parallel lines of the warm brown composite decking complement the vertical and horizontal lines of the mesh railing. By adding a pergola made from the same style and color of decking, this space continues to draw the eye and maintains the theme of clean lines.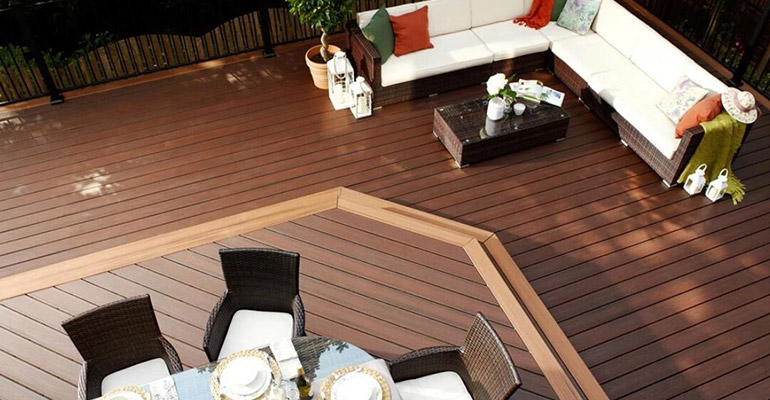 Matching shades of mixed materials
The dark brown composite decking with cool tones looks modern when paired with the metal rod railings in the same color. This tonal effect keeps things from looking too "matchy-matchy" by combining different materials. Adding sconce chandeliers to this covered patio gives it a warm, rustic look that keeps things interesting.
Enhance your deck with a pergola and plants
A warm tan composite decking stands out when it's placed next to a bright white pergola. Placing different-sized plants in wicker planters can add fresh greenery to the deck.
Classic brown deck with white composite railing
When laid in a diagonal pattern, classic brown composite decking is anything but simple. It can add style to an outdoor space. The white railing and white Adirondack chairs make it feel like home, especially when they are put together.
Poolside perfection
Even if you're not staying at a luxury resort, a warm brown composite decking board with a wood grain look and an inground pool can make your backyard feel like the next best thing. Brown composite decking comes in different shades and finishes that can give the impression of weathered wood without compromising the strength of the deck.
Contrasting patterns and colors
When building the deck of their dreams, homeowners can also use composite decking to create simple patterns. Using different colors of decking to make different "zones" on a structure can make a deck more interesting. Choose a lighter color for the main part of the outdoor deck, then use a darker brown composite deck board to make the pattern. Adding a metal rod railing can be an eye-catching way to bring these design elements together.
Adding LED step lights to the brown composite deck board
Step lights are built on two decks with a slightly raised platform to help people see better. Bright LED lights illuminate the small, low steps of this brown deck, which looks great and is safer to use at night.
Match the brown deck to your house and neighborhood
When picking the right brown or tan composite deck board, you should take into account your house and the area around it. For example, if your outdoor deck is attached to your house and your roof or siding is sandy brown. You may not want your composite decking to be the exact same color. Choose a slightly darker tan that has a slightly worn look to create tonal contrast. But you can make your attached deck and the outside of your house look more like one by using a white railing that matches your house's trim line.
Gray pavers on brown composite deck flooring
Brown and gray are from two different color families. But these two colors can work well together, especially if you use more than one medium. Brown composite decking brings a rich, woodsy tone to outdoor decks. It really stands out when the gray stone pavers are directly underneath it for the patio. The different shades of gray stones in the pavers complement the dark gray pergola and gray wicker planters on the deck. The mixed material deck furniture has brown wood that matches the composite and brushed metal trim, which really brings out the different shades of gray in the pavers and pergolas.
Brown interior-outdoor deck ideas
The natural tones of brown composite decking can help make indoor-outdoor spaces feel comfortable and modern and rustic at the same time. The soft, woody tones of the brown deck are complemented by the tan fireplace stones. The brown wicker boxes and furniture are all the same shade of brown. This makes the room feel warm and inviting. Plants and colorful wall decorations look experienced a lot, keeping the rustic feel and adding a pop of color.
Planters fixed with brown decking
You don't have to use composite decking boards just for your patio. It can be a beautiful way to set up tiered planters in your backyard and on your patio to make them look even better. Adding stairs, planters and different layers to your deck with the same shade of brown composite decking can give a small space more depth. The base of this lush backyard oasis is made of dark brown composite wood decking. The planters, stairs, and decking are framed in a lighter, brighter than decking. Not only does this add depth, but the lighter decorative panels and LED lights on each step make the steps and tiers easier to see.
Use different shades of brown trim boards to give it depth
Large outdoor decks can have different dining and lounging areas when they have different levels and different colored decorative panels. The main color of this elegant deck is rose, but the edges and the raised platform for dining are a lighter shade of the tan deck. The deck is surrounded by a black metal railing, which contrasts with the bright white sofas. This complex study in contrast is completed with a bright white sofa.
The bright color looks great with the brown deck
A brown composite decking with neutral colors can be a great backdrop for bright colors. Even if you live in the suburbs, the bright white railings of this brown deck and brighter turquoise deck furniture give it a beachy feel.