The color of your deck can have a big impact on the appearance of your home. The right deck color can make a yard feel more open, warm, and elegant. Composite decking boards have a wide selection of finishes and colors to suit your needs. However, for wood decks, you can choose a different color for restaining. This gives you more options to change your deck over time.
Staining is also a great way to protect your deck. Luckily, it's not hard to find a good stain, which means you can focus more on the look of your wood and still be protected. Whether you want to give your deck a sleek, urban vibe or a more traditional look, matching the right color scheme can help you transform the look of your deck.
However, since there are many ways to use deck paint colors, it's a good idea to get some deck color ideas first to further understand what you can do.
Color Options for Outdoor Decks
Natural Colors
Staining a wood deck is not always the best way to go. Most natural stains are clear or match the color of the surface they are applied to. This allows the natural beauty of the wood to show through the protective coating of the stain, and it protects almost as well as a colored stain.
If the material you are working with is new or already has the color you want, a natural color may be the best choice for you.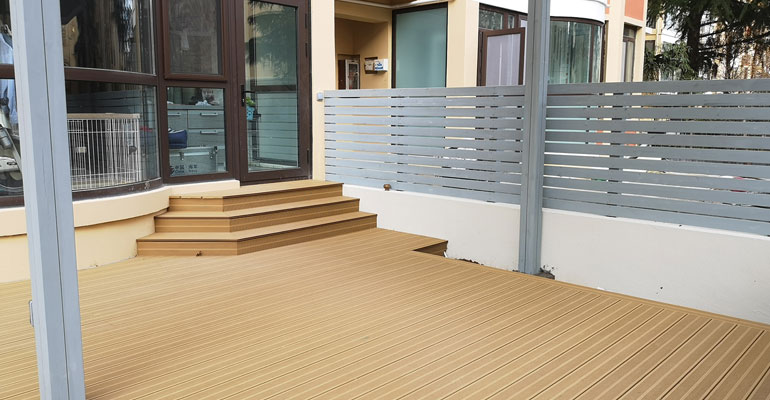 Brown
By far, brown is the most popular color for decks, and for good reason. Brown is a basic color that goes well with most outdoor environments. Brown comes in many different shades, such as acorn, caramel, chestnut, wood, and chocolate.
Cinder brown has gray undertones, while chestnut brown has warmer, darker undertones. Each color is suitable for slightly different environments. Brown can also be paired with many other colors, such as white, blue, yellow, gold, rose, and orange, so it can be used in almost any color scheme for a house or yard.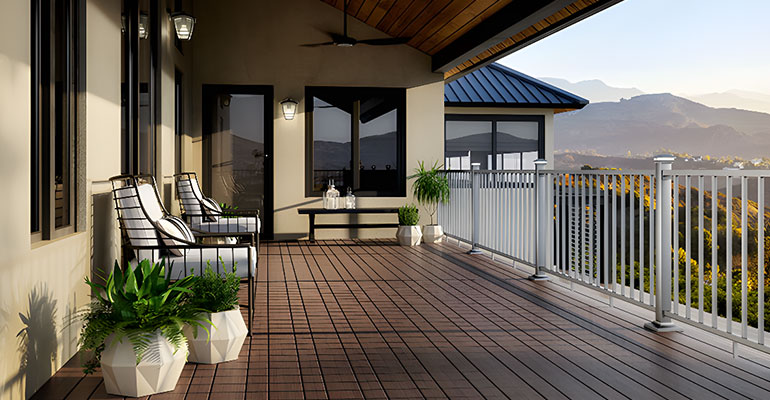 Blue
Blue is as popular as brown when it comes to outdoor decks, but it can add a unique color to an outdoor scene. Darker dyes, such as blue, still allow the natural beauty of the wood grain to show through. This hue can create a lovely, rustic look.
There are multiple ranges of blue, just as there are different ranges of brown. These blues range from deep sea to bright turquoise, from midnight blue to island sky. In an outdoor setting, these colors look great with green, orange, and white. If you want a classic beach look, try pairing it with white.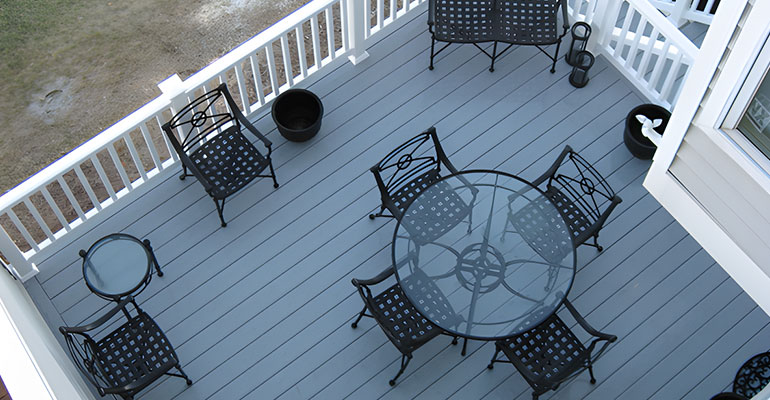 Gray
Gray is a neutral color that, like brown, blends easily with its surroundings to make it look good. Most of the beach homes and other area homes that get a lot of direct sunlight have gray stains.
This is because these colors fade more gracefully as they weather and are cooler to walk on. However, gray is not popular in dark wood decks because it does not stand out among these colors.
Green
Solid wood deck colors like green aren't neutrals, but some of them can still be attractive options in a classic. A well-maintained open yard can make green look like it complements everything.
Greens can be used in many different ways because they come in so many different shades, from lime green to a rich brown-toned woodland green to a sage-like gray-green. In general, green stains go better with earth tones, especially browns and yellows.
Red
A red deck stain is a high-contrast option for those who don't mind their deck being the center of attention. It is one of the most vibrant modern deck paint colors. The red range can be as vibrant as train red, as pink as coral white, or as close to purple as raspberry jelly.
As a result, these colors look great with brick and Mediterranean-style homes. Outdoor stain colors like red can be mixed with whites, blacks, greens, blues, and yellows to create a bold look.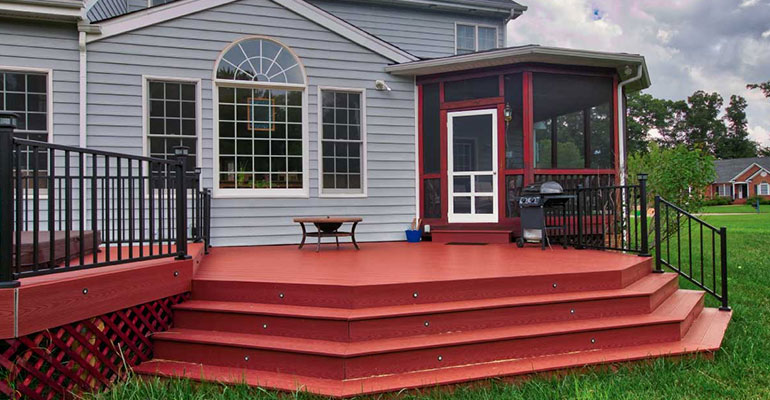 Deck Stain Colors and Clarity
Some deck stains are almost as thick as colored paint, so they don't let the original color of the wood show through. Some deck stains are almost transparent, so you can still see the grain and all the natural colors of the wood. There are other stains that are neither completely transparent nor completely opaque. But they differ only partially aesthetically:
Transparent Colors
Transparent dyes maintain the original appearance of the wood grain after application. Therefore, it is a good choice for surfaces that have not yet been stained and already look good. Therefore, if you are working with brand-new material, you may want to use a clear or visible stain.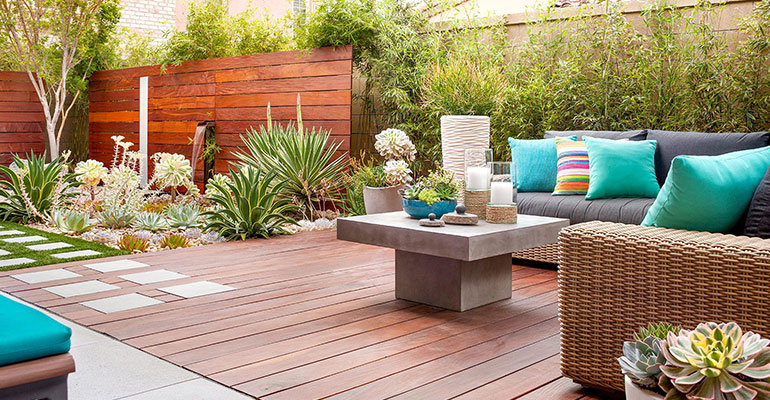 Colored
Tinted deck stains are similar to translucent stains, but adding color can make the stain look more like paint. It can be difficult to find a pigment to match your project, as a single log board may have four different shades of brown. A tinted wood stain will blend these colors together and make them look more regular.
Translucent
A translucent stain adds color while still allowing the grain of the wood to show through. It's a balance between keeping most of the original color and restoring a worn deck to its former glory.
In most cases, translucent stains work best on decks that are about five years old. They give the wood a new look without changing its appearance too much.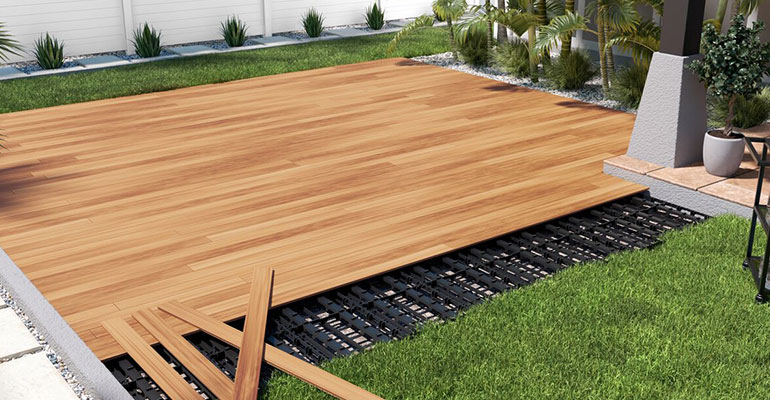 Solid Stains
Solid stains do a great job of hiding imperfections from weathering and aging. In addition to making cracks disappear, these stains do everything else. They can make things look regular.
In most cases, solid stains are the best way to fix a worn-out deck. This is especially true for decks that are at least ten years old and look terrible.
How to Choose a Deck Paint Color
How to choose deck paint is mostly about knowing what's most important to you and what colors you need to match.
Do you want to preserve as much of the original look of the wood as possible?
Are you concerned about the wood fading or covering up imperfections?
How many defects do you need to cover up?
Do you also want to make sure your deck coordinates with the colors of your home and any existing trim or landscaping?
You also need to consider the type of wood. For practical reasons, solid or semi-solid colors are usually the best way to handle softer, less expensive wood. Even if you've already begun sifting through possible color candidates, you should try out your best options before deciding which one to use.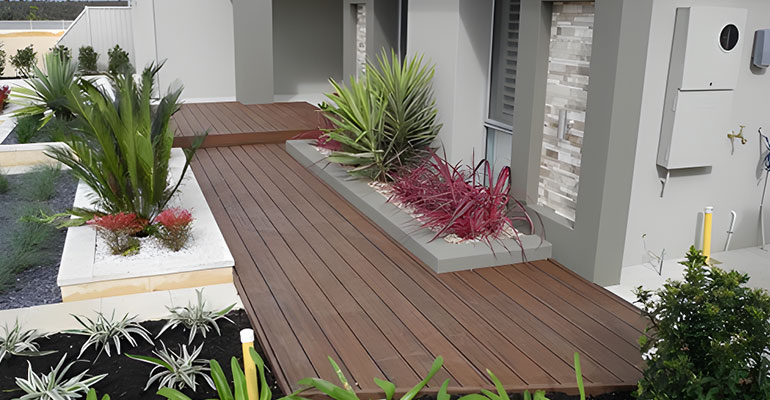 Choosing Complementary Colors
For a pleasing color scheme, the stain color you choose must work well with the surrounding colors. Your house is an important factor in deciding how to lay out your deck. This means that the color of the deck should match the exterior of the house and deck.
The color wheel is an easy way to understand how different colors go together. This includes not only pairs of colors but also combinations of three or more colors. Depending on how you look at it, you can observe the colors next to your chosen color for a softer effect.
Alternatively, you can observe the colors on the color wheel opposite your chosen color for a stronger, more contrasting effect. You can also use the color wheel as a help sheet to find similar colors on the same "side" of the color wheel, as well as the best shades and tints within the same color family.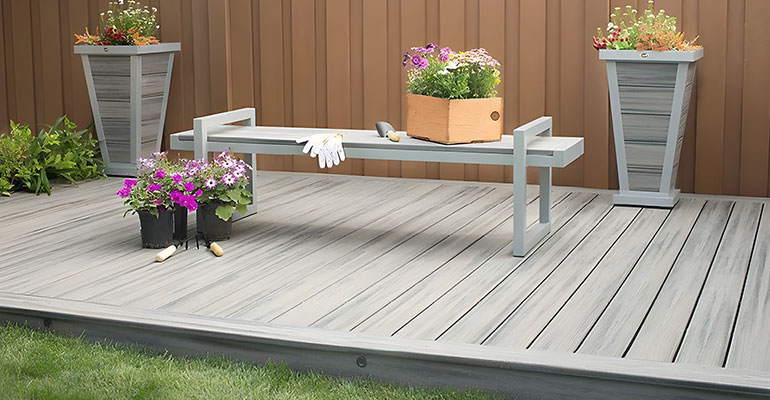 Consider how much direct sunlight hits the deck
Darker deck colors will fade faster than lighter colors in areas with more direct sunlight. They will also be hotter to walk on because they absorb heat faster.
On the other hand, lighter colors fade less and stay cooler in the heat. If you're concerned about heat and fading, choose a cooler color like light gray or tan.
Don't be afraid to try deck colors
The appearance of color depends a lot on the other colors and shapes around it. It also depends a lot on how bright it is. If you look at color swatches online, you should know that most computer screens don't show the true effect of color.
In short, the only way to find out if you are interested in a certain deck color is to try it out. After making your choice, you will have to remove the color from the tested area, but the peace of mind is worth the extra cost.
Related Post