No matter the design and location of your deck project, we make sure installing our composite decking is as easy as pie. COOWIN® decking is installed with hidden fasteners, which requires less woodworking skills to get the job done. Today, we're sharing this installation guide for our composite decking. And hopefully, you'll help you save time and energy when installing our composite decking.
First, let's have a brief introduction of our decking installation guide. This guide includes four parts: pre-installation, materials & tools, substructure, and decking installation.
Pre-installation
Application Limitation
WPC products are NOT structural and should NOT be used as columns, support posts, beams, joist stringers, or other primary load-bearing members. In addition, people using this guide should have a basic understanding of deck-building practices.
Safety
For your safety, we recommend wearing appropriate clothing and safety equipment which should include safety goggles, gloves, dust masks, etc. When using power tools, be sure to exercise caution and mind the sharp edges of fasteners and mitered boards. Keep children away from the job site until you've finished the project and make sure tools have been stored safely.
Storage & Handling
Storage
Before installation, please keep the package complete, stack the product on a flat, dry, and solid surface, in a well-ventilated area, and avoid direct sunlight and rainwater. Products must be raised up by joists and the joist spacing should be no more than 20''(500 mm). The overhang of the product on joists should not exceed 8''(200 mm). In addition, joists should line up vertically/perpendicular to the product.
NOTE: Storing on uneven ground will cause the product to deform and warp; do not store the product by putting on the ground directly; do not store near strong oxidizing agents, combustible material, or sources of heat.
During the construction, please cover the product not in use to prevent sand and gravel generated by the construction operation from falling on the product and causing scratches by friction with the surface.
Handling
Individual boards can be heavy, so carrying them should be a two-person job; please lift and drop the product gently; do not drag or extract the product; use caution when maneuvering the product to avoid striking and damaging the boards.
Acclimation
We recommend that you acclimate at least 2 days prior to installation as acclimating boards will get rid of any unwanted shrinkage issues seen during and after installation.
Planning Ahead
We recommend that you draw up a plan for your project in advance to minimize errors in construction and achieve a satisfactory installation. Choose a suitable site for your deck to ensure the longevity of your decking material. A good environment for a deck should provide:
A stable foundation
Good ventilation conditions
Adequate drainage
Important:
Plan the layout of the furniture and heavy objects on your deck in advance and adjust the substructure accordingly. Also, in areas where heavy point loads are anticipated, add additional bridging to the joists or reduce the joist spacing
Continuous heat can potentially damage the decking surface. Do not install decking near a heat source, such as a fireplace.
Avoid installing decking somewhere in contact with high corrosive substances.
Placed decking boards perpendicular to the walking direction, especially in public areas.
Material & Tools
Recommended Accessories
| | | |
| --- | --- | --- |
| ITEM NUMBER | PROFILE | APPLICATION |
| Starter Board | | Installed at the first row with the square edge facing outside, to provide a neat and uniform look. |
| Fascia | | Used to cover board edges or as risers in stair construction. |
| L-Corner | | Installed around the perimeter of a deck to conceal the joists and board edges. |
| Starter Clip | | Used to hold the first row of decking boards in place. |
| Hidden Fastener | | Installed between decking boards to help keep a consistent width-to-width gap and secure boards in place. |
| Locking Clip | | Installed at the center of each board to give extra holding power. |
Tools Required
You can use standard woodworking tools for COOWIN® decking. If screw fixing is applied, stainless steel or painted screws may be used. And we recommend that you use the accessories given for our decking to achieve the optimum effect.
Recommended Tools
Substructure
A code-compliant and durable substructure that ensures good ventilation and drainage is crucial to the longevity of the decking. Never ever should COOWIN® decking be installed directly on the ground.
Substructure Considerations
Different substructure options exist depending on the deck design, so consult your building officials or qualified specialists for advice on your project. For raised decks, the substructure usually features a wooden or metal frame with posts built on concrete footings or slabs.
Ground-level decks require a smooth and solid ground base for the joist made of composites, timber, or metal to sit on. For joist materials, COOWIN® composite joists, you can use pressure-treated lumber, and aluminum.
Site Preparation
Before laying composite joists, make sure the ground has undergone a hardening treatment. The site must have a gradient of 1-2% to encourage water run-off and the slope must be in the direction in which the joists run lengthwise.
Important:
COOWIN® composite joists can not be used as load-bearing members and should not be used for high-rise framing. In addition, it must be installed on the hardened ground that's free draining and well-ventilated. Anticipated standing water should not reach the height of the composite joists if under heavy rainfall.
Joist Layout
The joist layout depends on the deck design. Make sure you follow the joist spacing, gapping, and other requirements outlined in this guide otherwise you may void the warranty. If you need to install a railing, consider railing post-placement prior to joist construction.
Joist spacing
The joist spacing should not exceed 14''(350 mm) on-center when you place decking boards perpendicular to joists. If you need to place boards over joists at an angle, refer to the table below for the specific joist spacing required.
| | | | | |
| --- | --- | --- | --- | --- |
| Angle to Joist | | | | |
| Joist Spacing on Center | 14" (350mm) | 12" (305mm) | 10" (254mm) | 7" (178mm) |
Gapping Requirement
Allow a minimum of 1''(25 mm) of space for airflow under the decking surface.
When joists and obstacles abut, leave a gap of 1/4-1/2''(6-13 mm).
The end-to-end gap between two abutting joists should be 3/5''(15 mm).
Joists should be fixed to the ground with expansion bolts centered on the joists. The spacing between expansion bolts should not exceed 20''(500 mm).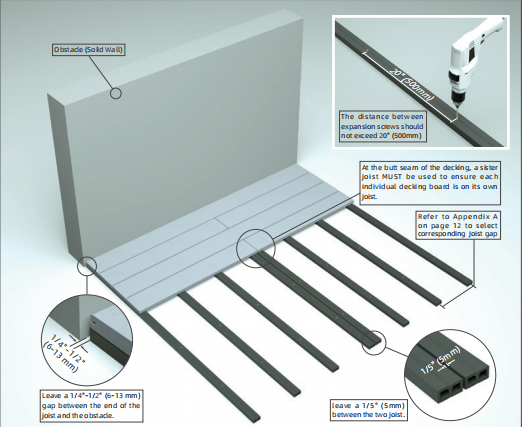 Heavy Point Load
In areas where heavy point loads are expected, such as tubs, add additional bridging to the joists or reduce the joist spacing to 12''(304 mm). Also, bridging shall be installed perpendicular to the deck joists, spaced at 12"(304 mm) on-center in the area where the point load will be applied(see fig. 1).
Double Joists
Double joists are necessary at the end-to-end joint between two abutting decking boards, so each board is on its own joist at the end. In addition, leave a width-to-width gap of 1/5''(5 mm) between the double joists.
Decking Installation
Expansion Gap
The decking board will experience natural expansion and contraction as the temperature changes. To counter this effect and prevent deformation and warp, keep some gap between decking boards. In addition, the gap reserved mainly depends on the length of board and local climate. The larger the temperature swing, the bigger the expansion gap.
The gap between decking boards and solid objects (i.e., wall) should be 1/4-1/2″ (6-13 mm).
The maximum allowable perpendicular overhang of decking boards over joists should not exceed 1/2" (13 mm).
Starter Clip & Starter Board
You can install COOWIN® deckingwith or without ED-START starter boards. So we recommend you use starter boards when working on a raised deck.
A1: Starter Clip Installation Without ED-START
Pre-drill pilot holes and fix starter clips to the composite joists with screws centered on the joists. Use one starter clip per joist. Make sure the starter clips are in a straight line.
Slide the first row of decking boards in and make sure the clips
hold the decking boards securely. Ensure good alignment of
the decking boards.
A2: Starter Clip Installation with ED-START
Use a scrap piece of decking board to determine and mark the position of the starter clips. Fix starter clips to the joists at the marked position and ensure good alignment.
Put the starter boards in place and make sure the starter clips hold the starter boards securely in position. NOTE: Let starter clips fit into the starter boards, then gently push starter boards forward to lock them in place.
Decking Board Installation
For ease of installation, COOWIN® utilizes hidden fasteners and locking clips that fit into the grooves on each side of decking boards to provide a fastener-free deck surface and great holding power, and help keep a consistent gap between boards.
B: Hidden Fastener & Locking Clip Installation
Place the next row of decking boards close to the first row. Push in the hidden fasteners and locking clip(positioned in the middle) and let the wings fit into the grooves of the decking boards. Slide them along the grooves until they are on their respective joist.
Make sure the hidden fasteners and locking clips are in the correct position with the fixings centered on the joists. Pre-drill pilot holes and fix them to the joists.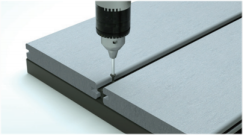 Note: If the end-to-end joints between decking boards are to be staggered, adjust the position of locking clips so that they are still located at the center of decking boards and face the same direction. If the end-to-end joints between decking boards are to be staggered, adjust the position of locking clips so that they are still located at the center of decking boards and face the same direction.
D: Finishing with L-corner
Slide in the last row of decking boards in position. Rip the last boards to a suitable width if necessary. Note: Never rip boards too thin otherwise cracking could result.
Toenail screws to secure the boards to the joists. The screws should be centered on the joists. Trim the L-corner for a better fit and affix it around the board edges.
Top-fix the L-corner to the decking boards at a 90° angle. Keep a distance of at least 25 mm between the screws and the board edges.
Okay. This is all about our COOWIN decking Installation. For more information, you can download some literature here.