If you are going to use composite decking as a building material for your outdoor space, then I am sure you will be considering which style to choose. If you don't have a firm idea yet, then cedar composite decking seems to be a good choice. Due to its natural beauty and durability, cedar composite decking has become popular for outdoor decks.
Cedar composite decking can add more value as well as sophistication to your home, thus effectively adding to the beauty of your home. Cedar composite decking also offers additional benefits such as longer life, low maintenance, and durability. In this article, we will cover the benefits of cedar composite decking as well as tips on how to install it.
Benefits of cedar composite decking
Cedar composite decking combines the natural look of cedar with the durability and low maintenance of composite materials. The advantages of cedar composite decking are described below.
Improved aesthetics
Cedar has a more beautiful natural texture. So cedar composite decking perfectly replicates the texture and appearance of natural cedar. And thanks to a more durable composite material, it achieves a uniform texture and appearance. This makes the color of the deck more uniform and brings a unique aesthetic to the space.
Durability
As we all know, one of the most essential advantages of composite deck material is its durability. Cedar composite decking is effective in preventing rot, cracking, and extreme weather effects. Therefore it is suitable for various scenarios and even direct sunlight will not have any effect on the decking. Compared to natural cedar, which is prone to fading and damage, cedar composite decking is resistant to the effects of mold and moisture.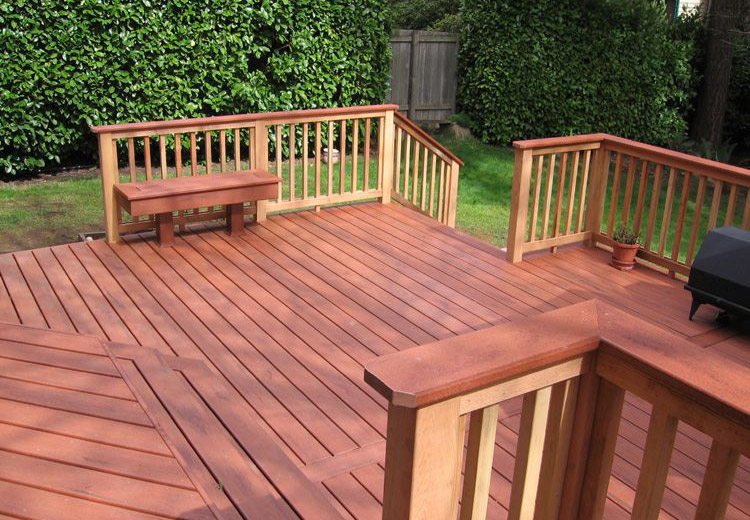 Low maintenance
Unlike natural cedar which requires regular maintenance, cedar composite decking requires less maintenance. It would help if you hardly spent time and effort on post-maintenance. Natural cedar requires annual staining, painting, and sanding.
And even with careful maintenance, it is not immune to cracking and wear. But with cedar composite decking you can save more maintenance effort. The more durable properties make it maintenance-free.
Weather resistance
Cedar composite decking is resistant to extreme weather conditions such as rain and snow, so it can be installed and used in a variety of areas. It is also resistant to problems caused by UV rays, and direct sunlight will not cause serious damage to the deck. Thanks to better weather resistance, it retains its original appearance and texture for a long time.
Eco-friendly
Cedar composite decking is made from a mixture of recycled plastic and wood fibers. Thus preventing environmental pollution from the building. Since it is manufactured using recycled materials, it is a sustainable and eco-friendly option.
Considerations for installation
This is a case study of installing cedar composite decks in Canada, from which some tips for installation are summarized.
Hire a professional installer
Installing composite deck boards requires the use of specialized tools and installation techniques. So we recommend that you hire a more professional installer to do the installation. While installing it yourself will save you more in labor costs, it will take a lot of your time and a faulty installation can seriously damage your deck. Hiring a professional installer is necessary in order for you to enjoy your outdoor space faster and install it correctly.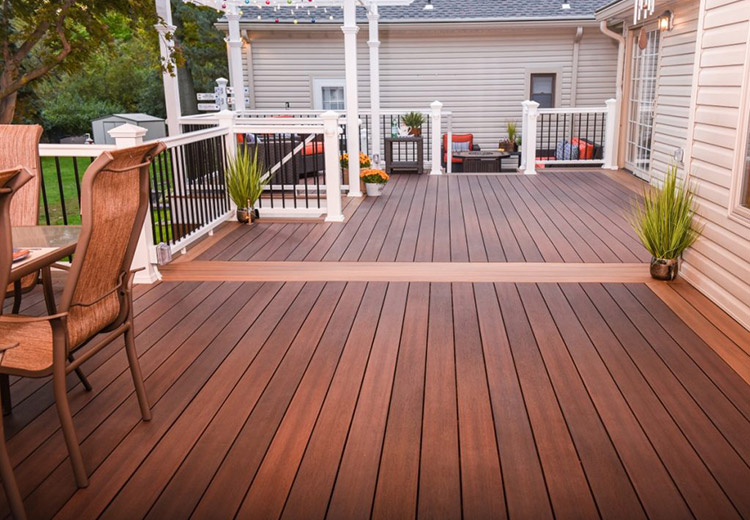 Choosing the right size
Composite decking comes in a variety of sizes and styles to choose from. It is important to choose the right size for your outdoor space to ensure that your deck fits snugly together. The right size will make your deck more durable and installation will be a breeze.
Keeping the deck seams
Although composite decking is very strong and durable, it also expands and contracts with temperature changes because it contains wood fiber material. So it is very important to keep the gaps between the composite deck boards during the installation process. The holes in between will allow your deck to move without cracking or crushing due to expansion and contraction.
Use the right fasteners
Composite decks require special fasteners. Hidden fasteners allow you to have a smooth deck surface. There are no visible signs of installation or fastening on the surface of the deck. And the hidden fasteners allow for the expansion and contraction of the deck.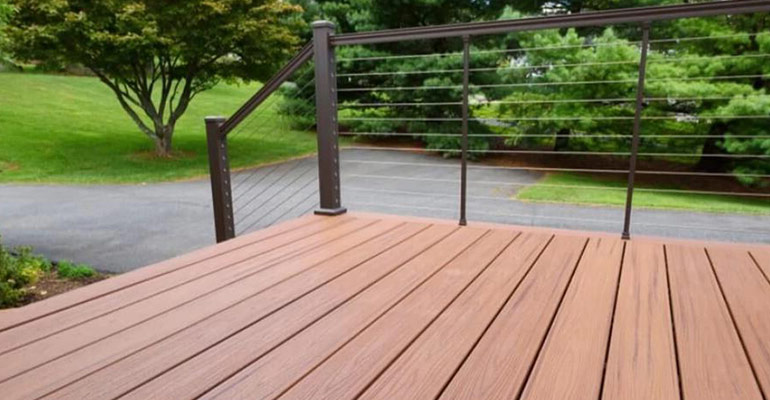 Follow instructions and requirements
It is essential to follow the manufacturer's installation requirements and precautions to extend the life of your deck. Carefully read the instructions provided by the manufacturer to ensure proper installation and use.
COOWIN composite decking FAQ
What does the term "Art Color" mean?
Art Color is a term used to describe the varied streaking on COOWIN composite decking and cladding. By adding different colors at precise moments during the manufacturing process. We are able to create a more nuanced color palette or maybe variegated color, on a monotonous board. To create the rich, natural color variation found in real wood such as cedar, redwood, and ipe.
Why are your products better than wood?
While wood may be cheaper when you purchase it, it could end up costing you far more. Plus, COOWIN composite combines the look of wood with the durability of plastic and offers superior performance that you can't get from wood.
COOWIN composite resists termites, and won't rot, warp, crack, or splinter. Unlike wood which requires regular maintenance, there is no need to apply weather protectants or water seal products and stain or paint WPC products.