Yes, you can install a grill on a composite decking. However, safety guidelines must be followed to prevent the grill from damaging the deck. Also, this is to ensure the safety of your outdoor living space. Most composite decking materials are heat-resistant and safe for grilling.
The classic barbecue is one of the best ways for people to get together. It's the perfect way to spend a weekend: with family and friends, enjoying a delicious meal. Now that you have your new composite decking, you have a great place to bring people together.
Then you need some information about using your grill safely on a composite deck. Here is everything you need to know about grilling on a composite decking. This knowledge will ensure the safety of your guests and composite decking while still hosting a great deck party. By taking these precautions, you can enjoy grilling on your composite deck without compromising its integrity or safety.
Is Composite Deck Heavy Enough to Handle the Weight?
It depends on how heavy the grill is, but in general, the answer is yes. When built properly, most composite decking boards can hold at least 50 pounds per square foot. This means that the average 120-square-foot deck should be able to hold up to 6,000 pounds without any problems. It depends on the type of deck, but in most cases, you won't have any trouble grilling and having people over for a get-together.
The fact that most outdoor decks can carry the weight of a hot tub may give you more peace of mind. This is because a hot tub is obviously much heavier than a grill! To make the support system under your deck stronger, you can add more posts or fill in the gaps with hard aggregate such as stone, rock, or gravel.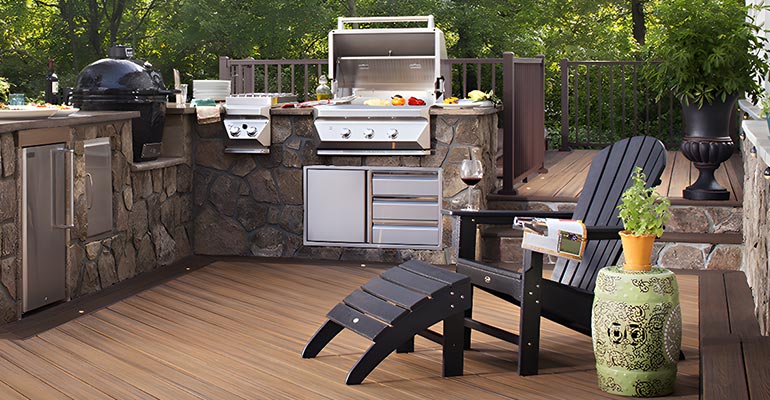 Can Barbecuing Hurt or Burn Composite Decking?
Barbecuing itself generates a lot of heat. Fortunately, the inner layers of composite decking materials are usually lined with flame retardants, which greatly reduces the likelihood of a fire. On the other hand, if ashes from a barbecue land on a composite deck, they won't do much damage to the surface of the deck.
In this case, protecting the deck actually depends on the grilling tools you use. While some people prefer a standard charcoal or wood grill, it's much more likely to catch fire, especially when it's windy. This means that there is a good chance that the burning material will fall onto the surface of the deck, resulting in composite deck burns.
For this reason, we recommend that you use a gas grill as opposed to a charcoal or wood grill. These grills are easier to control and will not allow burning debris to fall onto your composite deck boards, making them a safer choice.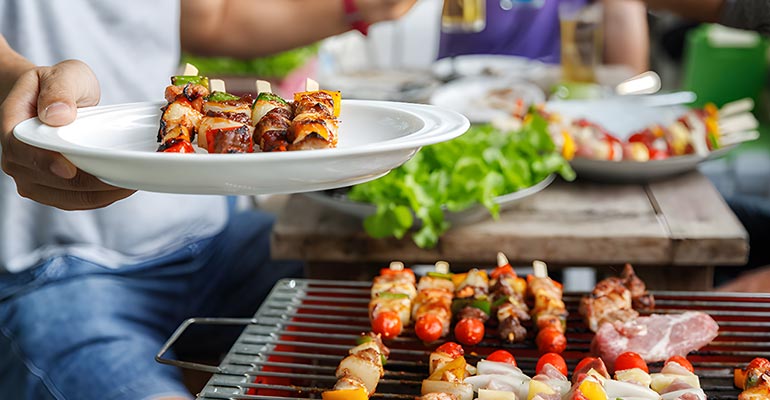 How to Increase Safety When Grilling on Composite Decking?
Whether you're using a gas or charcoal grill, you'll want to do everything you can to ensure that the potluck goes off without a hitch. While cooking is usually safe, it's important to pay extra attention to the grill and the area around it. This is especially true of wooden decks, as wood can easily catch fire and get dirty.
Pay Attention to The Wind
You may think that a breezy afternoon is the perfect time to have a picnic on your deck with friends. Because sparks can fly when it's windy, keep your grill at least 5 feet away from any walls or railings and check the direction of the wind before opening the lid.
If your deck is shaded by trees, be extra careful when grilling on windy nights. The grill should be placed in an open area with no bushes, vines, or trees in the way. No matter how well you've taken care of your lawn, you should still keep a fire extinguisher handy in case leaves fall on an open fire.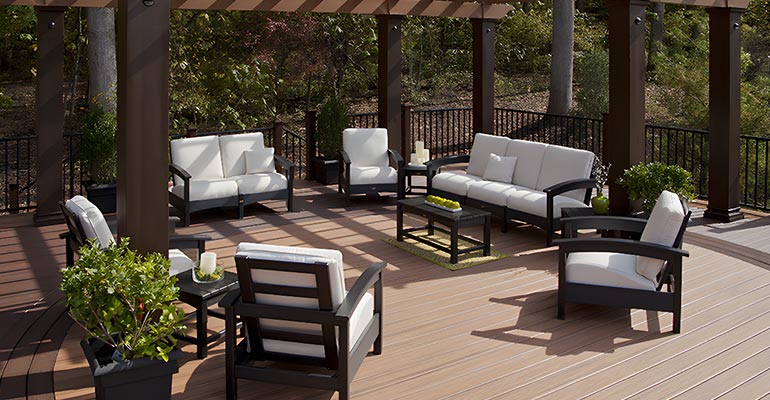 Look For Spills
If you're having a party on your outdoor deck over the weekend, keep an eye out for food and grease dripping down. Grease and food particles can be difficult to remove from wood decks. Although they don't pose an immediate threat to you or your guests. Blemishes can usually be covered up with fresh paint or varnish.
If people in your home frequently spill dishes, you may need to lay composite decking. This is because composite decking doesn't require much care and doesn't stain easily. For easy cleanup, simply wipe the area down with a damp cloth and wipe up any excess spills.
Accidents happen, such as ketchup getting everywhere, or a drip tray not being tight enough causing grease to spill. composite decking boards have an easy-to-clean surface, which means you can get back to using your outdoor dining area in no time at all.
Safety Tools
It's best to be safe when cooking with fire. Before lighting the coals, add some cooking tools such as a
Barbecue Mats
Lay a grill mat under your grill to protect your deck from hot embers and grease stains that won't go away. The mat should be sturdy, heavy enough to withstand the wind, and extend a few inches beyond the edge of the grill.
That said, a grill mat is a simple but very effective safety device. It greatly reduces the amount of grill ash, debris, or excess grease dripping onto the composite decking. it also prevents falling objects from damaging the surface of the decking.
Grease Drip Tray
When cooking tougher cuts of meat or smoking at high temperatures for short periods of time, place a drip pan underneath the meat and on top of the coals. If grease drips, the drip tray catches it for easy cleanup. It also stops any dangerous burning.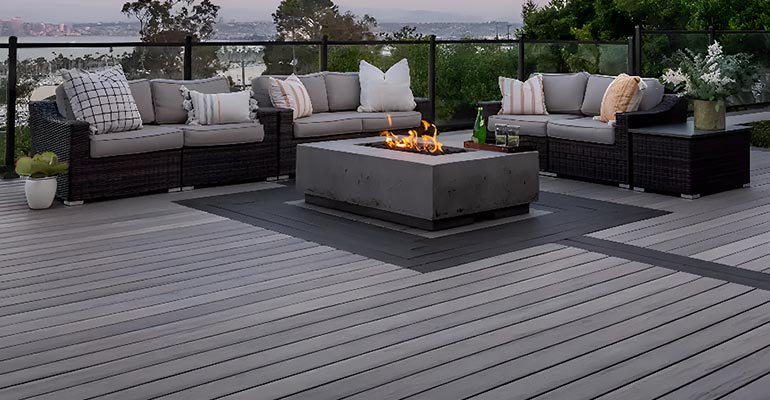 Safety Gates
Grilling by the pool on the weekend is the best way to get people talking to each other. However, when children and pets are around, it's important to keep their hands and paws out of harm's way. Place safety gates around the grill. Place a set of rocking chairs and a case of cold beer inside the door to make it the perfect place for adults only.
High-quality Grill Brushes
A good grill brush is important. This is because cheap brushes tend to shed and leave sharp steel shavings on the surface of the grill. Get a well-made stainless steel cleaning brush to make sure you're eating meat and not metal. If you accidentally eat the shards, they could cut your mouth or hurt your digestive system. After brushing the grates, wipe down all cooking areas to remove any loose fibers.
A common mistake people make is choosing the cheapest cooking tools or not using them at all because they can be very cheap. You should not try to save money here. To enjoy a picnic without flames, you should first add good cooking tools to your collection.
Things to Consider Before Buying a Deck Barbecue Mat
If you are looking to purchase a grill mat, you can choose from several different kinds of grill mats. Before deciding which grill mat is best for you, you should consider what material your outdoor deck is constructed of.
Non-rubberized mats should not be used on concrete or wood decks because they can stain the surface of the deck and be difficult to repair. Additionally, barbecue mats block UV rays from the sun. This means that the area underneath the mat may not fade as quickly as the surrounding area.
The type of grill you have is another thing to consider. Gas grills are more prone to dripping and spattering, so you'll need to find a mat that can withstand this. However, if you are using a charcoal or wood grill, you should look for a heat-resistant mat that will prevent your deck from being burned by the scorching coals.
Of course, you should also consider the sides and size of the grill. Don't just buy an old mat and realize that your grill is bigger than it is!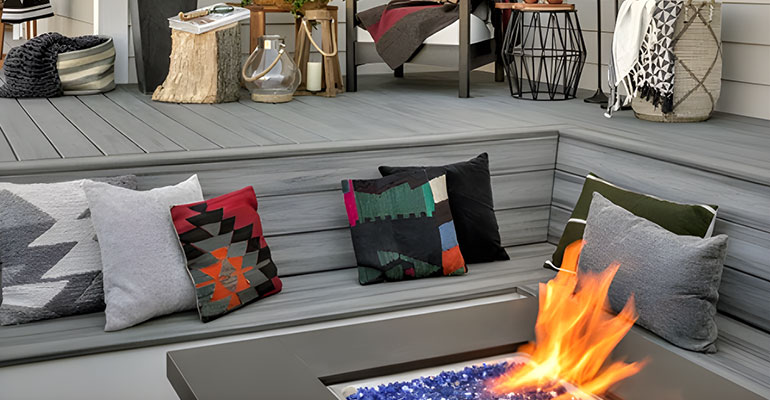 How to Ensure Deck Furniture Safety?
When you are hosting guests on your outdoor deck for a barbecue party. You'll need to clear the area around the cooking area so that guests and furniture aren't harmed by stray flames. Outdoor furniture such as lounge chairs, umbrellas, and tableware should be kept at least 10 feet away from the grill.
After a long day around the grill, the last thing you want is a plate of meatloaf falling to the ground because you bumped into an improperly placed planter. Make sure there is an unobstructed pathway from the grill to the table so you can quickly and safely serve your guests food cooked on the grill.
Conclusion
In conclusion, grilling on a composite deck is indeed possible and safe with the right precautions. By placing a protective mat or pad under the grill, and maintaining a safe distance from the house and other combustible materials. And following the manufacturer's guidelines, you can create a functional and enjoyable outdoor cooking space on your composite deck.
These measures not only safeguard the integrity of your deck but also ensure a worry-free grilling experience. So, fire up the barbecue, savor the outdoor cooking ambiance, and relish the convenience and beauty of your composite deck.
Related Post