Beautifying your deck with vibrant plants and flowers can transform it into an inviting outdoor paradise. It doesn't matter if your deck is a sunny paradise or a tree-lined paradise. Carefully selected greenery and flowers can add color, texture, and fragrance to your deck. From there, you can better beautify your outdoor deck and enhance your outdoor living experience.
It's up to you whether you want to make your outdoor deck cozy and personalized or make it a vibrant oasis. Because outdoor deck plants are suitable for almost any style, you just need to know what you can choose from. Then make sure you can take care of those plants to make your deck more attractive.
How to Decide What Plants to Grow on Your Deck
To choose the best deck plants for your situation, you need to consider some important things. When choosing the best plants and flowers to brighten up your deck, consider the specific climate where you live. For example, sun exposure and wind conditions ensure that the varieties you choose will thrive in your specific environment.
Choosing plants that grow well in the area where you live will help, but it's not foolproof. This is because some plants need shade all the time, while others need full sun. Some plants can withstand drought, while others will die once you forget about them.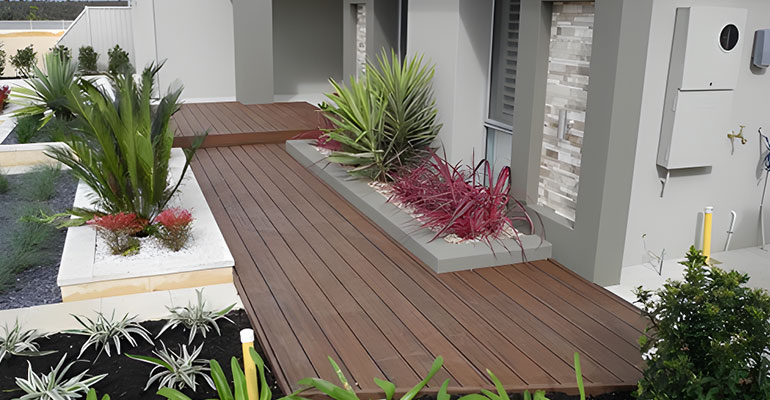 The second thing to consider is how personalized the plants are. Do you want to keep it private? How about growing your own food? Want to keep the flies away? Or do you want beautiful flowers to add color to the deck? Narrowing down your choices is important if you want to make a decision that best suits your needs and tastes.
The 20 Best Patio Plants for Decks
There are a wide variety of plants that can be used for patio decor. From cacti that don't bloom for decades to begonias, there are many very interesting varieties available around the world. But what are the best open-air plants for decks and patios?
1. Caladium
Caladium is one of the best outdoor plants because of its thick, heart-shaped leaves that come in vibrant pink and red. If you are looking for annuals, these are a good choice.
The only caveat is that this plant prefers a humid climate and some shade, so it may not be the best choice in a dry environment.
2. Begonia
Begonias are another classic choice, popular with gardeners around the world. They have large, brightly colored flowers. And you don't have to remove their older flowers as the seasons change. This makes them easier to clean up than many other types of yard flowers.
Most begonias prefer a slightly shaded environment, but there are different types of begonias, so pay attention to the instructions on the label when you buy them.
3. Lavender
Lavender can give you more exciting ideas for patio flowers if the conditions are right. While lavender doesn't have as large a flower as, say, begonias, it holds its color well and blooms throughout the spring and summer months. Lavender is a great high-contrast plant with one of the most recognizable and enjoyable floral scents.
For this reason, lavender is a great plant to place near a sitting area. Keep in mind, however, that lavender likes full sun and will die if overwatered. Lavender also repels mosquitoes, which is a nice plus.
4. Croton
Croton is usually considered a houseplant, but it can be used as an outdoor plant in a variety of ways. Even when they don't bloom, their foliage is so beautiful that it looks like a rainbow.
Croton tends to stay the same size indoors, but when in full sun they can get big and bold. Just make sure the soil is well drained and everything else will fall into place.
5. Ornamental Grass
From purple fountain grass to forest grass, there are dozens of different ornamental grasses, each with a different purpose. Ornamental grass is a great choice for patio plantings because it adds privacy and makes the space look more interesting. People also choose ornamental grasses because they grow quickly and can be cut back at any time.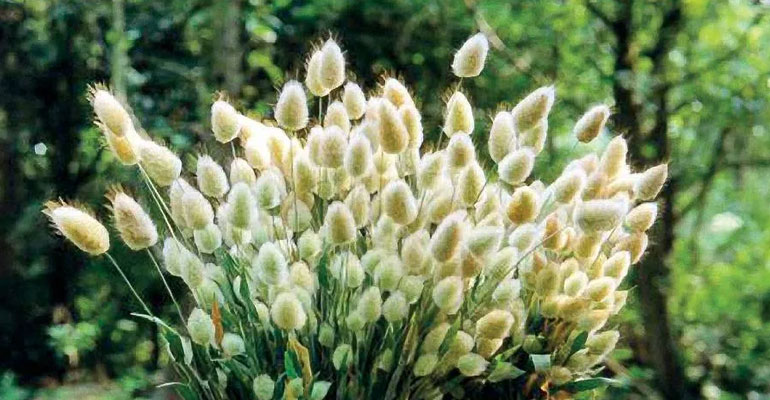 6. Hydrangea
Hydrangeas are easy to grow, can grow in almost any type of soil, and are eager to produce lots of colorful flowers. Shrubs that bloom like hydrangeas look best in the first half of summer, but they do well until the weather gets cold enough to kill them.
Most hydrangeas need direct sunlight to bloom, but in warmer climates, they prefer to grow in the shade. This makes them one of the best deck flowers for temperate regions.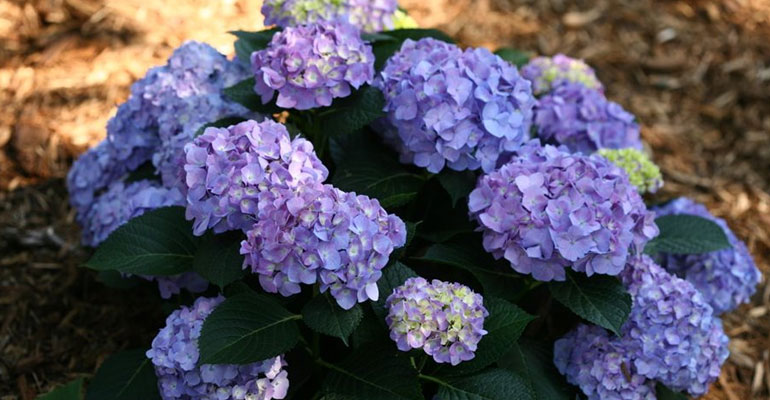 7. Coleus
Coleus is probably one of the best choices for deck plants that look good all year round. Their leaves come in a variety of colors, from bright pink to deep purple, and they are very easy to grow.
As long as you don't have to worry about freezing temperatures, make sure the soil stays moist, and give full sun or partial shade, coleus can add beauty to almost any deck.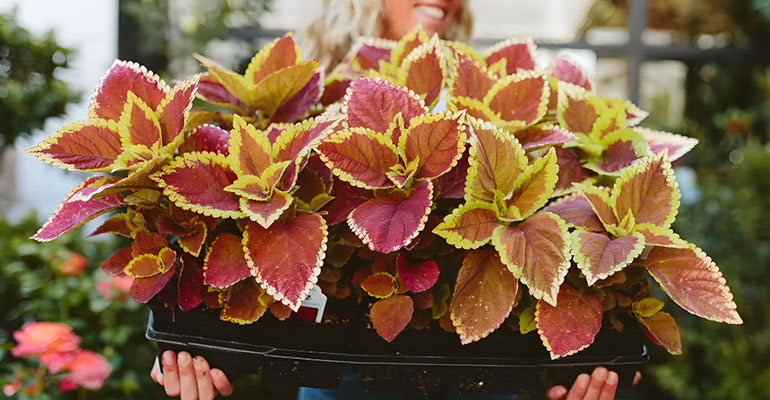 8. New Guinea Impatiens
Even when compared to the best outdoor patio plants, the bright flowers of New Guinea Impatiens are a standout in tropical color. From orange to violet, there are many groups of vibrant colors that go together.
In addition, this plant does not like to be dry, and most of the different types prefer at least some shade. Keeping the soil of your New Guinea impatiens moist and adding a little fertilizer from time to time will help them maintain their beautiful blooms.
9. Succulents
Succulents have a very attractive appearance that is very different from other types of dense green plants. They have a strange, almost alien appearance. If you want outdoor plants that don't require much care, succulents will be your first choice.
Many types of succulents can grow alone for weeks or even months. The thicker the leaves, the better they can withstand drought. Most succulents grow best in well-drained soil and full sun, but they can also grow in some shade.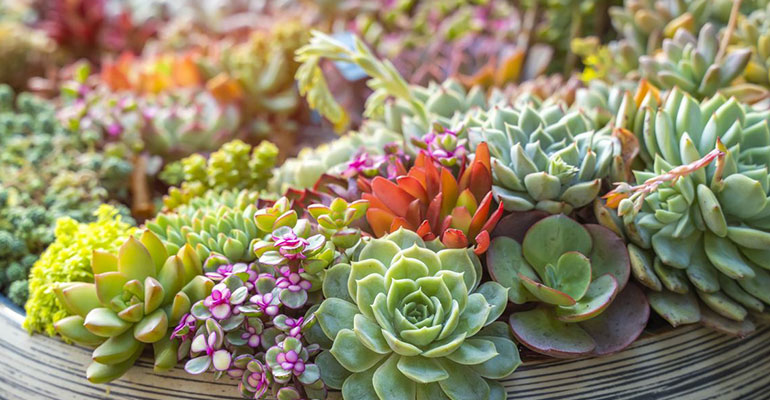 10. Lobelia
Lobelia is an annual plant that comes in white, blue, and purple colors most of the time. It prefers to grow in shady areas like porches or decks that are covered. These flowers grow best in weather that is not too hot or too cold, such as spring or early summer, or in a shady spot.
Lobelia will need pruning between seasons, but otherwise, they grow well in hanging baskets and other popular patio containers and require little care.
11. Million Bells
Some flowers have fewer large flowers and more small ones, while others have more small flowers and fewer large ones. Million Bells are one of the most common, so they can be used to add color to large areas. In addition, they don't require deep soil, so they are perfect for placing in a garden box or hanging basket on a deck railing.
Just remember that they don't do well in dry areas and need full sun to produce so many beautiful flowers.
12. Boxwood
Boxwood is perfect for creating a serious, elegant atmosphere. Being evergreen, these plants have dense foliage that stays the same all year round. They grow quickly and can be pruned into stylish shapes. If left alone, most species can grow 2 to 8 feet.
However, like many outdoor plants, the size of boxwood depends greatly on the soil. This means that you can't grow a large boxwood in a small 1-gallon pot.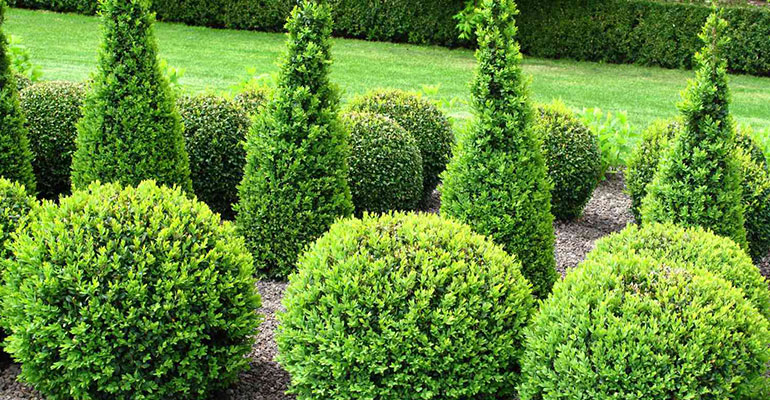 13. Roses
Roses have very recognizable flowers that grow all summer long and smell great. Roses have a reputation for being "hard to grow" and many people take pride in growing the most beautiful flowers.
But for many types of roses, taking care of their flowers is not difficult. The biggest problem is that most of them need direct sunlight to grow large flowers, and most of them need to be fed frequently.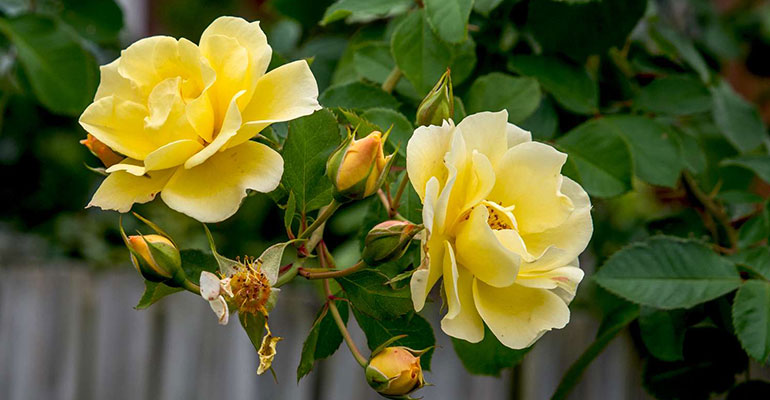 14. Herbs
Many edible plants are difficult to grow, but most flowers grow like weeds. You can start your own herb garden on your patio and grow useful herbs that fit your cooking style, such as chives, sage, basil, or cilantro.
Most vegetables grow best in full sun, especially if you want to grow a lot of them.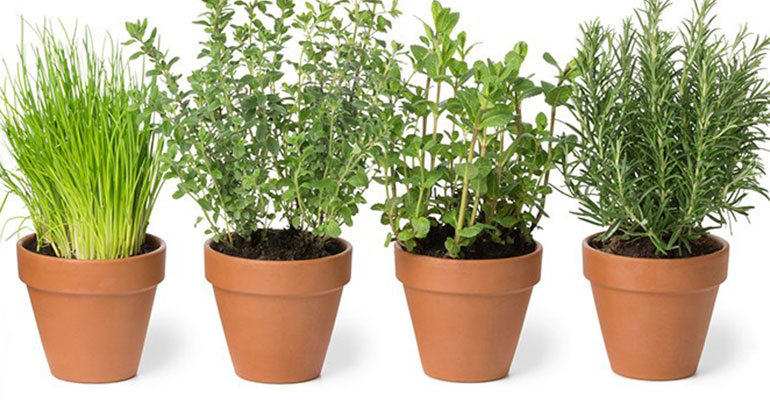 15. Creeping Jenny
Creeping Jenny likes to move around, which is how it got its name. Its vine-like branches cover a large area. People consider this plant to be an important plant for a variegated deck garden because it grows well in hanging pots and can cover a large area with foliage.
While its flowers are not pretty or long-lasting, its rounded leaves are attractive and maintain a healthy color throughout the year.
16. Bamboo
Although bamboo doesn't have flowers, it is a great protective plant and has a jungle-like appearance all on its own. Depending on the type of bamboo you plant, it can grow 20 to 30 feet tall.
It grows best in moist soil and prefers to grow in the shade during the hottest part of the day. However, if not properly cared for, the rapid growth of bamboo can cause it to spread like a weed.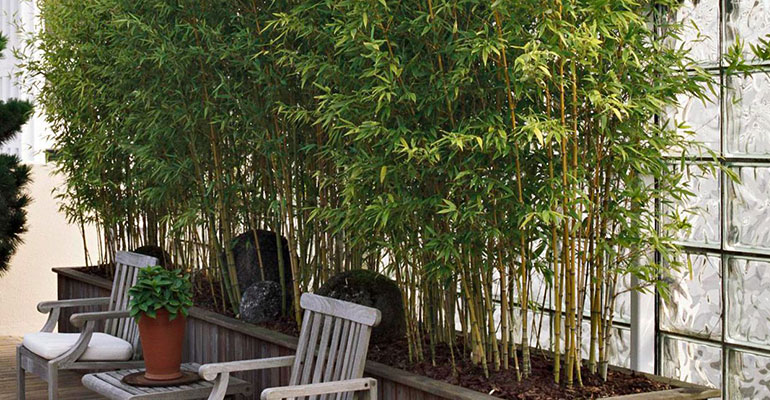 17. Geraniums
Geraniums are a large group of plants that includes nearly 300 different varieties. Their petals look like pinwheels and come in a variety of colors. Due to its wide variety, this longtime favorite works well in most yards and patio plans.
However, due to the large number of flowers, you will need to feed these plants frequently. Most geraniums do best in full sun, but some types can also tolerate a bit of shade without compromising their ability to bloom.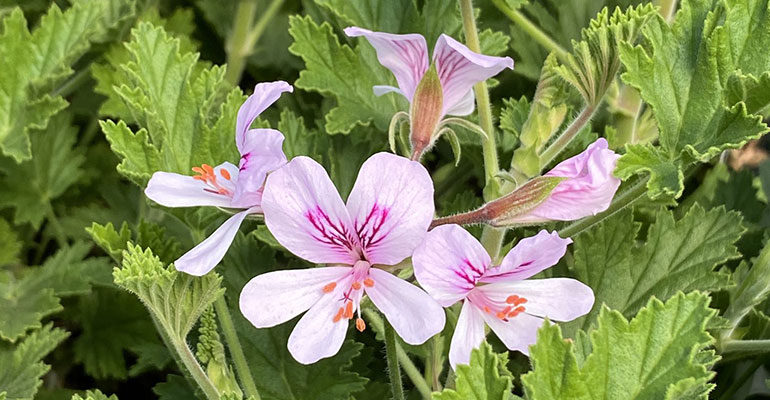 18. Hibiscus
Hibiscus has a strong smell and bright colors that stand out like a spotlight. Most of the time, these plants need full sun or just a little shade to keep producing new flowers until fall.
While growing hibiscus is not difficult, it is important to realize that tropical hibiscus does not grow well in cold weather, while non-tropical hibiscus is slower to grow when temperatures fall below 50 degrees Fahrenheit.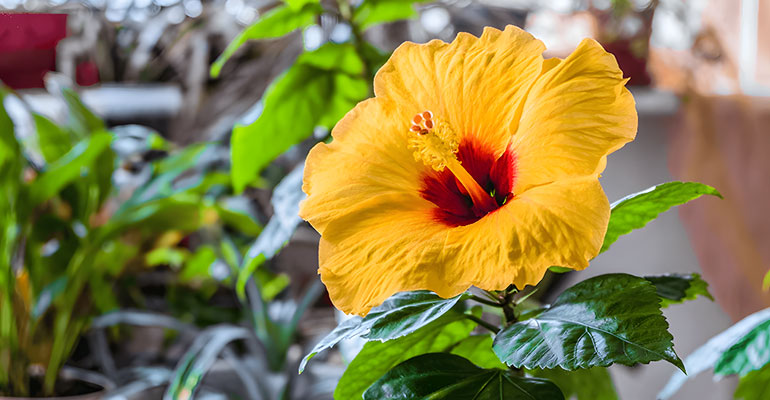 19. Angelonia
Angelonia is one of the few flowering plants that can withstand high temperatures without dropping flowers. This makes it more difficult to decorate flowering plants in warmer areas, but this is not the case with Angelonia. Angelonia looks a bit like lavender with its many small, pastel-colored flowers.
20. Marigolds
Marigolds are a must in the world of flowers. Many flowering plants require special care or attention, but marigolds don't need much help to bloom time and time again. The best colors are orange and yellow, but other colors are available.
Although marigolds don't like hot weather, they will survive until the first freeze of the season. Just make sure they get enough sunlight so you can sit back and enjoy their show.
Deck Garden Frequently Asked Questions
What plants are suitable for potting on a deck?
The best-potted plants for your yard depend on how much shade and direct sun you can give them, and how much time and effort you are willing to put into caring for them. Begonias and angelica are suitable for pots or railing planters.
Most plants don't have deep roots, so they grow well in pots. But unless you have very large pots, you may not want to use boxwoods, hydrangeas, or hibiscus because of their deep roots.
Which plants can be left outside year-round?
If you live in an area that doesn't get too cold in the winter, it shouldn't be too hard to find potted plants that can be kept outside year-round. Annuals such as chokecherry, begonias, and angelica will grow well in mildly cold conditions, but they can't withstand the harsh Arctic cold. Boxwoods are evergreen trees that can withstand subzero temperatures. On the other hand, creepers can stay bright and happy even if it's cold enough to freeze the boxwood.
Can I put potted plants on my deck?
Having potted plants on your deck is a good idea, but how you place them matters. You should think about how your garden decking ideas will affect water flow and how much cleanup you'll need to do when the flowers, leaves, or branches of your chosen plants fall off.
Growing plants on your deck can change the look of your patio and make it a more relaxing place to spend time, as long as you can clean up the small mess they make.
Related Post