Dining outdoors can be fun when the weather is warm. If you have a cozy outdoor dining room, then you can also dine outdoors without having to go to an indoor restaurant. There are many easy ways to turn your deck or patio into a stylish outdoor dining room. You can enjoy a meal with family and friends while taking in the natural beauty of your surroundings.
You can dine on your deck or look for unique patio dining decor to make the space your own. There are many patio dining arrangements, furnishings, and decorations to choose from. Here are some of our best ideas for outdoor dining areas to inspire you.
Dining area with a small deck
If you have a small patio or backyard deck, then extra attention needs to be paid to the size of the furniture. Dining tables and grills come in many different sizes and styles. Be careful not to put too much furniture on a smaller deck that could block the stairs or front door.
If you want to make a dining area on a small deck, glass panel railings will make it feel more open and less overwhelming to your guests. So even if the outdoor dining area is smaller, it will still feel cozy for those who dine there.
Alfresco dining area
Having an outdoor deck with a great view is a great thing. So make the most of it by setting up an outdoor deck for dining and lounging. A table and chairs with a seascape or a beautiful backyard can be a great place for family and friends to gather.
You can place dishes, glasses, and cooking tools on the deck in case you need to cook on the fly. You can also prepare sofas, blankets, or other furniture. As evening falls, enjoy the wonderful view from the deck with your family.
Dining on the porch
If you have a nice porch with a view of the countryside, a farmhouse-style dining table makes it easy and elegant to invite others into your home. Arrange fruits and flowers on the table and colorful pillows on the chairs to make the dining area look prettier.
And you can gather in a porch dining area without worrying about the outdoor environment. There is no need to worry about the sunlight or the rain.
Pergola dining area
If your outdoor deck doesn't have a roof, adding a pergola to your deck can turn it into a place to eat and cook outdoors. If your deck has a pergola with a roof, you can chat and dine on your deck without being exposed to the sun.
However, on warm summer nights, you'll want to linger on your deck long after the sun goes down. What a cozy night breeze, chatting or playing with your family on the deck.
Outdoor dining area with roof
If your deck has a covered dining gazebo, then you can keep your dinner party going even on a rainy day. Imagine having drinks on your balcony and then enjoying dinner in this wooden structure. It looks like a lovely bandstand in a 19th-century Victorian town.
This could even be a do-it-yourself outdoor job for the ambitious and skilled. Of course, you can still hire an experienced contractor to build this project.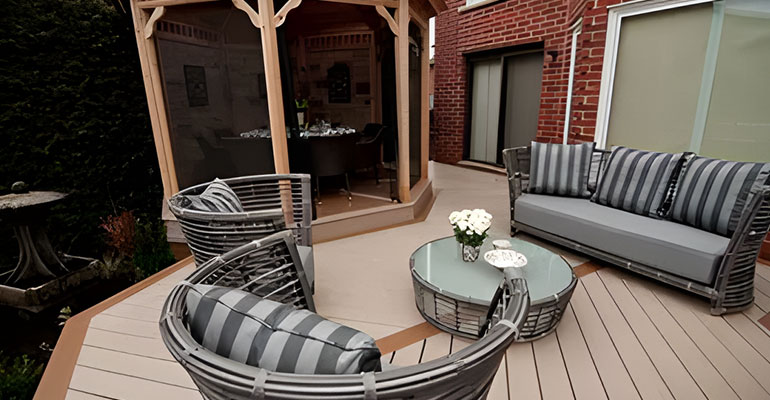 Indoor/outdoor dining area
An enclosed porch or three-season room allows for indoor and outdoor cooking and dining. While you grill on the porch, guests can dine in comfort indoors. A ceiling fan can be installed on the screened-in deck to blow a cool breeze. The screens also ensure that guests don't get mosquito bites while enjoying the view.
Small dining table, big space
A close-up view of the water can make life better. An outdoor dining area near the water is perfect for brunch or happy hour with friends. On a multi-level deck, a small round deck table can easily seat four, and there are plenty of other places to lounge.
Outside, this large dining area can also house a large grill and a prep table that won't interfere with the main activities at the table. When the weather is right, you'll be able to gather with family and friends for dinner and water views.
Rooftop deck dining area
Even if you're in a crowded downtown area, a rooftop deck allows you to take in the city's views. Adding an outdoor deck to your rooftop makes it the perfect place to relax and dine in the sun or under the stars.
For people who live in the city and don't have a backyard, a rooftop deck allows them to dine and entertain outdoors. Think about it, when after a busy day at work. A wonderful experience to enjoy a meal on a rooftop deck with a view into the distance.
Covered outdoor dining area
A covered dining area allows you to enjoy the best of both worlds. This outdoor dining area has a semi-open design that allows air to flow through the wooden canopy and screened side walls. Tables and chairs are covered in case it rains or gets too hot, and guests can enjoy their meal while taking in the view.
Mosaic tile accent walls give the room a nice look and help hold the curtains in place. You can also place some green potted plants around to decorate the dining area a little better.
Casual and cozy
Even if you don't have a lot of budget, you can make an outdoor dining area. All you need is a simple table with a deck parasol in mind. The long table and chairs give this outdoor dining area a classic look. A parasol adds color and shade to the deck and table.
Candles and table lamps
With the right lighting and table settings, even the simplest outdoor dining room can be transformed into a beautiful haven. One's eyes will be drawn to the tall glass vase in the center of the table, which is filled with seashells. The railing of the deck is decorated with candles of various sizes, creating an atmosphere suitable for dinner for two or friends.
Summing up
As we seek to embrace the beauty of nature and share the joy of food, the best outdoor deck dining ideas blend design, comfort, and individual expression. From rustic natural settings to elegant spaces that blur the lines between indoors and outdoors, these ideas are a testament to the versatility of outdoor dining.
Let these inspirations guide you to create an outdoor dining room that resonates with your tastes and vision. Make the simple act of dining an experience to savor and celebrate in a beautiful outdoor setting. Cheers to a season filled with great food, great views, and memorable moments.
Related Post