Outdoor kitchens are one of the latest trends in backyards. On warm summer days, an outdoor kitchen can help you realize your dream of entertaining friends while creating multiple dishes on a grill fit for a chef. If you add an outdoor kitchen, the value of your home will also go up.
Alfresco kitchens with retractable roofs or pergolas are becoming increasingly popular to provide shelter from the sun and rain while maintaining an outdoor feel. Mixed materials such as stainless steel, concrete, and natural stone create a modern and welcoming aesthetic. While outdoor kitchens with built-in grills, pizza ovens, and beverage counters offer a diverse cooking experience.
In addition, sustainable design elements such as energy-efficient appliances, composite decking materials, and rainwater harvesting systems are in keeping with environmental consciousness. Ultimately, the best outdoor kitchen designs for 2023 will fulfill your cooking needs, enhance your outdoor living space, and reflect your personal style preferences.
How much space do I need for an outdoor kitchen?
There is no standard size for an outdoor kitchen, so you can have one even if you have a small backyard. Even if you live in a big city with a small backyard deck, you can build a small outdoor kitchen.
When planning an outdoor kitchen, remember to leave enough space between the cooking area and the sitting area so that the chef has enough room to work.
Therefore, we will discuss design options for both large and small backyard kitchens. Take a look at our ideas for outdoor kitchens and see which ones suit your style, lifestyle, and room.
Rustic Outdoor Kitchens for Grilling
Grill masters deserve an eye-catching piece that puts them in the center of the outdoors. Building a stone cooking island around your grill will not only give you a place to prepare and serve food, but it will also make your outdoor space a focal point.
Add a few comfortable chairs and set out beer and drinks. This relaxing atmosphere will make your guests feel right at home.
DIY Outdoor Kitchen
Want an outdoor kitchen that's functional and money-saving? Just add a propane grill and a simple outdoor table and chairs, and you'll have a cozy retreat for your friends. Place a few egg-shaped rattan chairs in the lounge area where cooks and guests alike can rest and relax.
Add pillows, rugs, and table runners in bright prints to make the room more welcoming and colorful. Potted plants can also make an inexpensive outdoor kitchen more appealing.
High-end outdoor kitchens
If you have a full-size tabletop with a built-in grill, you can move your entire kitchen outdoors. There's plenty of storage space, and you can even enlist the help of a sous chef. You can also mix and match the various parts of this grill. For example, you can add sleek chrome refrigerator doors.
Grilling outdoors not only reduces the heat from the grill but also allows you to enjoy chatting with your family or friends. You and your family can enjoy the beauty of the outdoors while grilling or dining at the same time. What a cozy time for a get-together.
Outdoor kitchen with ample seating
In outdoor kitchens and dining areas, you don't need long tables that take up valuable space to accommodate more people. Depending on the size and shape of your deck, railings can also be used as bar stools.
Add a few bar stools and a well-made deck table along the railing, and you'll be able to accommodate more people with more options.
Outdoor Bar and Kitchen
Have you ever wanted to cook your own burgers and veggies while chatting with friends? With this outdoor cooking setup, you can have it all.
The grill is behind the bar with an open pergola on top. This allows air and people to flow freely. You can then set up different wines or drinks at the bar and enjoy a rare relaxing time with your friends.
Fantastic outdoor kitchen dining area
If you have enough space or a rooftop deck, you might want to build a full outdoor kitchen. With a stainless steel outdoor kitchen, you can take the best parts of your indoor kitchen outside. Bright white outdoor kitchens are striking with their bright white cabinets and dark blue countertops.
Place a double-row grill outside the outdoor kitchen and then place plenty of storage space and a separate bar area. This way you have a place that's perfect for a self-serve beverage station and a place to lounge whenever you want. When you're lounging, the best place in the house is your deck.
Round outdoor kitchens
If your outdoor deck is designed in a mosaic style, there's no better way to make it the main attraction of your outdoor space. We can install a round kitchen on a mosaic deck. This striking round outdoor kitchen features a circular inlay design in contrasting colors that draws attention away from the main location of the deck.
A white pergola draws the eye to the curved chairs that serve as both a dining table and seating for guests. The centerpiece of this outdoor kitchen is a stainless steel grill, which makes it really stand out.
Covered outdoor kitchen
Keep your grill protected from the weather by placing it on a covered area of your deck. If your deck has a roof and is attached to the side of the house, it can be an ideal place for an outdoor kitchen.
This quiet spot won't be the center of attention and gives guests plenty of room to talk without disturbing the chef.
Color Matching an Outdoor Kitchen
Matching the color of your deck to the color of your outdoor kitchen's table, stairs, and countertops is a great way to make your space look rich in tone. Countertops made from composite decking boards in the same style are perfect for placing a bar or preparing food.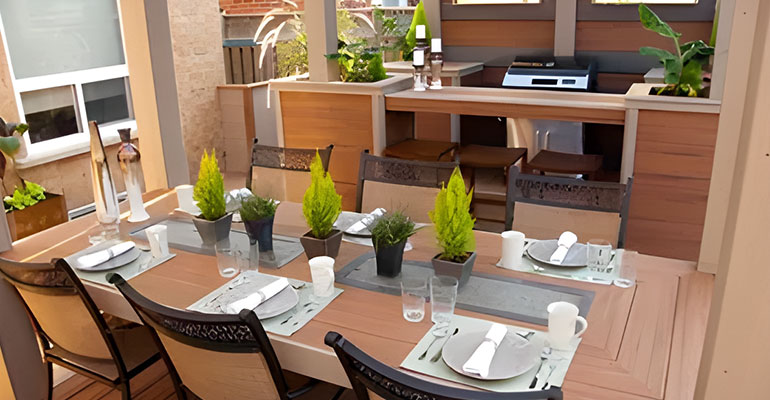 Dual-purpose indoor and outdoor kitchens
If you don't have the space or money to build an outdoor kitchen on your deck, there are some clever ways to solve this problem.
If your deck is attached to your kitchen, you can build an outdoor bar or breakfast area on your outdoor deck and separate it from the kitchen with a large hinged window that opens up to the kitchen and cooktop.
This way you can choose whether to use the indoor kitchen or the outdoor kitchen depending on your mood.
Material Recommendations
In a kitchen where you cook food or have a barbecue, it is inevitable that grease and food residue will drip. Grease or food residue may change the color of the wood deck, which will cause cosmetic damage to your deck.
Therefore, we recommend you use waterproof, mildew-resistant, and easy-to-clean composite decking material to build your outdoor deck. Composite deck boards do not stain easily and when wine stains or grease fall out, simply remove food residue promptly. Then clean the area with mild soapy water to keep your composite decking looking perfect.
Related Post