As we look ahead to 2023, there is no doubt that the house patio will be a popular gathering place for family and friends. With the right design and features, an outdoor deck can serve as an extension of the house. Providing you with an outdoor oasis where you can entertain and relax. Whether you're starting from scratch or looking to update your existing patio deck, there are plenty of ideas and inspiration to consider.
From cozy fire pits to outdoor kitchens, from comfortable seating to stylish decor, the design possibilities for patio decks are endless. Here are some of the top patio design ideas for you to consider.
Fire pits can make patio decks comfortable year-round
Over the past few years, patio fire pits have become increasingly popular. And there's a reason for that! A patio fire pit will keep you warm at night and make your backyard feel like a cozy campground. On cool spring days or crisp fall nights, a deck fire pit is a great place to hang out with friends and family.
Of course, it's important to be safe while using a fire pit. Depending on the patio deck, it is important to choose the right fire pit.
The Best Outdoor Patio Lights
What are the best outdoor patio lights? There is no standard answer to this question. Depending on the design style of the patio or porch, just choose the right lighting.
A porch covered with fairy lights, for example, invites you to relax with its soft glow and twinkling lights. Whether you hang them on a tree or on a pergola, string lights create a calm, peaceful atmosphere.
For a more rustic porch look, you can use lanterns to illuminate your porch with more light. Metal lanterns, bamboo, or wooden fixtures that look less elaborate can give your patio a more homey feel.
For the middle of the patio or deck, you can place real or fake candles in the right places to add light and make it a calm place to relax.
Color Matching for Deck Furniture
When choosing the color of your patio furniture, it is important to coordinate with your surroundings to form a palette that works well together.
Pay attention to the trees and flowers on your patio, as well as the features of your home and porch, to find the right colors. The most important thing is to choose colors and patterns that match your own style.
You can purchase some beautiful teak chairs and place them on a patterned patio. Bright outdoor cushions can break up the darkness of wood and stone.
If you don't like bright colors, you can give your outdoor area a Floridian patio color scheme with soft pastels. Add planters, pillows, and blankets in shades of coral pink and Biscayne green to complete the look.
As you add color to your deck with chair cushions and other decorative items, you can change the look of the space from season to season to match your ever-changing style.
Make a small deck look bigger
When you want to make a patio look larger, follow the less-is-more rule. Too many decorative items can make a cluttered patio and a smaller space. Whenever possible, decorate your patio with a smaller number of simple and sophisticated decorations. This will not make it feel crowded and will give the impression of a larger yard.
Use the space around you and keep things simple. If your deck has a great view, put your chairs at an angle to make the most of it. Also, try putting a small grill on the side of your porch to give your guests more space to enjoy the outdoors.
Hang strings of lights or tall plants on your porch to draw attention to it and make it look larger. Add plants in different locations on your patio to make it look longer.
Outdoor Grill
One of the best parts of an outdoor deck is that you can have a barbecue party outside. Guests will love a nice grilling station with plenty of counter space to prepare the food and put it on a plate.
A cooking station can be as simple or as elaborate as you want it to be. You can prepare when cooking station and grill according to your needs. Then prepare a small bar to set up drinks and beverages. What a perfect one for a potluck!
Garden Terrace
You don't have to be bored on a small porch. With the help of unique furniture with lots of little details, an ordinary patio can be turned into an elegant lounge area. You can decorate your deck to your liking.
For example, you can use a set of cafe tables and chairs to create a French cafe atmosphere on your deck. To take it to the next level, you can place some greenery around the terrace.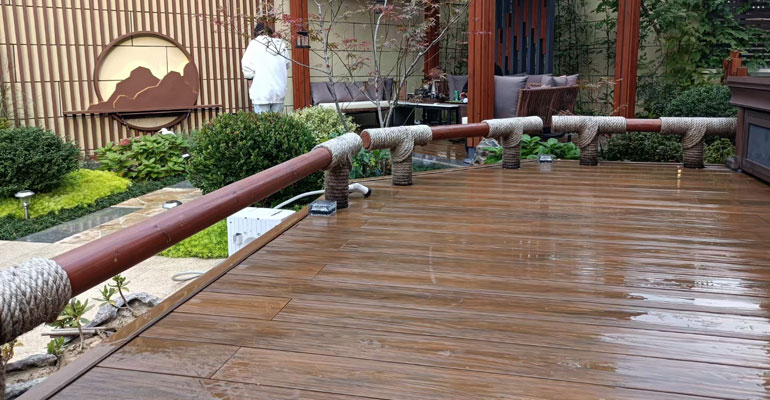 Patio Table
The most important thing in your outdoor living room is your patio table. It is also important to choose a dining table that suits the casual space and style.
Think about your place and how you like things to look. If you like the rustic look, a wooden camp table is a good choice. Prefer simple beauty and minimalism? How about a black or white table and chairs with clean lines and made of glass?
Or maybe you want to feel like you're at the beach or in a Tuscan villa? An elegant patio table like this one is a great way to showcase a room that can be used both indoors and outdoors. This patio table set has a simple, clean look that complements the cocoa brown accents on the chairs and benches. It can be used both indoors and outdoors.
Breakfast patio
This is a great place for friends and family to have breakfast outside. A glass table is set in the center and surrounded by four white woven wicker chairs.
The white railings and white chairs stand out against the red deck. In addition, the columns and roof frame the backyard in a relaxing way, making this patio a great place to have breakfast in the morning sun.
Poolside Patio
Many homeowners' dreams come true when they build a pool next to their patio. A pool can make a patio feel more luxurious and calming. A glass partition between the pool and the porch keeps pets and children safe without blocking the view.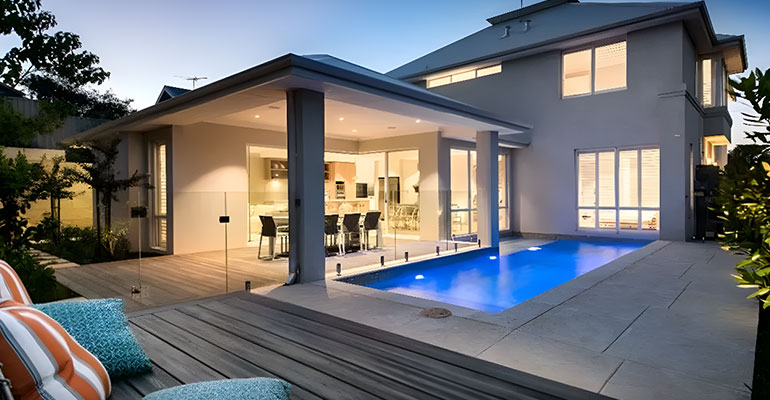 Matching patio furniture
When you match your patio furniture to the posts and railings of your patio, the area gives a more combined feel.
Elegant white wicker furniture pairs well with the round railings of this covered patio, giving it a classic feel.
You can always add visual interest by adding colorful pillows or detailed accents, like this delicate gold and glass lantern on the table.
Patio Landscaping
Adding landscaping around your patio can make any outdoor area more interesting.
You can surround your patio with bushes or flower beds, or you can extend it beyond the concrete or pavers to make it appear larger than it actually is.
You can also add small waterfalls or bird feeders to your landscaping to make your backyard a charming place to relax.
Summing up
We hope these patio design ideas can provide you with some help. It's fun to change these outdoor patio ideas to fit your space and budget. Use your patio and these ideas to build a comfortable and beautiful outdoor living space.