A backyard deck is the perfect place to relax or gather with family and friends. You can add a bar to your outdoor deck to make your deck even more beautiful. This is true whether you use your deck as a place to relax or as a place for a patio party.
You no longer have to go back and forth between the kitchen and the deck for a glass of wine. That's because you can make all your favorite cocktails at the deck bar so you can make drinks for your friends quickly and easily. Let us show you some of the best outdoor deck bar ideas to get you motivated to add a bar to your deck and bring more fun to your guests.
9 Ideas for a Deck Bar
Adding a deck bar to your home may be the best way to mix your favorite drinks in style. Here are some deck bar ideas for you to consider.
From a simple bar cart to a full tiki-themed party, these ideas are for everyone. The best part is that you can implement many of these ideas yourself! If you prefer to do it yourself, read on to learn more.
Pallet Bars
Pallets are easy to find and can be used for many different things. The front and sides of the bar can be made out of several boxes, and the top can be made out of plywood or something else. If you want a more natural look, you can leave the pallets unfinished. They can be painted or stained if you want them to harmonize with the rest of the deck's decor.
Add other decorations or string lights between the wooden slats and you'll have a beautiful display in just one weekend. Repurposing old items is all the rage right now, and pallets are a great way to follow that trend.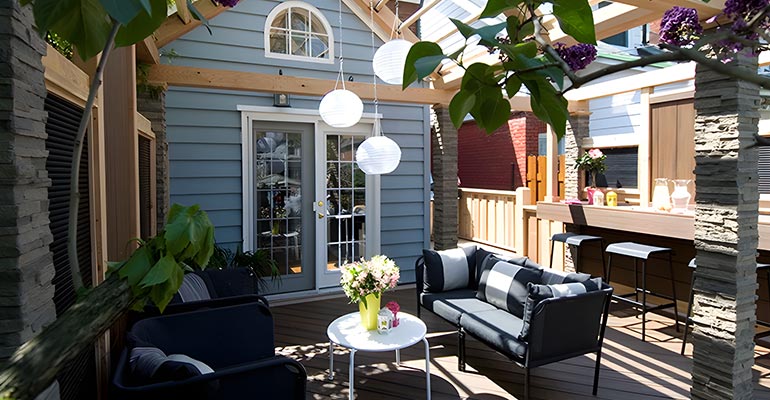 Wall-mounted Bar
Hanging your bar on the wall can help you save space. Do you know what a Murphy bed is? Murphy beds are perfect for small rooms because they fold down from the wall and can be put away when not in use. Did you know that a bar serves the same purpose?
There is a cabinet on the outside wall where you can store all your important items. The bar can also be removed from the wall. When not in use, the closet can be closed to keep all items safe and out of the way.
Outdoor Pizza Oven and Bar in One
What's more widely known than beer and pizza? However, instead of making pizza in the kitchen and then taking it outdoors to enjoy, you can make it using a deck bar. A deck bar is also a pizza oven, allowing the magic to happen in one place.
A patio deck is the perfect place to build a bar. A deck bar which also has outdoor cooking features like a pizza oven. This oven can be the focal point of the deck while still being functional. It doesn't matter if you like anchovies, olives, or anything else. You can enjoy hot, fresh pies right on the deck.
Tiki Bar
It's easy to get a taste of the islands without having to get on a plane to the tropics. Simply build a tiki bar! Traditional tiki torches and lighting are a must, but it's easy to take the look to the next level.
Find something simple, like grass or thatch, and make a roof or awning. Then, hang some string lights around the bar and add some bamboo or wicker bar stools. Finally, you can line the outside of the bar with bamboo. After that, you can enjoy a few Mai Tai cocktails at your own tiki deck bar.
Bar With a View
At the view deck bar, you can enjoy a beautiful view. Have you ever wished you had a rooftop deck to sip your drinks while enjoying the city skyline? You can also have a garden deck that sits on top of a hill or looks out over the beautiful mountains. There are many ways to add a bar to your deck, and there's nothing like sipping your favorite drink while enjoying the view.
If you want to put a bar on your deck, it is important that the bar is lowered so that it does not block the view. Placing the bar and seating in the right place is important to get the best view.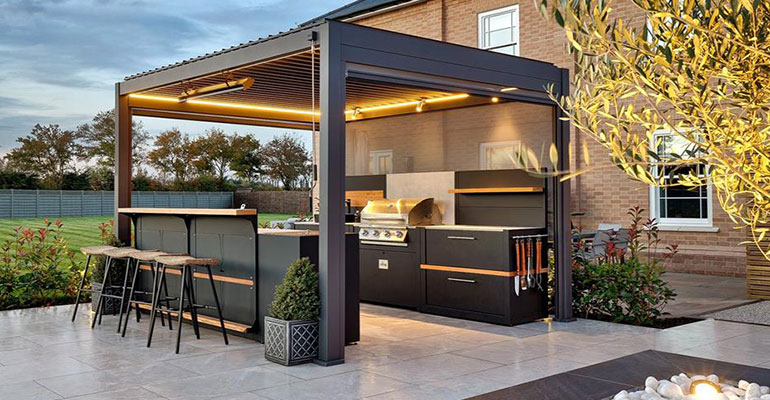 Indoor/Outdoor Bars
If you live in a place where the weather is unpredictable, a deck bar doesn't have to be outside all the time. You can build a small structure on the inside of the bar. This will be helpful if you want to store glasses and drinks. Storing them in this way will keep them safe from bad weather.
If the deck bar can be both indoors and outdoors, then you can also build an awning or open sitting area outside. Adding a roof to your deck bar is another great do-it-yourself job that will allow you to spend more time at your outdoor bar. It will protect you from the wind and rain, which means you can continue to have fun no matter what the weather is like.
Poolside Bar
After an afternoon of swimming in the pool, end the day with a drink by the pool. You can build a bar next to the pool and dry off while you have a drink.
If you want to go all out, you can create a lounge bar next to the pool so that the counter is actually the edge of the pool. There are many stools that are used in the pool that can also be used as bar stools for an outdoor bar. You can also have drinks in the water.
If you have an above-ground pool, this still works. It's easy to add a deck bar to a deck you've built for an above-ground pool.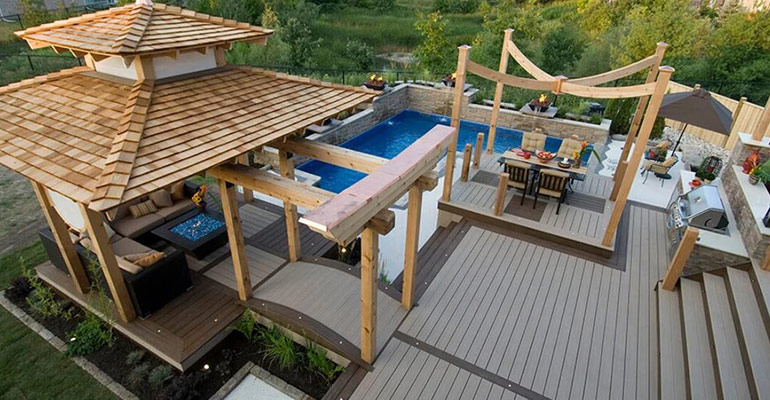 Pass-Through Bar
If you have a large window facing your deck, you may want to build a pass-through bar. Place some stools on the outside of the window and use them as a bar. While guests wait, the bartender can stay inside and pass drinks to them through the window.
A pass-through bar is a great option for those who still want to keep their glasses, bottles, and mixers indoors. This way, your friends can still enjoy hanging out on the deck.
Bar Carts
Bar carts are a great way to bring the party anywhere. People love bar carts because they are easy to move around and don't take up much space. In most cases, they have wheels which make it easier to move around.
It's not hard to make your own bar cart, even if you're not good at more complicated projects. In addition, bar carts allow you to store all of your important things in one place and easily move them to where they are needed. It's like a mobile party!
Be Prepared
Do you want to add a bar to your deck? These ideas will make your deck stand out and make everyone want to take a peek at it. You should find a store that sells the items you need to do it yourself. But if you don't feel like doing it yourself, you can also find an experienced deck contractor in your area.
Related Post