An outdoor deck can expand your living space and add value to your home. In other words, installing an outdoor deck is one of the best investments you can make. More and more people are looking to improve their homes in a lasting way. In the past, traditional wood decks were the most popular type. As society grows and advances, more and more people are choosing composite decking for their homes. Not only is it environmentally friendly, but it comes in a variety of wood grain designs that can be used to create any style. So, is composite decking worth buying?
What is composite decking?
Traditional wood is widely used in the building and decorating industry. Whether you're building a home or decorating an outdoor living space, you'll find wood materials with natural beauty everywhere. However, traditional wood has many drawbacks: it has a short lifespan, is susceptible to mold and rot, and is susceptible to insect infestation.
In order to improve the situation in the building decoration industry, composite decking was created, which is produced by mixing recyclable plastics and wood fibers. Thus, composite decking has the advantages of both wood and plastic. In addition to the building decoration industry, composite decking is also used in a wide range of industries such as automotive decoration and furniture manufacturing.
Advantages of Composite Decking
When remodeling your home, it's important to choose a high-quality product. While appearance is important, you also need a solid foundation to back it up. Today, many people are buying composite decking. Because they last longer and are easy to clean.
They last longer than regular wood decking because they are not damaged by mold, bugs, or weather. Although composite decking materials cost more, it's worth spending a little more money.
So what are the better benefits of composite decking over traditional wood decking?
Low Maintenance
Today, people are always busy. They work all the time and want to leave their free time for family and friends. Since this is the case, it is important to have a deck that is as low-maintenance as possible. This is exactly one of the most important benefits of composite decking.
Traditional wood decks require regular maintenance and upkeep work every two to three years. You'll need to thoroughly inspect the health of the wood deck, repair or replace faulty boards, re-stain or paint it, and finally perform a sealing job. If you don't, wood decks can quickly fade, mold and rot.
Composite wood decking requires very little maintenance. All you need to do is just clean it regularly every six months. Sweeping the surface of the deck and rinsing the composite decking boards with mild soapy water will keep it looking great.
Long Lifespan
If your outdoor deck is built with pressure-treated lumber. If you do maintenance work on it every two or three years, it may last ten to fifteen years or more with proper maintenance.
Except for extreme conditions such as fire, high-quality composite decking can last for decades. Due to the durability of the material, composite decking materials come with a good warranty, which makes them a better long-term investment. For example, composite decking from brands like Trex, Timbertech, COOWIN, etc. can last for 25 to 30 years or even longer.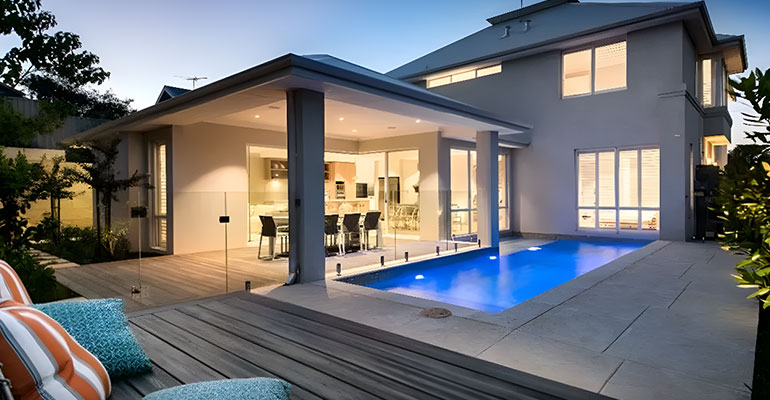 Superior Durability
Pressure-treated wood decking is not as resistant to dramatic changes in weather as composite decking. Composite wood decking can withstand more UV rays without fading.
It also won't mold when it rains, and it won't expand and contract in cold climates like wood decking. All of these benefits require no additional treatment or protection.
Safety
Composite decking is also resistant to fading, scratching, staining, mold, or warping. With composite wood decking, you don't have to worry about it cracking or warping. As a result, these decks are safe and comfortable, especially for families with children and pets.
At the same time, this strong and durable composite decking that won't crack is more suitable for building pool decks. When you walk barefoot on top of your pool deck, is there a better choice than composite deck boards that won't crack and chip?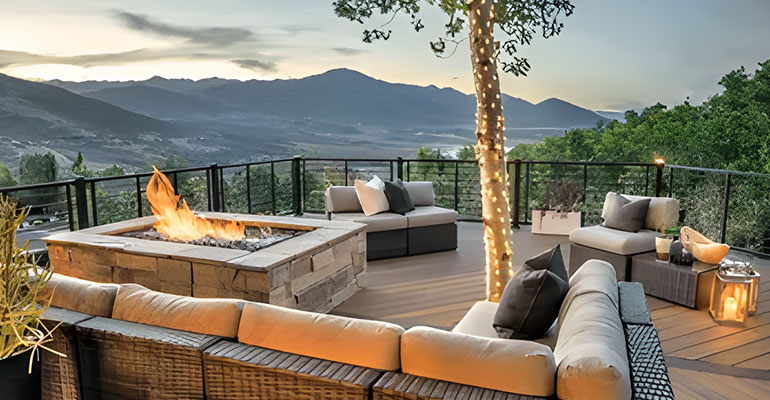 Easy to Clean
Because of composite decking's built-in protective shell and ability to withstand high traffic, they offer unmatched resistance to stains, fading, and mildew. Wet flower pots, dropped barbecue tools, pollen, fallen leaves, and spilled food cannot damage the surface of composite decking.
When grease or wine stains fall onto the surface of composite decking, you can remove them promptly and wash them with soapy water. You can keep your composite decking intact without worrying that it will leave marks that can't be removed like wood decking.
Anti-slip and Wear-resistant
If you live in a coastal area or other areas with a lot of rain. Or on winter mornings, we need to be a little more careful when we go outside to avoid slipping on top of our outdoor decks. If you're using a traditional wood deck, you'll need to install non-slip strips to it or use other anti-slip measures in order to avoid slipping.
Most composite decking boards feature a wood grain surface or a grooved surface. Therefore, these composite decking with texture are non-slip. You don't need to use additional anti-slip measures to use it with confidence.
Appealing Appearance
Generally, it is the quality of the material as well as the creativity of the construction and design that is the main reason for the appearance of the decking. As a man-made decorative product, composite wood decking offers you more options. Many colors and textures that natural wood doesn't have, you can find on top of composite decking.
In other words, no matter what design style your home has, you can find the right composite decking to match. You can even contact a composite decking manufacturer to customize the size, type, color, and finish of the decking boards you need.
What sets composite decking materials apart from traditional wood is their level of authenticity, personal taste, and ability to be customized over time. Over time, you can paint and stain wood, but composite materials don't change. This gives the deck a beautiful look that will last for years. But it also means that if your tastes change, you won't be able to change colors or stains for a few years.
Resale Value
Some families don't mind the maintenance and upkeep that a traditional wood deck requires. But when you sell your home, new homeowners may not feel the same way. They may see it as just another job, rather than a passion or hobby.
New buyers may view a pressure-treated wood deck as a construction that needs to be maintained over time to keep it looking good. Depending on the size, condition, and maintenance needs of the old deck, this could affect the sale.
Potential buyers prefer to purchase high-quality composite decking because it is low maintenance and requires little upkeep. As a result, composite decking is better able to maintain its value over time compared to other decking materials.
Environmentally Friendly
Composite wood decking is a favorite among eco-conscious consumers. Composite materials use wood fibers and recyclable plastics.
This means that promoting and using composite decking can effectively recycle the plastic waste in our lives and protect our living environment.
Disadvantages of Composite Decking
There is no such thing as perfection in the world, similarly, composite decking material also has its own disadvantages.
High Purchase Cost
The cost factor is one of the most important factors that most people need to consider when choosing decking materials. Compared to the cheaper pressure-treated wood decking, composite decking is a bit more expensive to purchase.
Of course, you also need to consider the costs associated with the subsequent maintenance and upkeep of the wood decking. Therefore, after many years of use, the total cost of low-maintenance composite decking will be lower than the total cost of wood decking.
Unpaintable
Composite decking has excellent resistance to fading and staining. Similarly, when you want to change the color of your outdoor deck, you can't do things like stain or paint it.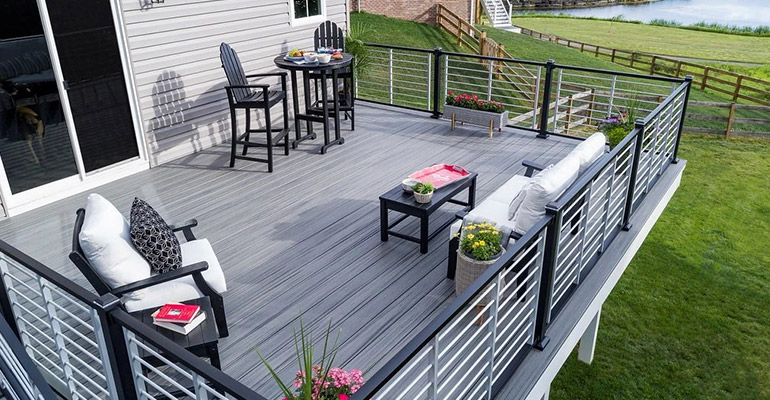 Unnatural appearance
Another reason why some people may not like composite decking is that they are not made from natural materials. As a result, some people think that they don't have a natural color or look.
However, for most people, composite wood decking is known for its cool look like solid wood. Basically, it depends on what each person likes and dislikes.
Is Composite Decking Worth Buying?
Yes, it is worth buying and installing composite decking. While composite wood decking costs more to purchase, the labor to install composite decking is the same as the labor to install a wood deck. For example, the labor cost to build an outdoor deck using both composite decking boards and wood is $4,000.
And wood rots, so it requires a lot of maintenance. Wood decks need to be maintained and re-stained at least every two years. For an average-sized deck, this costs about $1,000. Therefore, over time, the maintenance cost of a wood deck will far exceed the purchase cost of composite decking.
Conclusion
In conclusion, whether composite decking is worth the investment or not ultimately depends on your specific needs and priorities. While the initial cost of composite decking material may be higher when compared to traditional wood, the numerous benefits it offers, such as durability, low maintenance costs, and sustainability, often make it a wise long-term investment.
Considering the reduced maintenance costs, longevity, and the beauty it can bring to your outdoor space. Composite decking is not only worth its weight in gold, but also a great addition to your home. As with any major decision, carefully consider your budget, lifestyle, and preferences. Ultimately come to a decision on whether or not composite decking fits your vision of your ideal outdoor living area.
Related Post