Furniture can help define an indoor space, and likewise, furniture can help transform an outdoor living area. Decorating an outdoor deck with the right furniture can transform it into an oasis of comfort and style. Make it a perfect area for people to relax and entertain.
Simple and sensible deck furniture ideas can impress your guests and create a more comfortable place for outdoor activities. All you need to do is determine the right deck furniture ideas for your environment. It doesn't matter if you prefer coastal, rustic, minimalist, or eclectic styles. The best outdoor deck furniture design ideas are those that reflect your personal taste while providing comfort and functionality to your outdoor space.
If you're at a loss as to how to decorate your deck, don't worry! We'll provide you with a variety of design ideas and how to use deck furniture to create a space that's uniquely yours!
How do I lay out my deck furniture?
Every outdoor furniture layout needs a purpose. Are you creating a functional living space? How many people will be living in the space? Where will people enter and exit from? If you're conceptualizing outdoor furniture ideas or wondering how to make the most of your outdoor space for entertaining. Space planning is arguably the most important first step.
If you plan to serve food or refreshments to entertain your guests, where will they keep their drinks? Properly placed coffee tables, end tables, or similar outdoor tables can go a long way toward creating a more relaxed and comfortable atmosphere. These small changes can have a big impact on the overall feel of your outdoor entertaining area.
Creating an Entrance Outdoor Sitting Area
Composite decking is not only great for social gatherings, but it can also serve as the entrance to your home. Create a cozy living room atmosphere on your front porch and add warmth to your entryway.
Add traditional upholstery such as a sofa, coffee table, and a few decorative plants to make a cozy impression on your guests. Lay a rug on top of the deck to make the entire indoor-outdoor look integrated.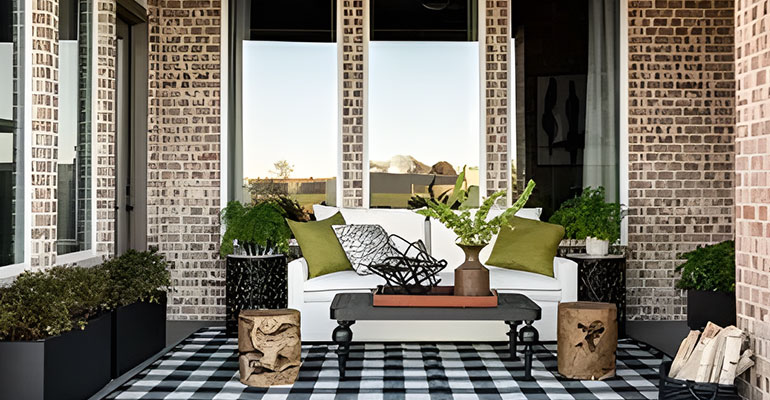 Poolside Furniture
Poolside furniture is a must-have for reading, relaxing, and sunbathing all summer long. As an alternative to plastic pool chairs, consider more aesthetically pleasing and functional furniture for your space. For example, place wooden benches and some playful pillows.
Additionally, you can place furniture that has built-in storage. Pull-out drawers can provide a safe space for towels in the summer and blankets in the colder seasons.
Deck Dining Room Furniture Ideas
Many of the best outdoor deck decorating ideas work well because they don't try to reinvent the wheel. This classic arrangement of outdoor dining tables and chairs can accommodate different numbers of people with just a few simple changes.
Adding a second seating area can make deck dining just as easy as indoor dining. Adding a parasol or other partial shade can help keep the space open on hot, sunny days or when it rains.
Entertainment Centers
Even an ordinary furniture arrangement that seats two to three people can create a fun and versatile entertainment space. Adding a foosball, pool, or card table creates designated areas for a variety of activities.
Whether you're hosting a barbecue for ten or showing a movie for two, the secret to creating an inviting entertainment space is to use furniture that is lightweight and easy to rearrange.
Design Ideas for Smaller Decks
Want to make a smaller deck or patio more fulfilling? Sometimes all it takes is a pair of weatherproof chairs to create a cozy one-on-one atmosphere. But there's no reason to stop at simple necessities!
Adding an ottoman provides an "indoor" feel while making the most of the space. As always, adding a few potted plants can also add some color and vibrancy to your decor.
Create a waiting space
To create a casual hangout space, opt for a simple serving counter instead of a traditional dining setup. Add a sofa or bench at the end of the table to provide an informal lounge space for guests to sit and enjoy refreshments.
Create a community gathering space
Small tables or outdoor dining areas may be perfect for smaller groups. But if you're entertaining more than four or five guests, a long table can create an attractive informal social dining area. Brightly colored cushions and blankets can add vibrancy to the deck's décor, making it even more inviting and a welcoming gathering place.
Add a fire pit for warmth and style
Adding a fire pit to your outdoor deck can make it easy to enjoy all year round. Many people will choose to place the fire pit in the center of the deck and then arrange furniture around it. However, there are other creative ways to utilize a fire pit as a practical and design element.
Consider seating farther or closer to the fire pit, as well as seating for multiple people in a group. This will produce an asymmetrical furniture arrangement that is both stylish and unique. To balance out the décor, adding string fairy lights, or even decorative trees to the deck can also create a unique focal point and ambient lighting effect.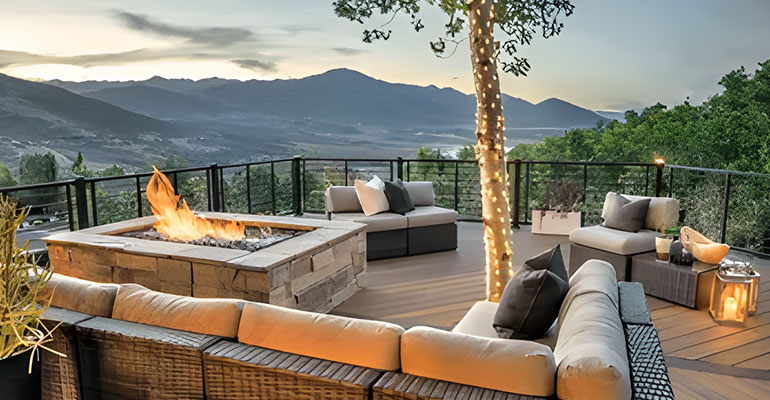 Mix-and-Match
There's no one-size-fits-all approach when it comes to choosing outdoor furniture and seating! Taking a mix-and-match approach can add visual interest and provide guests with a variety of comfortable seating positions. Mixing and matching upright wooden chairs, partially reclining chaise lounges, and weather-resistant upholstered furniture can maximize seating and create an eclectic look.
Even if the chairs don't match exactly, using neutral tones (such as white and gray) or other matching common elements can create a relaxed atmosphere without feeling overly cluttered. Choosing a few seasonal pillows and blankets in the right place, in bright, contrasting hues, will tie these mix-and-match pieces together.
Summarizing Words
Incorporate the best outdoor deck furniture design ideas into your deck space. Not only will this enhance the beauty of your deck, but it will also ensure that it becomes a true extension of your home. Whether you prefer the cozy intimacy of a lounge area, the functionality of a dining area, or the versatility of mixed materials, your outdoor deck can be a canvas for creativity and comfort.
By carefully selecting furniture that suits your style and lifestyle, you can create a warm and cozy outdoor lounge space. A place where you can relax, entertain, and make lasting memories with family and friends. So as you embark on your deck design journey, let your unique vision and preferences guide you in creating a space that is both beautiful and functional.
Related Post