A proper outdoor deck can create a perfect outdoor living space for you. You can add thoughtful and unique designs to your deck to create a distinctive and inviting outdoor space for your deck or patio.
Adding Extra Features to Your Outdoor Deck
Consider installing a cozy outdoor fireplace or fire pit so you can enjoy the outdoors even in the cooler months. For added privacy and style, install planters with climbing plants or decorative screens. Outdoor rugs and colorful cushions can instantly transform your space, making it feel like an extension of your indoor living area.
Adding built-in seating such as benches or planters is not only practical but also injects a sense of permanence and uniqueness into your outdoor design. Don't forget about lighting-string lights, lanterns, and even solar-powered street lights can create a magical atmosphere in the evening. Ultimately, it's these unique touches that transform your deck or patio into a personalized oasis, a space that reflects your tastes, and a haven for relaxation and entertaining.
Unique deck ideas come in a wide variety, so it's important to find the features that best fit your plans. How you plan to use the space will help you decide which deck features are best for you. Whether you want your deck to look great or you want it to be a great place for people to have fun together, you should consider all of your options.
Fireplace
The look of a fireplace with a fire is magnetic and creates a distinctly primal appeal. An outdoor fireplace is both functional and stylish. It adds beauty and warmth to your outdoor space. It is a beautiful detail that can make your deck stand out.
Some cool deck ideas are easier to implement than others. For example, adding a fireplace is easier than you might think. All you need to do is check with your local authorities to see if there are any laws regarding public fires. You may also need to check with the company that made your outdoor deck to make sure that you can safely use the fireplace on or near the deck.
Built-in Furniture
The deck should have enough seating for a large group of people, with easy to easy-to-reach drink tables. Even small details like built-in cup holders on the seats can make a big difference in the time you spend on the deck. Built-in seating is a great deck idea for figuring out how people will move through the space and where they will spend their time.
There are many ways that built-in furniture can help you make the most of the space and make it a comfortable place for people to gather. For example, you can place built-in benches with backrests along the edge of your deck or add benches with hidden storage for pool towels. Make sure you have a good plan in place before you start making your outdoor living area a useful, comfortable place to relax.
A Unique Approach to Staircase Design
There are few unique deck designs that can compete with non-traditional staircases. You can opt for a circular staircase, or for an even better effect, you can go for a curved and meandering staircase. These are almost certainly the most eye-catching deck designs.
Building a staircase on your deck is an easy way to make it stand out, as long as you comply with local government regulations. Most building codes require stairs to be no more than 8 inches long.
Built-in planters or railing planters
Deck amenities don't have to be expensive or difficult to use. In fact, a few simple planters can be one of the best ways to add personality to a deck. Whether you love the look of creeping vines, the smell of lilacs, or the good care of a desert cactus. These plants can give your outdoor deck a sense of privacy, and a unique feel, or just add some natural beauty that everyone can appreciate.
Built-in planters and decorative deck plants can provide you with many seasonally appropriate decorating options. Planters attached to railings are usually easy to make and don't cost much.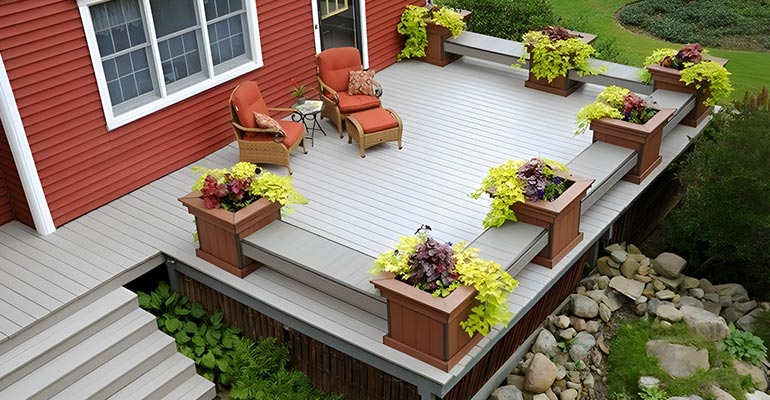 Outdoor Lighting
Creative deck ideas can be used to draw attention to an area, make a deck safer, or just make it a more fun place to relax in the evening. There are many different ways to illuminate your deck, from string lights to solar fencing.
As simple as lighting may seem, bringing a warm, soft glow to an outdoor space can make a big difference in how it looks and how people feel when they're there. But, like many other deck amenities that don't get enough attention, deck lighting is largely dependent on where it's placed.
Deck Designs with Curves
Curved decks are one of the coolest deck ideas because they look visually original. For best results, use these styles when your deck offers views from multiple angles.
Different shapes of decks allow you to enjoy different views of the neighborhood. A straight deck may make you move, but a curved deck may delight you. Additionally, curved surfaces not only set your deck apart but also look very different from the sharp geometric angles of a standard rectangular deck.
It's important to note that building a curved deck yourself can be difficult. So if you want to include a curved deck in your design, you may need to hire a professional deck contractor.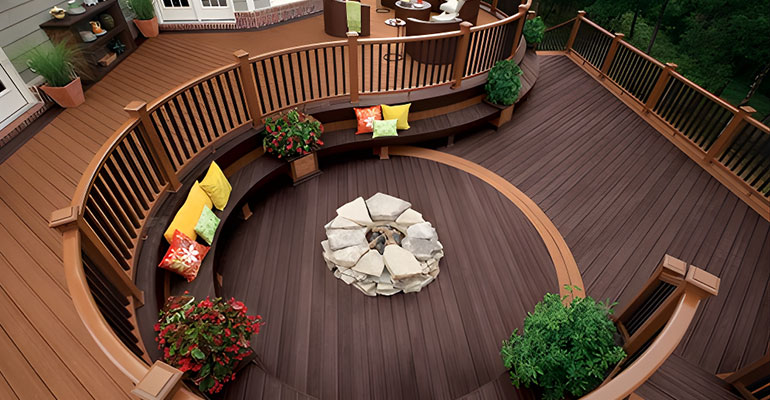 Awnings
A freestanding fabric roof can provide as much or as little shade as you need. On hot summer days, an awning can shade you and your patio or deck, making it a more comfortable place to be.
Whether an awning will keep out rain or sun depends on the fabric you choose. So, depending on where you live, you can take down your awning at certain times of the year or use it year-round.
Summing Up
In conclusion, the creative potential for designing a deck or patio is endless. These unique ideas allow you to create an outdoor space that truly reflects your style and preferences. Whether it's the warm glow of a fire pit, the allure of lush greenery, or the comfort of stylish seating. All of these distinctive elements can transform your deck or patio into a personal sanctuary.
Let your imagination run wild as you embark on your outdoor deck design journey. Let your personality blossom and create a space that is distinctive and desirable. In the end, you'll have a space that not only catches the eye but soothes the soul, making it the perfect place to make memories with family and friends.
Related Post