An outdoor deck can be used for many things and can allow you to enjoy a quiet breakfast in the morning. It can also allow you to gather with friends in the evening. Having freestanding or built-in benches on your deck can make it more useful in several ways, from making your outdoor deck look more aesthetically pleasing. Ultimately making your deck a friendlier place for your guests.
There are many things to consider when planning the perfect seating setup for your needs. For example, there are different types of benches, different prices, and different styles. But knowing all of your options can help you make an informed choice, so learning about some deck bench ideas is a great place to start.
Built-In Deck Bench Ideas
It's always a good idea to have a few extra places in your living space. Built-in deck benches can be handy for gatherings of small and large friends. They can visually close off an area and provide extra seating. On top of that, it can provide storage space, bring nature indoors, or do many other things you might not think of.
Backless Deck Benches
Style aside, there are two main reasons to choose a backless deck bench. First, it doesn't block the view like other types of benches do. Second, the backless design allows for more sitting positions.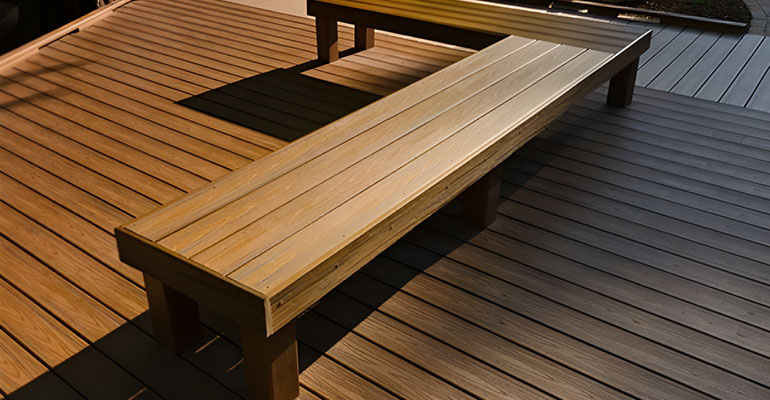 Deck Benches with Backrests
If you're going to be sitting outside for a longer period of time, then a garden bench with a backrest may be more comfortable. You can adjust the height and angle of the backrest for different levels of comfort, and you can also add bright, cozy pillows. In addition, chairs with backrests can act as an enclosed area in some ways.
Deck Storage Benches
It can be difficult to find ways to add storage to an outdoor deck after it has been built. However, placing storage cabinets on deck benches is one of the easiest and most upscale things you can do. From cooking tools to blankets, deck benches with storage allow you to easily access anything you need at any time.
Deck Railing and Bench Combos
A deck bench railing combo can help you add railing and seating neatly to your deck. Attaching the seats to the railing is a simple task that makes the deck and seats look more complementary. While deck railings are always needed, if that's not possible, a deck bench can be used instead.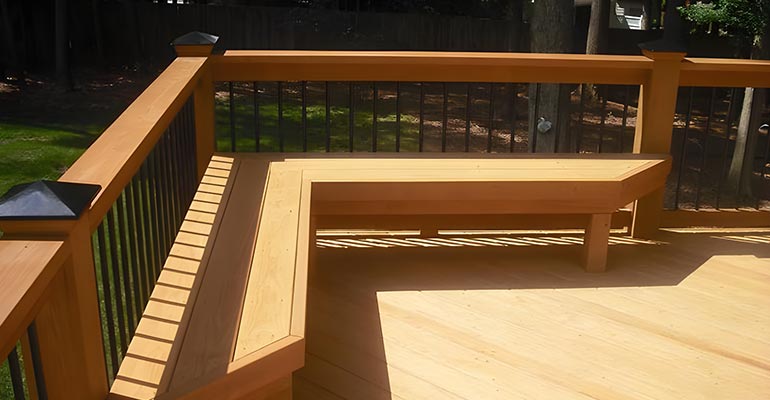 L-Shaped Deck Bench
With an L-shaped deck bench, you can make the most of your deck space and sit in any corner. Having rows of seats close together makes it easier for a large group to talk to each other. If positioned correctly, the L-shaped deck benches also give you two great views.
Curved Deck Benches
Most curved deck benches come in a "C" shape, but the angle of this shape can vary greatly. Softer curves are usually easier to place when it comes to placement, while bold curves look more interesting.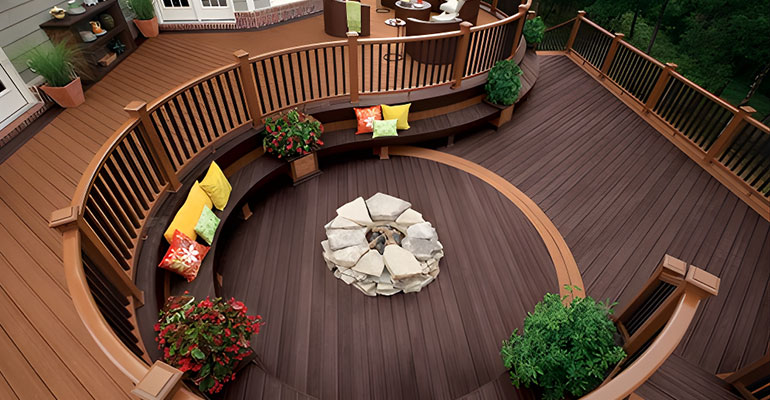 U-Shaped Deck Benches
There are different types of deck designs with built-in seating depending on the number of seats. Of these designs, not many can beat the U-shaped design, which has arms that are sometimes longer, sometimes shorter, and bulkier.
It's perfect for setting up a conversation place, and like the L-shaped deck bench, it has many of the same advantages. You can also use these three-sided designs to help define or change the edges of a place.
Built-in Planters and Deck Benches
Perfect for pairing with outdoor artwork, built-in planters on deck benches allow you to add natural elements right into your deck design. You can add brightly colored, fragrant flowers, lay vines to make your garden look longer, or plant some shade plants. The only thing stopping you is your ideas and the soil you can utilize.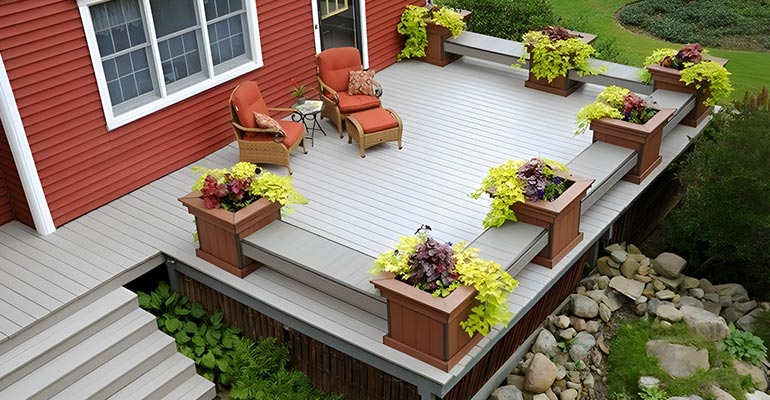 Built-in dining table and benches
Many people build decks so they can dine outdoors. Adding a dining table makes it just as easy to dine outside as a park bench. However, when you have more options like this, you need to pay more attention to the size, depth, and weight of the dining table.
Fire Pit Deck Benches
People are attracted to fire pit deck benches because they are one of the most elaborate deck seats on the deck. You can place these designs next to the fire pit or you can make them completely part of the table. Obviously, in some cases, the added heat can be very beneficial.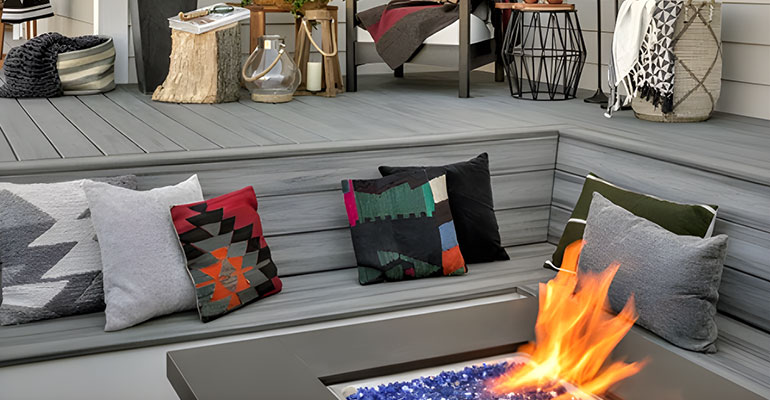 Floating Deck Benches
In these bench designs, the support legs are visually hidden. This makes the seat look like it's flying. It is common practice to place the support legs in the center of the bottom of the bench. Although almost all of these benches do not have backrests, the floating style of the design is clean and striking.
Deck Benches Surrounding Trees
Some of the best ideas for built-in deck benches are ones that you come up with yourself. Probably the best way to incorporate natural elements into your design is to build a structure around a tree. This looks great and is very easy to do.
The tree will also provide shade, making it a great place to sit. However, first, you have to find the right tree, and that's what will limit you.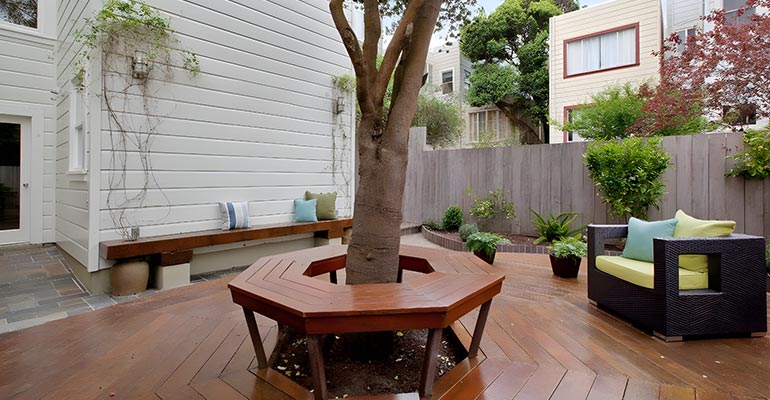 Deck Benches Made of Stone and Concrete
Over time, weathering can wear down wood, even if it has been stained to protect it. Using stone or concrete can solve this problem.
One problem with benches made from concrete, brick, or stone is that they can be much more expensive than wooden built-in benches. When choosing these types of benches, make sure that their size matches the strength of the deck.
Ideas for Freestanding Deck Benches
It is not always feasible to build a built-in deck bench using an existing structure. If you choose a recessed bench, you won't be able to change your mind in the future. On the other hand, freestanding deck benches can fulfill almost all of the same functions and can be paired with a variety of other outdoor furniture ideas.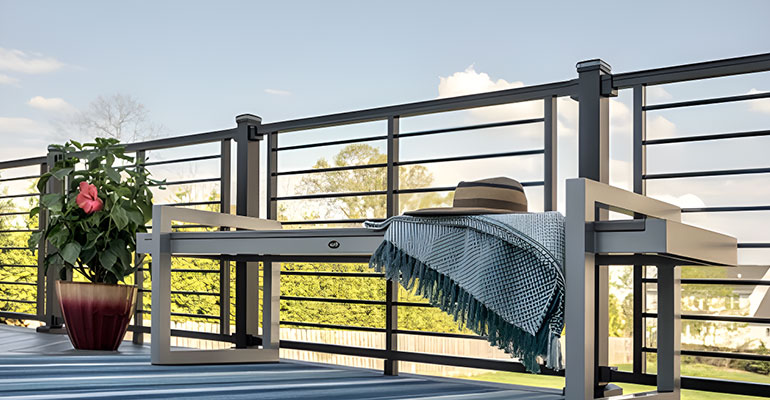 Backless Freestanding Deck Benches
Backless benches are bigger than backed benches in terms of appearance and usage. Because there is no backrest, they give you more sitting options and look great in any room. Most portable benches can accommodate three to five people.
Freestanding Armor Benches with Backrests
Freestanding benches with backrests may interfere with sight lines or seem to take up too much space. However, for extended use and more comfortable needs, a design with a backrest is usually better than one without.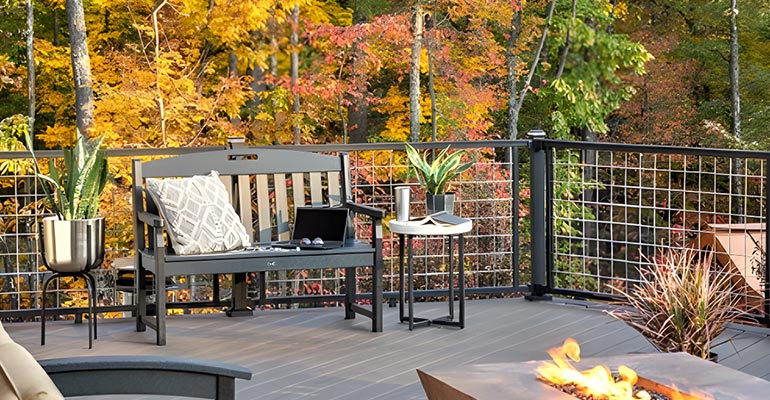 Freestanding Deck Benches with Storage
While built-in recliners usually have built-in storage, these designs are also great for freestanding decks. Freestanding deck benches come in many varieties. Some have seats that can be raised, while others have drawers that slide out from the bottom of the bench. For the most part, however, the large space underneath the bench can be used for storage.
To Summarize
You should take your time in choosing the right components for your outdoor deck because you have a lot of options. You may also want to make your deck design more unique, depending on your income and desire to do it yourself. You can start by getting deck bench drawings to create your own outdoor living space.
Related Post