There is nothing wrong with having fun in the sun, but too much sunlight can damage your belongings and outdoor furniture. Therefore, it becomes our primary choice to avoid the sun for a long period of time. To choose the best shading solution, you need to consider many different factors.
Depending on the actual situation, we need different shading solutions. Which method you choose to add shade may depend on the unique features of your area and the location of your deck and patio. Here are some ways to provide shade for your outdoor deck and around your home.
Add a Sunshade
Umbrellas are a classic and easy way to provide shade from the sun and rain. You should pay attention to the type of material and thickness of the umbrella, though. About three-quarters of UV rays can still pass through a regular umbrella. Heavier, darker fabrics tend to block the sun better, and umbrellas made specifically to block the sun tend to work best.
Market Umbrellas
Market umbrellas are usually larger than most umbrellas because they are built on a wooden pole in the center. Although in most cases they have a ventilated cap on the umbrella fabric that allows a breeze to blow through, they should still be stowed away when it's windy. Also, because these umbrellas are larger, they work well in both sun and rain.
Cantilever Umbrella
Ordinary umbrellas have a center pole that goes right under the middle of the umbrella. Cantilever umbrellas, on the other hand, have a separate pole that is not in the center. The cantilever design means that the umbrella cover can be moved around to block out any sunlight that needs to be blocked. Without the center pole, there is more room for protection underneath, and the design can be adjusted, often providing a wider range of shade.
Patio Umbrellas
If you're looking to add shade to your outdoor space with an umbrella, a patio umbrella is probably the most popular type. Patio umbrellas have a hole in the center that allows them to fit over an outdoor table. To make it more stable, weight is sometimes added to the base.
Many people like patio umbrellas because they make it easy to add or remove shade to a table area. There are many different types of patio umbrellas, and some are even solar-powered so they can light up at night.
Build a Pergola
There are many temporary or semi-permanent ways to shade an outdoor deck, but a pergola is more of a permanent option for the backyard. Pergolas can be built to fit a variety of sizes and spaces, and are easy to build to fit a variety of building types. You can purchase pergola kits already assembled, or you can learn how to build a pergola on your deck and do it yourself.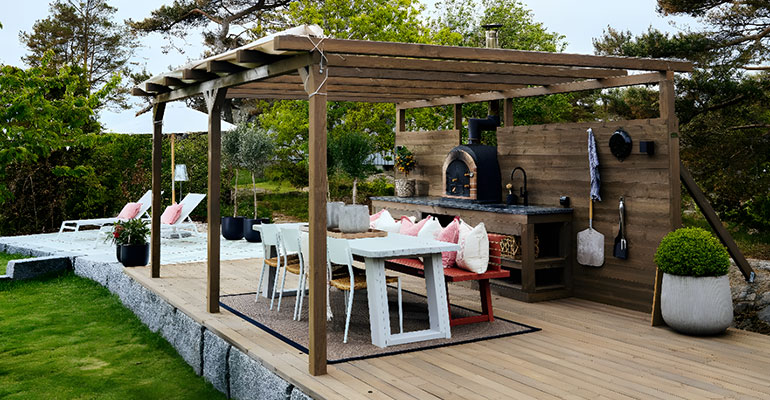 Using Outdoor Curtains and Shades
Outdoor window shades are like indoor shades, but they are attached to the exterior of the home. Like indoor shades, outdoor shades can be controlled and come in a variety of styles. They protect you from UV rays and offer most of the same other benefits. Outdoors, and shades can look great with many different types of outdoor architecture, such as gazebos.
Planting Trees
To plant shade trees, you may need to be patient and plan ahead. You'll need to know how big the tree can grow, check for any problems with the soil or drainage system, and make sure you don't plant the tree near foundations or utility lines. The best trees for shade also depend on the local climate and other factors unique to the area.
For example, paper birch and river birch are fast-growing species that can survive in most places. Weeping willows, hickories, southern oaks, and tulip poplars are some other species that grow well in your area and can provide shade. You may want to choose some trees that drop their leaves in the fall. You may also want to look into more ways to plan your gardening to provide more shade.
Constant Sun Sails and Canopies
Many people hang sun sails, which are a quick, easy, and pretty good way to provide shade. Sun sails are basically just a large piece of fabric across an existing building in at least three places. For the most part, they are easy to install, replace, and adapt to different places. It's also pretty simple to remove them.
Alternatively, if you only use the building occasionally, you can put on or remove the deck awning as needed. Both are great for providing shade when you need it and putting it away at the end of the season. You can also easily find a variety of inexpensive canopies and shade sails. Depending on the style you choose, your outdoor space can look either modern or rustic.
Add a Gazebo and Awning
A gazebo looks like a combination of a pergola and a lattice. An open roof helps to distinguish it from a pergola. The trellis-like structure on the sides of the gazebo is what sets it apart. These supports allow plants to grow and are a beautiful way to provide natural shade.
Using an awning can give you the same close-up shade where you need it most. For example, right outside a sliding glass door. Like outdoor awnings, these can be motorized and managed by remote control. Not only that, but learning to make your own awning or gazebo won't take long.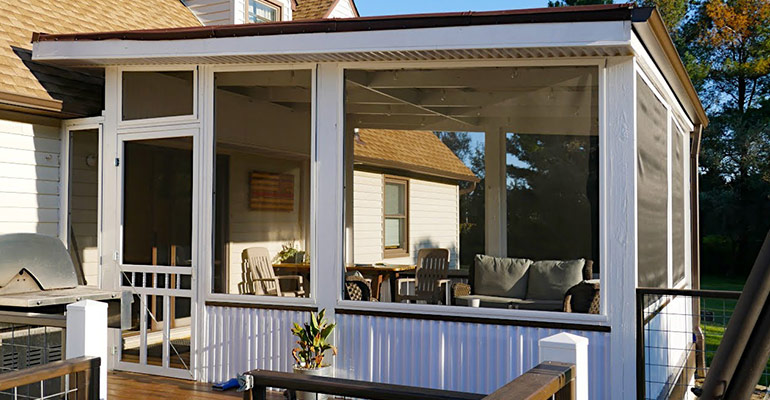 Choosing a Cabin or Grass Shelter
In most cases, cabanas are built near water. For example, on the beach, there is an open flap on the side facing the water. Huts are usually made of a mix of wood and fabric, so they can be easily changed to suit your needs.
Most often, however, cabanas are covered on at least three sides, or all sides, so they can be used as dressing rooms or other private spaces. Creating a cabana on a covered deck is as simple as hanging some curtains on it. This makes it look more like a high-end private resort.
Building a palm shed can take some work, but there's a reason they're so popular on hot Mexican beaches. Thatched roofs made of dried palm fronds are a unique architectural style in Central America and provide excellent shade from the sun.
Make Your Own Deck Shade
You can make your own simple deck awning with just a wooden frame and some fabric. Find at least three or four places on the fabric where you can knot or attach it. Then, figure out how much fabric you will need to cover the area. If you don't want to do it yourself, you can also purchase a DIY deck awning kit already assembled.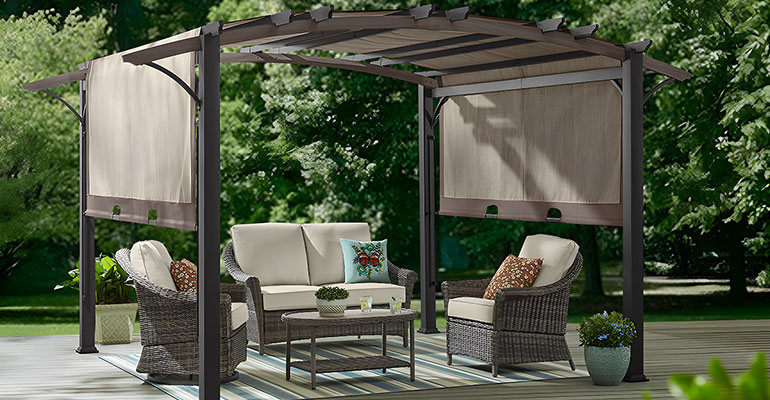 Growing Vines
Vines grow quickly compared to most trees. Ivy, trellises, and lattice can all be combined to make a great privacy barrier. Also, before planting vines, you need to think about where you want shade. In this case, if you want to grow plants for shade, you may want annuals rather than perennials, which come back every year.
You should also consider the variety. Wisteria plants produce beautiful flowers at certain times of the year, but their stems are very thick and require an equally thick structure to support their weight and the strength of their leaf veins. Ivy, jasmine, petunias, and grapevines are some other popular species.
Building a Roof
Building a porch roof is much more difficult and costly than most of the other options provided in the previous section. However, for many people, building a porch roof over an existing deck or patio is the best way to shade their home.
Because it's a permanent solution, it also increases the value of your home. Shed, gable, and hip roofs are the most popular types of deck roofs. Each of these three types of roofs has advantages and disadvantages that you should consider when making your choice. For example, shed roofs are great for slender decks, but not for deeper outdoor decks.
You should learn more about the different types of porch roofs before making one. You can shade your deck or porch in many different ways. Only you can decide which is best for you. An important thing to consider is how much maintenance each type of roof will require, how long each type of roof will last, and which type of roof suits your personal taste and style.
Related Post