Have you ever wondered what to do with composite decking boards that you don't need? You can save them for when you need to replace a broken board. Beyond that, there are some more straightforward ways to make your home and yard more beautiful and useful. Here are 10 creative ideas for using leftover composite decking boards. They range from simple projects that even a DIY beginner can do to more complex projects that require more skill.
Repurpose leftover composite wood decking boards and offcuts
When a big project is finished, it's common to have some composite decking left over. Maybe you ordered some extra composite deck boards in case something went wrong, but you didn't end up using them. Or maybe you had a few extra sample boards or offcuts that you could use. However you look at it, it's easy to use the leftover composite decking in new ways to improve your outdoor deck and surrounding areas. All you need are a few ideas to get you started.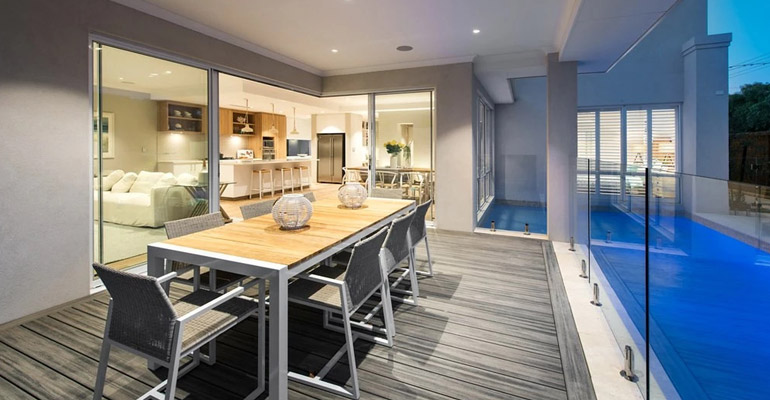 Leftover composite decking can be used to make everything from privacy walls and seating to garden planters for cosmetic purposes only. But no matter what you need, it's easier to figure out what to do with the extra composite decking boards if you know your options, which depends a lot on how much leftover flooring you have.
Window sills or flower boxes
Plants are a great way to add a natural touch to a space. Window frames and planters can be one of the most versatile ways to decorate your outdoor space, as you can switch between different styles as the seasons change. Even better, with a little planning, it's easy to know how to build a planter out of decorative panels. You'll need safety glasses, a tape measure, a saw, and a drill.
Depending on the materials you have, it's easy to figure out what size patio board planter box you want to make. Then, you mark and cut the boards to the right size and cover the base with landscape fabric to keep it dry. Laminate decorative boards can make water-resistant planter boxes. However, the fabric is still a good idea because it can help with drainage and root health.
Garden furniture or benches
If you want to use decorative panels for garden furniture, you'll need more than just an extra board or two. Especially if you choose a design with a backrest or something fairly large. Depending on your layout and how much extra seating you need, you usually don't need that many scraps to put together a simple bench, especially if you start with some good bench ideas. Keep in mind, however, that other types of deck furniture usually require more planning or more specialized materials.
Birdhouses
Wildlife is one of the best ways to see how beautiful nature can be, and a well-placed bird's nest can bring some friendly visitors to your deck. The best part is that a birdhouse can be made from just one board. The most basic design has a base, four equal-sized sides, and a roof the same size as the base. The last thing you need to do is to cut an entrance hole that is about 2 inches in diameter. You can use a wood saw to do this. You don't have to worry about maintenance because, like your deck, a bird's nest made of composite wood decking will stand up to the weather.
Screen for privacy
Making a privacy screen out of leftover composite decking boards is a great way to keep nosy neighbors from peeking in or to make one part of your yard look different from another. Partially enclosing a space is a great way to make it feel larger, and it's easy to learn how to build a deck privacy screen.
Simpler designs can have just four upright posts, and you can cover them with boards or plants in any way you want: vertically, horizontally, or at an angle. However, if you belong to a homeowner's association, you may want to check your area's building codes to make sure the screen complies with regulations on height and how the planks are attached.
Setting up for cornholes
Professional cornhole boards that meet all the rules can cost more than $300. But with just a few changes, you can make your fair, working for cornhole boards with just a few spare boards. When it comes to outdoor entertaining, this is by far one of the best ideas for scrap laminate flooring.
A regulation kit requires a 48″ x 24″ frame and has a 1/2″ thick surface. You'll also need to cut legs for the platform so that the back is 12 inches off the ground and the height of the front is between 2.5 inches and 4 inches. If you have enough spare parts, you will only need about four or six cuts. To attach the legs safely and securely, you will also need some washers and wing nuts.
Shelves
If you want to go big with small, shelving is one of the best items. Even with just a few extra boards, you can make stylish and useful shelves. You can make as many shelves as you want, depending on how many composite decking boards you have left over, how much space you have, and where you want to place the shelves.
Freestanding designs and designs that sit on the wall are two of the best options. This type of shelf can add to your decor, giving you a place to put potted plants or holiday decorations, or it can serve as a practical place to put things you need.
Outdoor Bar or Kitchen
If you're willing to add some new supplies to your project, it's much easier to figure out what to do with the extra deck boards. For example, putting together your outdoor bar can make your deck a more convenient place to hang out with guests. But keep in mind that a project this large usually requires more than just a few extra boards.
Likewise, an outdoor kitchen is a great way to make community events or conveniences, which can make using your deck a better experience. Adding an outdoor kitchen can be as simple as building a place to cook or store food, or as complex as putting in a working sink or refrigerator.
Bottle openers
If you only have a few small pieces of composite decking boards left over, you can make a bottle opener. This is a great addition to any deck that serves beverages. With a quarter of a board, you can make a simple bottle opener.
To make room for the bottle cap, you will need to cut a notch in the top half of the board. You will also need to put a washer or coin on the board to give you a firm place to press down the cap. When you have a good piece of scrap, you don't need to do any additional work. You can add more detail to these simple designs by varnishing or staining them. Then you can mount or hang them anywhere you might need a bottle opener.
Signs with door numbers
When you have small pieces of scrap decorative panels, it can be difficult to figure out what to do with them. There are always clever little DIY samples, even for small pieces of board, such as making your door number.
You can buy door signs at any store that sells home furnishings, but you'll probably end up with the same thing as everyone else. With a wood saw and a little dexterity, you can cut small pieces of scrap wood together to make a unique, personalized door sign.
DIY swing set
This can be one of the trickier ways to use up old deck planks, but it can also be one of the most useful. Playing outside on a swing set is one of the favorite things for kids (and some adults) to do. Best of all, all you need to make a good swing set is a few sturdy boards with holes drilled in the ends.
You can buy ropes or chains with enough tensile strength to hold an adult for not much money. Depending on the way you do this project, you may also need to build a simple support structure. This may require building three more beams and digging a little more into the ground.